Golf Courses Near St Andrews
Go&Golf is supported by its audience. When you purchase through links on our site, we may earn an affiliate commission.
Learn more
If Scotland is the home of golf, St Andrews really is the golfing Mecca. The birthplace of the sport, St Andrews is full of golfing history and home to some of the best courses in the country, if not the world.
St Andrews Links operate the seven courses in the area including the oldest golf course in the world, The Old Course. And despite its links to the past, the town (and the golf courses) have developed through the ages to suit the modern game.
The town offers it all. Unrivalled golf courses in and around St Andrews. Excellent accommodation options. And a vibrant town for post round food and drinks. 
If you're planning a trip there, at the end of this article we've got a few bits of advice to take into account before you go. Although a "once in a lifetime trip", the amount of golfing options on offer make this a place to come back to over and over again.
But first, let's get into the golf.
Golf Courses in St Andrews 
OK, so you've made it to St Andrews, but with so many top courses on offer where should you play?
1. The Old Course
💷 Green fees from £135
This is probably the main reason most of you will go to St Andrews. If you're only visiting St Andrews once, there's no way around it – you have to play The Old Course. 
Iconic and steeped in history, you can walk in the footsteps of your heroes and (try to) recreate some of famous shots from past Open Championships.
Despite being probably the most famous golf course in the world, The Old Course remains widely accessible. There are a number of different ways to get a tee time including;
Book in advance
Book with a tour operator
Enter the ballot
The course is closed for play on Sundays but open to the general public where it's not uncommon for groups to take a picnic and chill on the 18th.
2. The New Course
📌 2 West Sands, St Andrews KY16 9XL
💷 Green fees from £60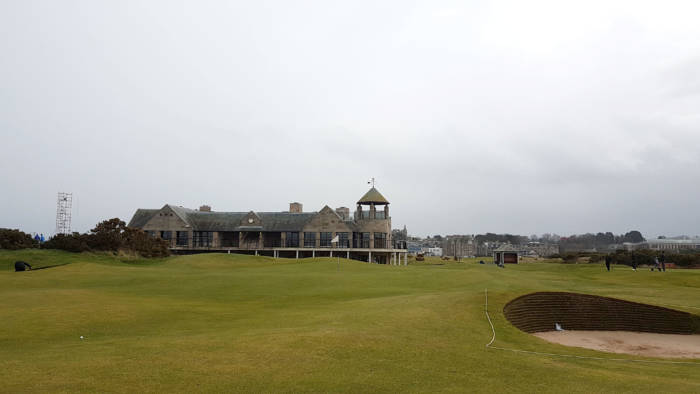 Probably the oldest New Course, The New Course at St Andrews offers a familiar classic links test but without the noise or history of the Old. 
Originally built to accommodate the ever increasing influx of tourists to St Andrews the New Course was built nearby in order to give visitors another option and different course to play.
Comparing golf courses alone, you'd be pushed to say the New is better than the Old, but you'll never look at it that way!
It's a traditional 9 out, 9 in links course with undulating fairways, large (sometimes shared) greens and deep well placed pot bunkers. 
The course itself is a bit tighter and more defined than the Old which makes it a little more challenging, and probably a more enjoyable test of golf. The holes around the turn are particularly good and the highlight of the round.
3. The Jubilee
📌 1 W Sands Rd, St Andrews KY16 9XL
💷 Green fees from £60
Built just a couple of years after the New Course, The Jubilee Course at St Andrews was originally constructed for ladies and beginners. Though you wouldn't think it now, as the course was revamped into a Championship Course in 1988 and is arguably one of the toughest of the St Andrews Links courses.
It's arguably one of the best too. 
Probably the most underrated, the course offers an Old Course, New Course feel with subtle differences, including no double greens and higher, more defined dunes, particularly around the turn. 
I'd have to say the Jubilee is a personal favourite!
4. The Castle Course
💷 Green fees from £70
The baby of the St Andrews Links courses, The Castle Course only recently opened in 2008 making up the 7th course offered by the Home of Golf and the largest golf complex in Europe. 
Although The Castle Course is the baby in terms of age, it's a giant in terms of course design, layout and difficulty.  
Unlike the other courses in St Andrews The Castle is set slightly out of the centre (5-10 minute drive) of St Andrews on some rugged cliff tops which make for an experience like none of the others. 
The high position means you're blessed with spectacular views of the town of St Andrews and the courses below.
The course would probably be described as more of an American Links style course, with large deeply roughed dunes lining the fairways, large undulating greens and spectacular cliff top holes. Be careful if it's a windy day up here as you're exposed to the elements which can make for some interesting shots!
The clubhouse and bar offer unrivalled views and is well worth the trip alone. But beware if you're hoping to play here in winter, the course is closed from early November – early March.
5. The Eden Course 
📌 Old Guardbridge Road, St Andrews KY16 9SF
💷 Green fees from £30
A more forgiving course with wider fairways but natural boundaries and well placed bunkers protect the course. A great links course that's well worth a visit if you're here for a few days.
6. Strathtyrum Course 
📌 Old Guardbridge Road, St Andrews KY16 9SF
💷 Green fees from £20
A shorter course more suited for beginners or those looking for a nice relaxing round. There are only 15 bunkers on, but strategically placed to catch you out.
7. Balgove Course 
📌 Old Guardbridge Road, St Andrews KY16 9SF
💷 Green fees from £8
A nine hole course that's mainly used by families, kids and beginners. An excellent place for an introduction to the game or simply a bit of practice.
8. Torrance Course (Fairmont)
💷 Green fees from £50
Set on the cliff tops that overlook the town (not too far away from The Castle Course), The Torrance Course is one of two courses which make up the Fairmont St Andrews Resort. 
The course benefits from similar excellent cliff top holes to the Castle Course that hug the North Sea, proving both challenging and dramatic.
The Torrance outranks the Kittocks in the golf course listings tables and has a few more honours including Open Championship Qualifying and Scottish Senior Opens to its name compared to its counterpart.
9. Kittocks Course (Fairmont)
💷 Green fees from £50
Although it's ranked slightly lower than its sister course, The Kittocks is still an impressive links course and is no easy feat standing at 7,192 yards. 
Ideally you'd play both The Torrance and Kittocks if you have time in St Andrews, they both make fantastic use of the natural features and offer some unparalleled views from the fairways.
The Kittocks is a little bit of a mish mash of American vs. Scottish links with a couple of lakes alongside the more traditional deep pot bunkers and big double greens that are expected in Fife, and when the wind blows, you'll feel it here.
Both courses offer excellent value and you can usually pick up a good package when staying at the excellent Fairmont hotel too.
Other Golf Courses Near St Andrews
If you're limited for time in St Andrews, I'd recommend staying and playing the centre. Despite being all about the golf, the place has more to it than just the golf –  if that makes sense! Playing some of the St Andrews Links courses gives you the true "Home of Golf" experience and will also allow you to take in some of the unique atmosphere here.
That being said, if you have a little bit longer there are some excellent options nearby that make it more than worthwhile extending your visit, or even a good stop off on your way in / out of the main town.   
10. Kingsbarns Golf Links
📌 Back Stile, Kingsbarns, St Andrews KY16 8QD
💷 Green fees from £315
Just a short ride out of St Andrews past The Fairmont and Castle Course, Kingsbarns Golf Links is regarded as one of the best golf courses in the world (ranking in the World Top 100).
Despite only reopening in 2000 after years of being closed after the Second World War, the course has matured superbly to the layout which makes the best of its coastal setting. 
The North Sea is pretty much visible from every hole on the course. Standout holes include 5th, 6th and 15 on in.
Be careful if you're planning to visit on the fringes of the season, the course if generally shut in winter (November – March)
11. Lundin Golf Club
📌 Golf Rd, Lundin Links, Leven KY8 6BA
💷 Green fees from £50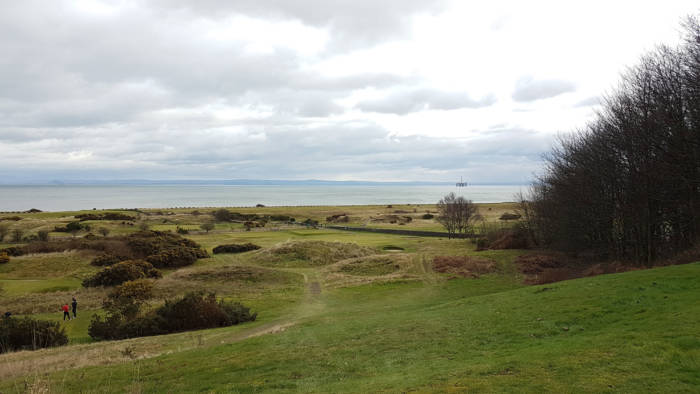 Lundin Golf Club was originally designed by Old Tom Morris and founded in 1868. At that time, the course was shared with neighbouring Leven Links (which we'll come to in a minute) with members from each club starting from their respective clubhouses. 
However golf grew in popularity, the arrangement became shaky and the decision was made to split the course in 1909 with each club taking nine holes each.
Lundin then bought some new land and appointed James Braid to redesign the course including an additional 9 holes to create the links as we know it today. 
The course is fairly unique with a mixture of all types of holes and features. The 1st borders the sea all down the left side, whilst the next few holes are protected by drains which cross the fairways and guard the greens. You then play a few with internal OOB before heading up to a couple of more parkland style holes.
For that reason the course is certainly memorable with some challenging holes. It'd be fair to say there's some evidence of squeezing a few holes in the redesigned layout, but it only adds to the charm of the course.
12. Leven Links
💷 Green fees from £40
Similar to Lundin, the current layout dates back to 1909. In reality it hasn't changed much since other than the local conditions of winds and tides which have shaped the coastline dunes. 
The dunes play a big part in the course design as they are used to shape the holes and even obstacles that are to be played over on other holes.
Leven Links is a quality links course with undulating fairways that have to be navigated, revetted bunkers and large true running greens.The two finishing holes provide an epic finish to any round particularly if the wind is blowing.
13. Elie
📌 Golf Club Ln, Earlsferry, Elie, Leven KY9 1AS
💷 Green fees from £55
One of the oldest golf clubs in the country, golf at Elie dates back as far as the 15th Century and The Golf House Club – Elie was established in 1875. 
The club sits just 12 miles out of St Andrews and offers superb panoramic views of the North Sea.
Regarded as a hidden gem in Scotland the course isn't the longest at 6,273 yards, but it's quirky nature, undulating fairways and large, firm and fast greens make it an experience like no other.
14. Scotscraig
💷 Green fees from £30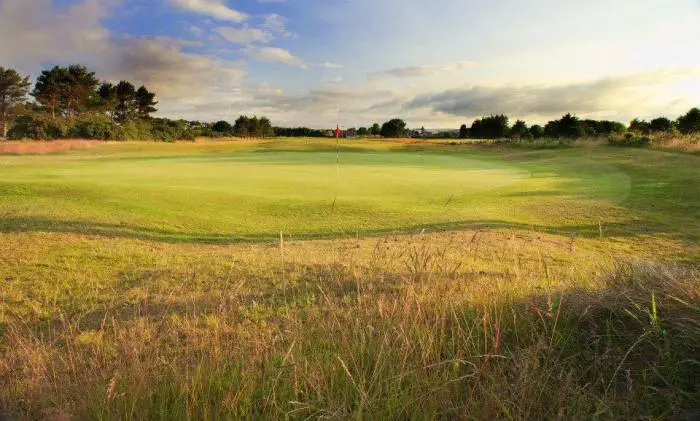 Just 15 minutes outside of St Andrews, Scotscraig lies a short distance from the coastline which makes it difficult to explicitly say if it's a links, heathland or moorland course. The club identify themselves as a links, heathland mixture. 
However, you can still expect similarities with other links courses in the area, with large rolling greens, well placed bunkers and gorse to catch your wayward tee shots.
In the same nature the course offers something slightly different to the traditional links in the area making it a worthwhile visit. It's no push over too at nearly 6,700 yards and a regular Final Open Qualifying Course.
15. Ladybank
📌 Annsmuir, Ladybank, Cupar KY15 7RA
💷 Green fees from £40
One of Scotland's top inland courses, Ladybank is a great option on your way in or out of St Andrews with its location in the heart of Fife. 
A Championship heathland course, it stands at 6,754 yards and makes for a different challenge compared to other courses in the area.
The fairly small greens will test your iron play compared to other courses in the area and the heather, pine trees and silver birches can get you in a spot of bother off the tee too. 
A fantastic course, it's been used as a Final Open Qualifying venue seven times since 1978.
16. Crail Golfing Society
📌 Balcomie Clubhouse, Crail, Anstruther KY10 3XN
💷 Green fees from £60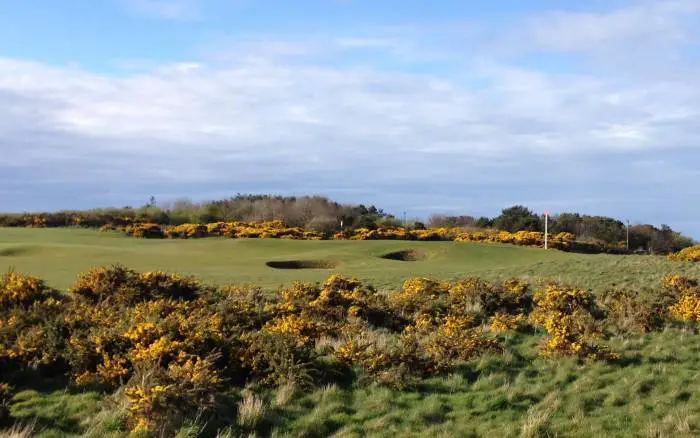 Crail Golfing Society, having been formed in 1786 is the 7th oldest golf club in the world. Being old doesn't mean it's out of date. The club offers two spectacular golf courses, the Balcomie Links and Craighead Links.
The Balcomie is the original classic links laid out in 1895 by Old Tom Morris. It blends stunning coastal views with centuries of history and like all good links, the wind is feature designed into the golf course. It can play completely different from one day to the next. Fairly uncommon these days, the course has a par of 69 with six par 3's to test your iron play.
The Craighead is a more modern course having opened in 1998. With various tee options, you can play this from anything between 5,340 and 6,722 yards. 
Another traditional links golf course, the Craighead offers stunning views of up to 100 miles. 
Best time to visit St Andrews to play golf 
The East coast of Scotland benefits as being one of the more drier areas of the UK. 
That means when planning a golf trip to St Andrews you can pretty much look at going all year round. However there are a few things to consider during each season.
Winter
The days at this time of year are short so there's no early tee times or late afternoon slots available. 
The temperatures drop to their coldest throughout the year and beware there's a possibility of snow. (We planned a trip here in March 2018 and ended up having to cancel as it was under 3 ft of snow).
Green fees are the cheapest you'll find at this time of year and you can get a lot of clear, crisp days. So if you're good at playing in a few layers, it's one to consider. Some courses will put you on winter mats – but you're usually hitting summer greens.
Spring
The warmer climate (9°C – 14°C) is welcomed with a mixture of sunny days with occasional cooler, wetter days, but overall a good time to visit Fife. 
You can still take advantage of largely discounted tee times at most courses in early spring, and you also get a few extra hours of sunlight once the clocks have gone forward meaning you can even fit in 36 holes in a day if you're really keen.
Summer 
Mild to warm temperatures which average out around 19°C between June and August making it peak golfing season in St Andrews. 
The students break for summer and leave the town to be replaced by golf tourists. This means there's loads of reasonable student digs available that are transformed into short stay value accommodation. 
You'll pay a premium for the golf, but there are some twilight discounts on offer if you're willing to finish at sunset.
Autumn
A wide range of weather is on offer in Autumn with a mixture of milder pleasant days to cooler / cold days as winter approaches. 
The earlier in autumn, generally the better. With longer days still on offer, it's a good time to visit St Andrews, particularly as the peak season ends and the students return to university.