Best Golf Courses in Durham
Go&Golf is supported by its audience. When you purchase through links on our site, we may earn an affiliate commission.
Learn more
A lovely little cathedral city on the River Wear in County Durham, Durham is a great place for a visit. With plenty of historical sites and tourist interests, you can find something for everyone to do while in town. 
However, there are also some great golf clubs in the area! We've put together a list of some of our favourite golf courses in Durham for you to check out while you are there.
Best golf course near Durham
Having spent the best part of three years living in the North East of England, I had the chance to play the majority of golf courses in the area. 
The courses below would be some of our top choices in the area.
1. Ramside Hall (Prince Bishops')
💷 Green fees from £20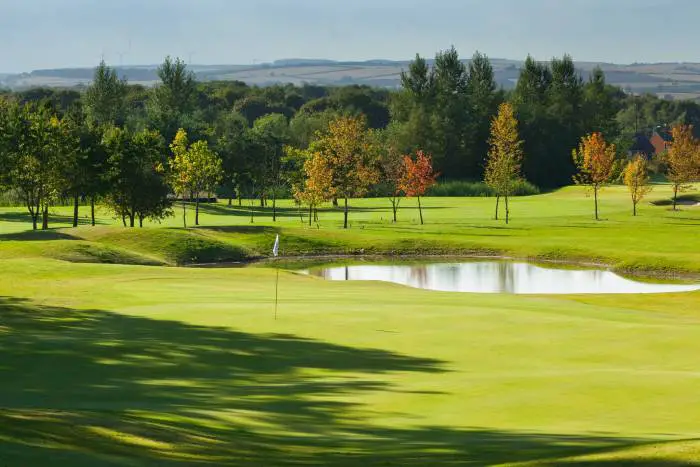 A quick 7-minute drive from the city sits a gorgeous place called Ramside Hall. This golf club boasts 2 separate courses to choose from, both of which provide a view of the historic Durham Castle in the distance! 
This first course is called Prince Bishops', a course opened in 1996 and named after a pair of warrior priests who ruled back in the 11th century. 
The 18-hole course is easily described as "adventurous" with its 16 water features, several short holes near the woods that require some skill to play perfectly, and the many other challenges. 
But don't worry, the fairways are wide, with ways to compensate so that any handicap level can enjoy their time.
2. Ramside Hall (Cathedral)
💷 Green fees from £20
The second course at Ramside Hall is the 18-hole Cathedral Course, opened in 2014. 
This parkland course is set in a rolling countryside area. From the hilltop that most of the course runs around, you get some incredible 360-degree views as you play. 
You will get plenty of vegetation challenges, changes in elevation, and even an "Amen Corner" as part of the course to keep all golfers on their toes. 
Ramside Hall is considered one of the best places to play in North England, so check it out and have some fun.
3. Brancepeth Castle Golf Club
📌 The Village, Brancepeth, Durham DH7 8EA
💷 Green fees from £40
Designed by the famous Harry Colt in 1924, Brancepeth Castle Golf Club is built on what used to be a deer park. 
If you take a 13-minute drive from Durham's city centre, you will find an 18-hole parkland course with a wide variety of holes to play through and experience. There is also a deep ravine that divides the course, creating a few extra-challenging shots. 
You will also get plenty of beautiful scenery between the castle on the grounds and all of the foliage, particularly the silver birch trees which were planted as a celebration of the Queen's Silver Jubilee! 
4. Castle Eden Golf Club
📌 Stockton Rd, Castle Eden, Hartlepool TS27 4SS
💷 Green fees from £32
Just 17 minutes from Durham sits Castle Eden Golf Club. The course opened near the end of WWI under a different name, before getting this name in 1927. 
This parkland-style course contains 18 holes with varying levels of difficulty. With well-kept greens that run smoothly over the rolling grounds, the course is lined with trees placing a premium on accuracy from the tee. 
The opening holes of this game are also widely known as some of the most difficult opening shots in England, so keep that in mind whenever you visit.
5. South Moor Golf Club
📌 The Middles, Craghead, Stanley DH9 6AG
💷 Green fees from £15
If you want a change from the previous styles, why not try a heathland-style course? 
South Moor Golf Club is a 17-minute drive from Durham featuring a course that makes its way through heather, gorse, and bracken to create a natural type of beauty to admire. 
The undulating greens will keep the interest of golfers as they work through the various challenges the course provides. 
Players of any handicap can find the beauty of the game here, with plenty of wildlife to keep them company.
6. Wynyard Golf Club
📌 Wellington Dr, Wynyard, Stockton-on-Tees, Billingham TS22 5QJ
💷 Green fees from £50
The furthest option from Durham at 27 minutes, Wynyard Golf Club is a mature parkland course with 18 holes spread over 200 acres. 
The greens of the course are always well-maintained and it has varying views that range from nearby residential developments to surrounding natural scenery, and the holes provide different challenges for players. 
Between the water hazards and the bunkers, you can find something to love with this course as you make your way around.
Final Thoughts 
There are plenty of other courses in the Durham area, these just happen to be our top choices. 
If you're looking for a different sort of challenge or don't mind travelling a little further from the centre of Durham, check out and compare our database of golf courses in Durham County for more options. You can also check out a list of all the golf courses in North East England. 
However, you can't go wrong with 18 holes at one of the golf clubs below:
Ramside Hall (Prince Bishops')
Ramside Hall (Cathedral)
Brancepeth Castle Golf Club
Castle Eden Golf Club
South Moor Golf Club
Wynyard Golf Club