If you've ever planned a DIY golf trip before, you'll know it can be stressful. If you're planning your first golf trip without using a travel agency, there a few tools and tricks that can make the experience pain-free, and dare I say it, even enjoyable.
Whether you're planning a golf society day, a short weekend away or a longer holiday abroad you can save some time and money. All it takes is a little planning in advance and with the additional help of some of the tools below you can guarantee* a great trip for everyone.
*no guarantee everyone will enjoy it – there's always one
Searching for the ideal place
If you haven't got a rough idea of where you want to go, do some research beforehand. Check out some reviews of golf courses and the local area generally if you fancy going out somewhere different for a bite to eat or if you're searching for a bit of nightlife.
Perfect for finding restaurants and bars nearby amongst other attractions
Before you book the courses check if they accept 2-FORE!-1 vouchers giving you 50% discount off green fees. The scheme only works in the UK but other European countries have similar schemes too.
Booking Accommodation
Booking accommodation couldn't be easier these days. There's a host of hotel comparison sites, hotel review websites and alternative accommodation options such as Airbnb, perfect if you're a big group and you want to stay together.
Booking.com is my favourite site to book accomodation whenever I travel. The sites offer hotels for all levels of budgets and most of them even offer free cancellations – ideal when your one of your group pulls out of a trip at the last minute.
On Airbnb you can book all sorts of options from single rooms where you stay with the host to booking out huge houses you could only dream of owning in their entirety. The latter works great for big groups or stag dos.
Booking Travel
It's well know that you can save a lot of money booking flights well in advance. You can always save even more by using flight comparison tools.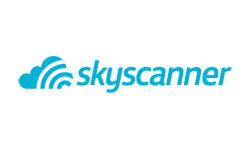 SkyScanner is my go to flight comparison tool. I always check my flights through their site as they offer some nifty tips like "Add Nearby Airports" which can occasionally save you a fortune or get you where you want to go at a better time! You can also set up price alerts if you create an account which will notify you of any price changes – handy if some of the people in your group need a nudge to book flights.
Make sure you check out the airlines baggage policies before booking as they'll more than likely charge you hefty sums to take your golf clubs on board. Sometimes the flights from a certain airline will be cheaper but once you've taken all the gear you want to take over into account, it actually becomes more expensive than the alternative.
If you haven't got the Uber app, you're missing out. It works great in the UK and is available in most cities, but it works even better abroad. If you don't speak the local lingo – no problem – just book through the app, add the postcode your destination and you'll be spared the embarrassment of trying to start a conversation in your broken portuguese. Fares are usually the cheapest and you know you won't be getting ripped off.
Sorting out the Golf Clubs
I always prefer to take my own clubs when going on trip. In the UK that's pretty easy as you can just shove them in the back of the boot, but if you're travelling abroad it sometimes worth balancing the cost to take them vs hiring clubs alongside how many times you're going to play.
If you do end up taking your golf clubs on a flight make sure you have a decent travel bag. The last thing you want to find when you get there is that your clubs are damaged all because you didn't spend the extra £10 on a better travel bag. If there are a couple of you, you can actually fit 2 sets in one travel bag if one of you takes a pencil bag instead. Ideal if you're playing somewhere hot. You can find some good golf travel bag options here.
You can get some pretty good deals hiring clubs. If you're not that fussed about taking your own (or you have some old hand me downs), hiring can be a better option as it's usually cheaper, you don't have to worry about getting them on the plane and sometimes the companies will even drop them off and pick them up from your hotel. The last few times I've done this we've actually been given decent sets too which helps.
Our favourite Golf Travel Blogs
If you're stuck for a bit of inspiration on where to go for your trip, check out some of the golf travel blogs we have posted up on our Go&Golf Blog. Alternatively we've also included a list of some of our favourites sites for inspiration.
Breaking Eighty
The Sussex Golfer