Best Golf Courses in Edinburgh
Go&Golf is supported by its audience. When you purchase through links on our site, we may earn an affiliate commission.
Learn more
There's no doubt that Scotland is home of golf, but you could argue that the golf courses in Edinburgh is where it all started!
Edinburgh is home to some of the oldest golf clubs in the world. Much like the city, there's plenty of history and tradition when it comes to the golf in the capital of Scotland.
Whilst there are plenty of options in the area, we've tried to narrow this down to our top recommendations close to the city centre.  
Best Golf Courses Near Edinburgh
All of these courses are pretty close to the city centre. They are all easily reachable within half an hours drive, most of them much closer!
1. Bruntsfield Links
📌 Melville Dr, Edinburgh EH9 1DY
💷 Green fees from £55
For a picturesque game on a perfectly manicured and tree-lined fairway, Bruntsfield Links is a wonderful parkland course. In fact, it's the 4th oldest course in the world! 
This 18-hole setup has gently rolling hills and little borrows to go with their fast greens, meaning players will need to earn a high score here. But golfers of all levels are welcome and will find themselves enjoying the game and the views.
2. Royal Burgess
📌 181 Whitehouse Rd, Edinburgh EH4 6BU
💷 Green fees from £175
With 280 years under its belt, the Royal Burgess is recognised as the oldest golf course in the world. 
This parkland is 18 holes of pure beauty, with trees along the lush fairways and smooth, rolling greens. Don't let the beauty fool you, though, the bunkers and hazards on this course will keep you on your toes.
This course is right in the heart of Edinburgh, so you can visit this piece of heaven easily.
3. Murrayfield Golf Club
📌 43 Murrayfield Rd, Edinburgh EH12 6EU
💷 Green fees from £45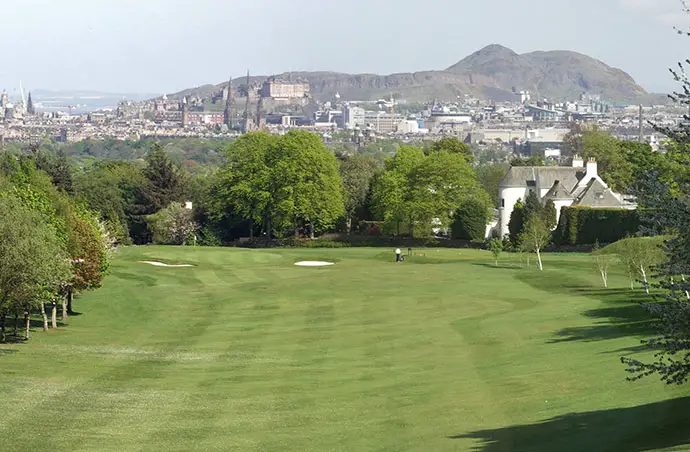 For a scenic course that gives you an overview of Edinburgh Castle and the surrounding areas, Murrayfield Golf Club is the place to be. 
A parkland/heathland style course, don't let the fact it measures under 6,000 yards fool you. The 18 holes here zigzag across the landscape, with tight fairways and fast greens that require skirting around plenty of bunkers and little hills. 
Just 1.5 miles from the city centre, it's comfortably reachable within 10 minutes of Edinburgh. 
4. Braid Hills
📌 27 Braid Hills Approach, Edinburgh EH10 6JY
💷 Green fees from £30
If you're looking for a hilly golf experience that will give you a challenge, visit Braid Hills. 
This heathland course is a test of skill, its 18 holes condensed into just shy of 6,000 yards. As you make your way round, you'll get a lovely view of the Edinburgh skyline. 
Don't get too distracted by the beauty, though. With plenty of gorse to play around and hills to run around, you'll need to be focused to make your shots here.
5. Mortonhall Golf Club
📌 231 Braid Rd, Edinburgh EH10 6PB
💷 Green fees from £40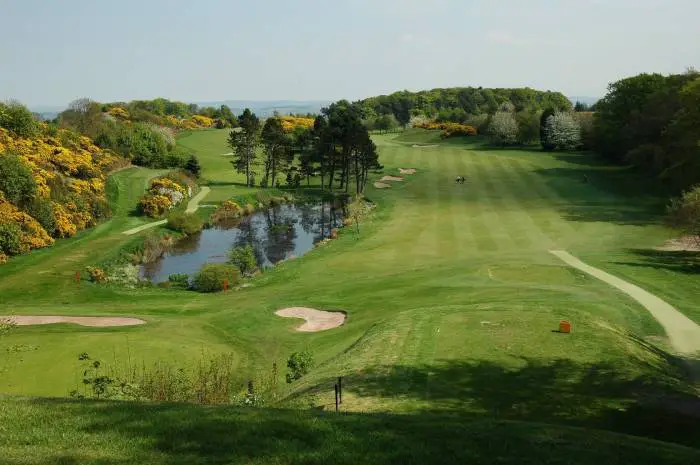 Located south of Edinburgh, Mortonhall Golf Club is definitely one of the top choices in the area. 
An 18-hole parkland course, the variety and amount of trees along the way make for an idyllic game. 
There are plenty of challenging spots on this course for players, starting at the very first hole at the Khyber Pass. Enjoy the view while you play, but don't forget to pay attention to your shots to finish with a good score!
6. Prestonfield Golf Club
📌 6 Priestfield Rd N, Edinburgh EH16 5HS
💷 Green fees from £25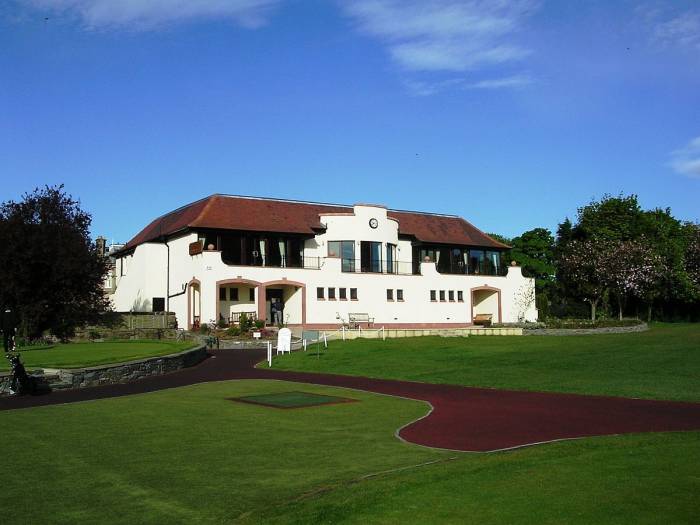 Seated on a former deer park is the stunning Prestonfield Golf Club. 
This 18-hole course designed by James Braid is parkland in style, and it features some beautiful scenery as you navigate the layout. 
The course has a few very tough holes that will make you think, some with strategically placed bunkers and some where you're a little more exposed to the strong prevailing winds. 
The course is nice and walkable, and the views are unbeatable. The best part? This course is playable most of the year!
7. Duddingston Golf Club 
📌 135 Duddingston Rd W, Duddingston, Edinburgh EH15 3QE
💷 Green fees from £30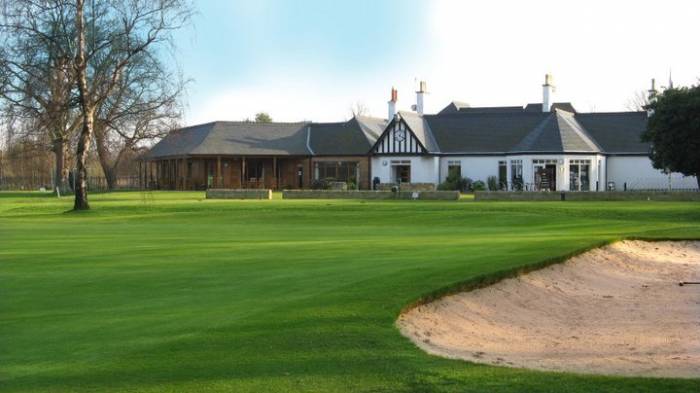 Established in 1895, Duddingston Golf Club is a parkland course lined with mature trees that is sure to please all golfers. It's been voted as one of the top courses under £60.
And it's not hard to see why! Set against the lovely backdrop of Arthur's Seat, this 18-hole parkland course has quick, undulating greens that create a gently challenging game. 
The course hazards will have you playing around bunkers, playing into the wind, and much more. Enjoy the views as you go, especially as you overlook Holyrood Park!
8. Musselburgh Golf Club
📌 Monktonhall, Musselburgh, Edinburgh EH21 6SA
💷 Green fees from £25
Just a few miles outside of the city, you'll find this mature parkland course, Musselburgh Golf Club. 
This is the first course on the "Golf Coast" of Scotland, meaning that you'll be playing alongside the River Esk and have some stunning views of the area. 
With trees along the course, lightly rolling greens, and plenty of skill-testing bunkers, golfers of any level can find an exciting game here. The beauty of this course is right on par with the surrounding area, so enjoy!
9. Dalmahoy Golf Club
📌 Dalmahoy Hotel & Country Club, Kirknewton EH27 8EB
💷 Green fees from £30
At the Dalmahoy Golf Club, you'll find not one but two gorgeous 18-hole courses to choose from, the East and the West. 
The East Course has a parkland and moorland feel to it, set in a rolling and tree-filled area. The sloping greens create different challenges for players, and there are plenty of bunkers along the way that will have you testing your skills. 
The West Course is newer and slightly shorter in length, but no less of a test. The more parkland style course has tight, fast greens to play across, meaning that you'll need to be  accurate to get your shots just right.
Together it's enough for the Dalmahoy Golf and Country Club to earn a spot in GB & Ireland's Top 100 Golf Resorts.
10. Baberton Golf Club
📌 55 Baberton Ave, Edinburgh EH14 5DU
💷 Green fees from £35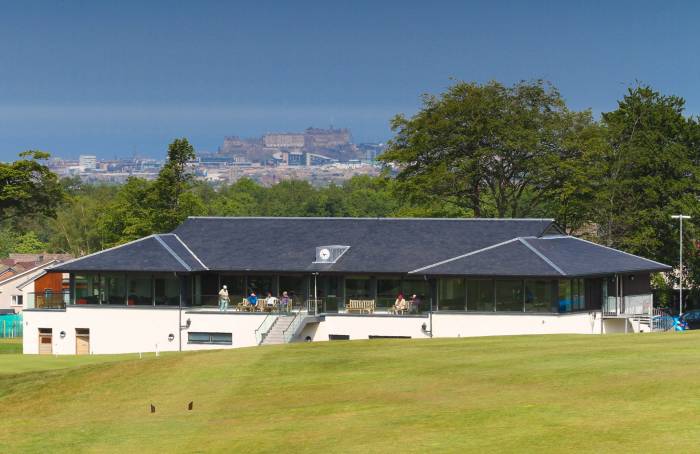 If you want another course with spectacular views all around, visit Baberton Golf Club. 
This 18-hole course is a parkland-style layout with undulating greens, trees lining the fairways, and plenty of sneaky bunkers to play your way around. 
Several holes here will require your focus to stay out of the woods and the bunkers to either side or to hit right into the wind. While this course has its challenges, players of any skill level will enjoy their time here. 
A fun fact about this club, they hold a spot in history as the birthplace of the steel shaft for golf clubs!
Final Thoughts
Whilst all of the golf clubs we've gone over here are great courses and definitely make our personal favourites list, there are other choices if you want to find something a little different. 
Check out our list of golf courses in East Scotland or the top 100 golf courses in Scotland for some more inspiration. There's a course out there that's bound to be just right for you.
However, you can't go wrong with a round at one of our top picks below:
Bruntsfield Links
Royal Burgess
Murrayfield Golf Club 
Braid Hills
Mortonhall Golf Club
Prestonfield Golf Club
Duddingston Golf Club
Musselburgh Golf Club
Dalmahoy Golf Club
Barberton Golf Club