8 Best Golf Courses in Malaga
Go&Golf is supported by its audience. When you purchase through links on our site, we may earn an affiliate commission.
Learn more
The beauty of Malaga extends beyond its historic cityscape and beautiful Mediterranean coast; the region also serves as the perfect location for those looking to play golf. 
The best part? Some of the top Costa del Sol golf courses are packed together less than a half-hour drive away! The dramatic coastline and mountains as a backdrop, means they're some of the most picturesque courses in Spain. 
If you're willing to travel a little further then there are even more top-class options available.
And with an international airport right on the doorstep too, Malaga is the perfect destination for those who are looking to escape to the sun and play and hit the fairways.  
The best golf courses in Malaga 
I'm lucky enough to have visited the region on a number of occasions. Below would be my top recommendations in the area from the courses that I've played. 
All of them are reachable from Malaga centre in a 30 minutes drive or so. 
1. Mijas Golf
📌 Location: Av. de Louison Bobet, 29650 Las Lagunas de Mijas, Málaga | 💷 Green Fees: from €45
Mijas Golf, conveniently located just a brief 20-minute drive away from Malaga airport, boasts two 18-hole golf courses, Los Lagos and Los Olivos.
These golf courses are the brainchild of the renowned golf course architect Robert Trent Jones Sr. 
Established in 1978 and 1984 respectively, both courses seamlessly blend traditional and contemporary design elements. They are characterised by their expansive fairways and an abundance of strategically placed bunkers.
Among the two, Los Lagos is the lengthier course, while Los Olivos, despite being shorter, is distinguished by its dense tree-lined fairways, from which it derives its name, "The Olive Trees" in English.
2. Golf Torrequebrada
📌 Location: C. Club de Golf, 1, 29630 Benalmádena, Málaga | 💷 Green Fees: from €52
Just down the road from Mijas Golf is Torrequebrada. A challenging yet rewarding experience, Golf Torrequebrada provides an intricate layout with several water hazards and doglegs. 
Its coastal location gives it a spectacular edge. Golfing with views over the Mediterranean Sea and nearby mountains doesn't get much better than this.
Each time I've played this course it's been in amazing condition and it's probably my favourite in the area. 
⛳ PRO TIP: You can get last minute afternoon and twilight deals the same week of your tee time if you're not too fussed about when time to play.
3. Santana Golf
📌 Location: Ctra. de la Cala a Entrerrios, s/n, 29649 Mijas, Málaga | 💷 Green Fees: from €63
Moving a little further inland towards Mijas is Santana Golf. An oasis of green set against Malaga's beautiful backdrop, Santana is a picturesque parkland with lush fairways and tricky bunkers. 
The course reaches 6,207 metres from the back tees and is fairly flat, making it enjoyable for golfers of all levels. 
However well protected greens and water hazards run throughout the layout, ensuring it's still a demanding challenge, with a premium on accuracy.
4. Real Málaga
📌 Location: Ctra. Campo de Golf, 1, 29004 Málaga | 💷 Green Fees: from €97
Founded in 1925, Real Club de Campo Málaga is just 10 kilometres from Malaga centre, close to Torremolinos.  
Known for its impeccable maintenance and traditional design, Real Málaga is a course that values precision over power. 
Located next to the coast, it's a sort of parkland-links mix where the sea wind can play its part. Featuring some tight fairways, it demands the best from each player.
5. Chaparral Golf Club
📌 Location: 29649 Las Lagunas de Mijas, Málaga | 💷 Green Fees: from €60
Despite being less than one kilometre from the coast, Chaparral Golf Club is described as a parkland forest golf course, thanks to its unique location where the mountain meets the sea. 
The course is known for its distinctive landscapes and undulating terrain, surrounded by beautiful Mediterranean forest. 
With no two holes alike, Chaparral offers an exciting variety of challenges, designed to keep golfers engaged from start to finish.
6. Guadalhorce Golf
📌 Location: Av. de José Ortega y Gasset, 555, 29196 Málaga | 💷 Green Fees: from €80
Real Guadalhorce Club de Golf is an excellent option in the area, at just a 20 minute drive from Malaga centre and a 15 minute drive from Malaga airport. 
The 18-hole course measures in at 6,202 metres from the back tees with a par 72. It was originally designed by Kosti Kuronen but later redesigned by Miguel Ángel Jiménez.
It features flat terrain with strategically placed hazards, rewarding calculated moves and thoughtful approaches. Not to mention the impressive views of the nearby mountain range.
7. Alhaurin
📌 Location: Urb. Ur7 Terrazas de Alhaur, 24, 29120 Alhaurín el Grande, Málaga | 💷 Green Fees: from €55
Nestled among the scenic mountains, Alhaurin offers a particularly challenging layout that requires accurate shots and solid short-game skills. 
Designed by Severiano Ballesteros, it's a real example of the Spaniards brilliant style and eye for course design – with blind tee shots around every mountain top!
It's definitely the type of course that requires you to hit every club in your bag. And some of the views from the tee boxes can only be described as breathtaking! 

With little margin for error, I do wonder what Seve would have shot around here.
8. La Cala Golf Resort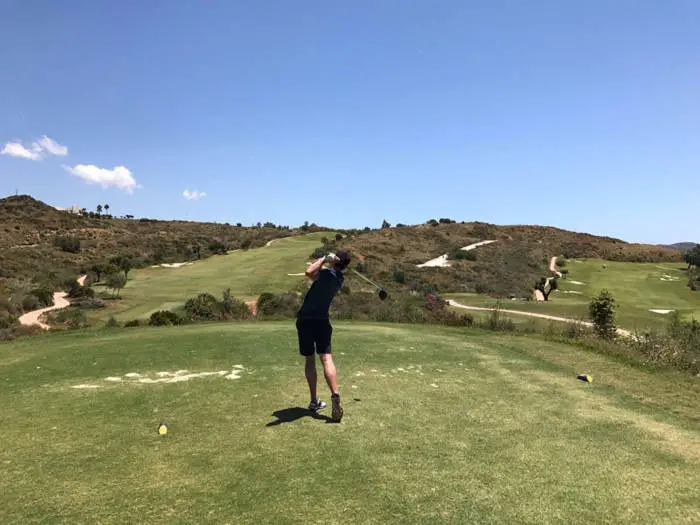 📌 Location: C. Mirador del Golf, 1, 29649 La Cala de Mijas, Málaga | 💷 Green Fees: from €64
Last but not least is another one of my personal favourites, La Cala Golf Resort. 
With three different courses to choose from, La Cala offers something for everyone. They are each named after different continents; America, Europa and Asia. 
Quite rightly, the Europa ranks in as the best amongst the three, followed by the America Course and Asia Course. However they each present their own unique challenges, designed by Cabell Robinson, and slot seamlessly into a natural undulating backdrop with stunning scenery. 
But it's not just the quality of the golf course that makes La Cala so good. Everything is top quality, including the clubhouse facilities and service which makes it a pleasure to go back each time.
Final Thoughts
Whether you're staying in the heart of Malaga or nearby, these local courses within a 30-minute drive offer superb golfing experiences. 
With varied layouts, stunning vistas, and challenges that will delight players of all skill levels, these courses stand as testaments to Malaga's growing reputation as a go-to golf destination.
Whilst there are plenty of options in the area, you can't go wrong with a round at one of the top courses below.
Mijas Golf
Torrequebrada
Santana
Real Málaga
Chaparral
Guadalhorce
Alhaurin
La Cala