Best Golf Courses in Sevenoaks
Go&Golf is supported by its audience. When you purchase through links on our site, we may earn an affiliate commission.
Learn more
Welcome to Sevenoaks, a nice little town in Kent in the south-east end of London.
Sevenoaks has gone through many changings during its long history, from a tiny market town to the place it's become today. 
You'll find some great shopping areas, a great park (Knole Park) in which are the seven oaks mentioned in the town name (along with a few more), and even some theatre and fun dining options! 
However, there are also some great golf courses in the area. And the great thing about golf in Sevenoaks (and wider Kent) is the ground conditions means that the majority of courses are in top shape all year round!
If you want to find a good game of golf while you're in town, stop in at one of our favourite golf clubs near Sevenoaks! 
The best golf courses in Sevenoaks
All of the golf courses listed below are less than a little 15-minute drive away from Sevenoaks town centre. 
Within the list there are courses in England's  top 100, Open Qualifying courses and more.
1. Knole Park Golf Club
📌 Seal Hollow Rd, Sevenoaks TN15 0HJ
💷 Green fees from £75
This course is situated in the heart of Sevenoaks, as it's located right in Knole Park. 
Knole Park Golf Club is an 18-hole course that usually makes its way onto the list of the Top 100 courses in England each year. 
Set in such a historic location, this parkland course provides a solid enjoyable game with challenges for all players as it goes through a variety of elevations and vistas. You may even see some of the local inhabitants, deer, wandering the fairways as you play! 
With its soft, springy turf and rolling greens, this course is definitely memorable for anyone that plays it.
2. The Wildernesse Golf Club
💷 Green fees from £115
Also located right there in Sevenoaks is The Wildernesse Golf Club, founded in 1890. 
This heavily wooded parkland course is regularly used for competitions, with rolling greens and well-placed bunkers to keep you on your toes. 
This course may be on the short side for an 18-hole game, but it packs a punch. With a few tricky shots and a gorgeous number of trees that make the fairways feel much tighter than they actually are, anyone playing this course will surely find themselves enjoying it.
3. Darenth Valley Golf Club
📌 Station Rd, Shoreham, Sevenoaks TN14 7SA
💷 Green fees from £32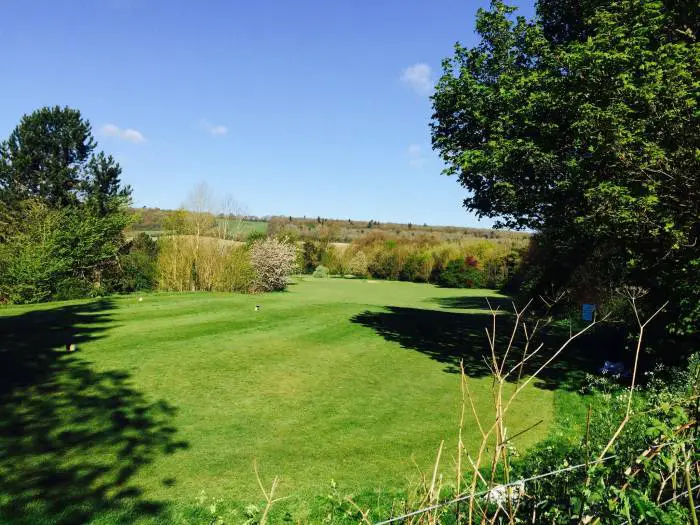 Another nearby course worth a visit while you're in town is Darenth Valley Golf Club.
This perfectly picturesque, 18-hole course is gently undulating with a chalk base, so it can be played year-round with ease. 
A parkland course, it has well-kept greens and plenty of trees along the way. Any player of any skill level would enjoy a game on this course. Whether you are there for the views or the game, take the time to stop in!
4. Westerham Golf Club
📌 Valence Park, Brasted Rd, Westerham TN16 1QN
💷 Green fees from £30
Just under a 15 minute drive from Sevenoaks sits another gorgeous course, the Westerham Golf Club. 
This 18-hole course is playable year-round, making it an excellent choice to play whenever you happen to be in the area. 
With several water features, tree-lined fairways, and cleverly placed bunkers, this parkland course is a nice challenge for all…especially on the very tricky 11th hole, which we won't spoil for you!
Enjoy this rolling course settled in the Kent North Downs, from the game to the views.
5. Wrotham Heath Golf Club
📌 Seven Mile Ln, Borough Green, Sevenoaks TN15 8QZ
💷 Green fees from £60
For a tight and fast-paced game of golf in Sevenoaks, a visit to Wrotham Heath Golf Club may be in order. 
While still an 18-hole course, it's shorter than your average and places a premium on accuracy, with tricky areas ready to catch you out. 
As you take in the view of Kent, you will find that this heathland course undulates and is filled with tight spaces and plenty of tree coverage. This is another year-round course, as it rests on a free-draining sandstone ridge. 
Come visit any time for a game that is sure to thrill players of all types and skills.
6. Nizels Golf & Country Club
📌 Nizels Ln, Nizels, Tonbridge TN11 8NU
💷 Green fees from £36
Sitting just an 8-minute drive from Sevenoaks, Nizels Golf & Country Club offers a mature parkland course of 18 holes. 
This championship course is full of lovely scenery, natural course contours, and multiple water features. Golfers of any handicap will have a fun game when they play here. 
If you stop by the 16th hole in mid-April, you'll find a beautiful woodland sight filled with bluebells during your play-through!
Final Thoughts
While these are only a handful of golf courses in the Sevenoaks area, we can definitely say that these are our favourites. 
If you're still not convinced, you can always compare the full list of golf courses in Kent, by checking out our database of golf courses in England. 
Test out one or more of the courses on this list and let us know what you think! But you can't go wrong with a game at one of the golf clubs below.
Knole Park Golf Club
The Wildernesse Club
Darenth Valley Golf Club
Westerham Golf Club
Wrotham Heath Golf Club
Nizels Golf & Country Club