Best Golf Courses in Swansea
Go&Golf is supported by its audience. When you purchase through links on our site, we may earn an affiliate commission.
Learn more
Swansea, a city that's just as notable for its vibrant cultural scene as it is for its picturesque coastal landscapes, is a golfer's paradise. 
It hosts a wealth of golf courses, each with its distinctive allure. From the undulating greens perched atop cliffs, offering commanding sea views, to the serene parkland courses promising tranquillity, Swansea has something for every golfer. 
Below we've pulled a list of our favourite golf courses in the area. Join us as we explore seven of the best golf courses that Swansea has to offer.
The best golf courses in Swansea
All of the recommended golf courses below are reachable within 30 minutes drive from the centre of Swansea.
1. Swansea Bay Golf Club
📌 Location: West Glamorgan, Jersey Marine, Skewen, Neath SA10 6JP | 💷 Green fees: from £22
Dating back to 1892, Swansea Bay Golf Club is one of Wales' oldest and is often referred to as 'the links by the sea'. 
Located in Jersey Marine, between Swansea and Neath, this 18-hole championship links course brings together the best of the seaside and parkland styles.
The wind is often a key factor here, adding an extra layer of challenge. 
2. Clyne Golf Club
📌 Location: 118-120 Owls Lodge Ln, Mayals, Swansea SA3 5DP | 💷 Green fees: from £30
Positioned at the gateway to the beautiful Gower Peninsula, Clyne Golf Club boasts an 18-hole course that promises breath-taking views over Swansea Bay and the Bristol Channel. 
Despite its coastal location, the course itself is more of a heathland in nature. The gorse-lined fairways put a premium on accuracy and provide a unique challenge. 
It's enough to earn the club a spot in the top 50 golf courses in Wales. 
3. Pennard Golf Club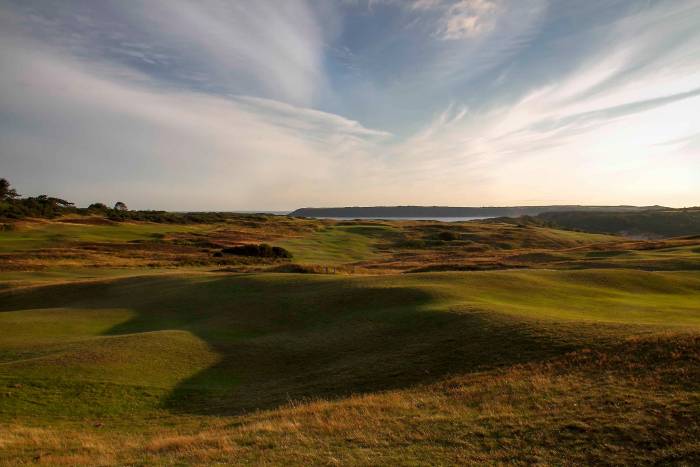 📌 Location: 2 Southgate Rd, Southgate, Swansea SA3 2BT | 💷 Green fees: from £55
Perched on a hilltop with panoramic views of the sea and countryside, Pennard Golf Club presents a challenging links course often referred to as 'the links in the sky'. 
The 6,420 yard layout combines natural beauty with the game's challenges, offering golfers a unique experience. 
And despite ranking in the UK & Ireland Top 100 courses, the green fees are extremely good value. It's worth every penny for its one-of-a-kind location and layout.
4. Langland Bay Golf Club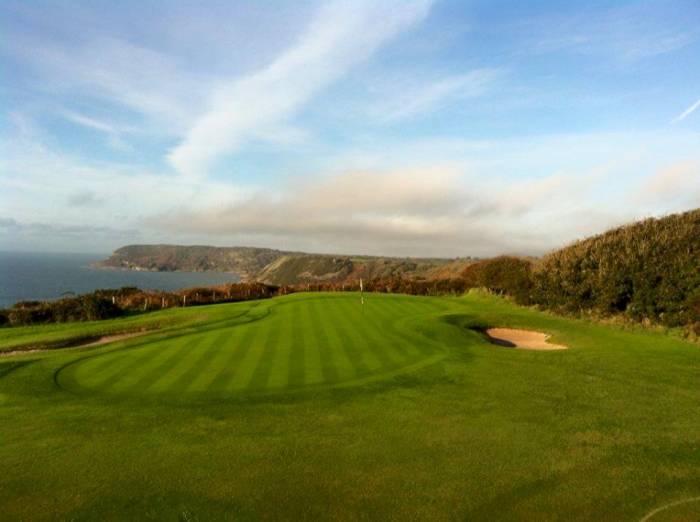 📌 Location: Langland Bay Rd, The Mumbles, Newton, Swansea SA3 4QR | 💷 Green fees: from £30
Langland Bay Golf Club is a 6,026 yard cliff-top parkland course with stunning sea views. 
This 18-hole course provides golfers with not only a great game of golf but also a feast for the eyes with some of the best views available on any course in the British Isles.
Although fairly short in length, it has plenty of challenges that will test all skill levels. The club offers green fees from £35 to £50.
5. Neath Golf Club
📌 Location: Cwmbach Rd, Cadoxton, Neath SA10 8AH | 💷 Green fees: from £50
Moving inland, away from the coast, nestled in the heart of the countryside is Neath Golf Club.
It's a stunning 18-hole heathland course, recognised as a James Braid classic. The course is known for its tight fairways and fast, true greens. Heathland in nature, it's protected by gorse, trees, heather and dry stone walls. 
With undulating greens and the elements of the Neath Valley, this course will test the skills of even the most seasoned golfers. 
6. Machynys Peninsula Golf & Country Club
📌 Location: Nicklaus Ave, Llanelli SA15 2DG | 💷 Green fees: from £35
Monk's Island at Machynys Peninsula is a modern links golf course, designed by Jack Nicklaus. The venue actually boasts the first Nicklaus designed in Wales. 
At 7,121 yards, it's a bit of a beast from the back tees and offers a challenge for golfers of all handicaps.
Despite only opening in 2005, it's already gained plenty of attention. Monk's Island has already hosted 16 Championships, including 4 Royal & Ancient Championships and 4 Ryder Cup Wales LET Championships of Europe.
7. Pyle & Kenfig Golf Club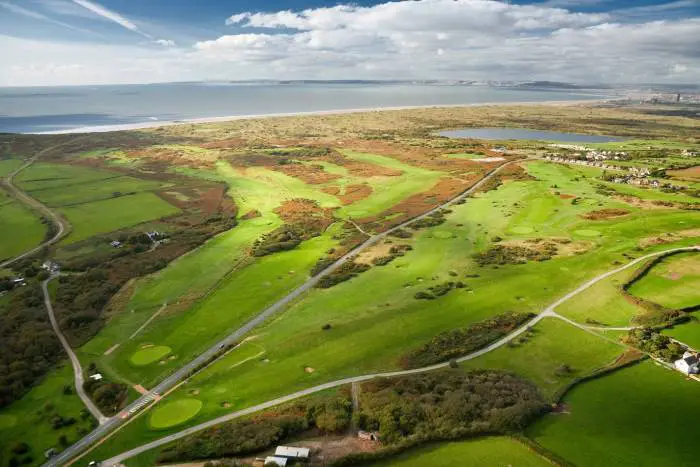 📌 Location: Waun-y-mer, Bridgend CF33 4PU | 💷 Green fees: from £65
Rounding off our list is Pyle & Kenfig Golf Club, also known as P&K. 
The course is a beautiful links style course that has some parkland features, offering golfers the best of both worlds. It reaches 6,869 yards from the back tees with a par of 71, providing an enjoyable and challenging round of golf (the last three holes are more of the latter!).
Whilst you navigate your way around the links, you're treated to stunning views of the Bristol Channel and Swansea Bay alongside the magnificent Welsh Mountain. 
Final thoughts
Swansea's golf courses, each uniquely appealing, provide golfers with an exceptional variety of golfing experiences. 
From the cliff-top thrills of Langland Bay and Pennard to the serene heathland of Clyne and Neath, each course offers a different challenge and charm. 
If you want to compare more golf courses in the area, you can check out our golf course directory where you can compare all the golf courses in South Wales. 
However, whether you're a seasoned player looking for a new challenge or a beginner seeking to enjoy a round in beautiful settings, any of Swansea's golf courses below are certain to provide an unforgettable golfing experience.
Swansea Bay Golf Club 
Clyne Golf Club
Pennard Golf Club
Langland Bay Golf Club
Neath Golf Club
Machynys Peninsula Golf & Country Club
Pyle & Kenfig Golf Club