Best Golf Courses in Dartmouth
Go&Golf is supported by its audience. When you purchase through links on our site, we may earn an affiliate commission.
Learn more
Part of the Devon County of England, Dartmouth is a major tourist spot that is begging for you to visit. 
Sitting on the western bank of the estuary for the River Dart, this town has a rich history and an even richer future. 
Visitors can watch boat races, visit landmarks, attend festivals, and so much more. With plenty of architecturally stunning buildings, this town is a must-visit for anyone on a tour of England. 
However, if you're looking for a break from all the tourists, why not grab your clubs and head out for 18 holes? Keep reading for a list of our favourite golf courses in the area.
Best Golf Courses Near Dartmouth
With just a quick drive from Dartmouth, you can visit any of these charming golf courses for a game. 
You'll get plenty of views no matter where you choose, so maybe try out a few and find your favourite.
1. Dartmouth Golf & Country Club
Location: 📌 Blackawton, Dartmouth TQ9 7DE | 💷 Green fees: from £30
Sitting in the rolling countryside of South Hams, just a 10 minute drive from Dartmouth, the Dartmouth Golf & Country Club contains 2 separate courses set over 225 acres of South Hams countryside.
The 18-hole (Championship Course) is the star attraction. Opening in 1992, it stretches to nearly 7,200 yards from the back tees, making it challenging enough for any player!
The Dartmouth Course may be a smaller 9-hole course, but it's held to the same condition standards as the Championship course. It's not just a short par 3 course either. There's a mixture of par 3s, 4s and 5s that will provide an enjoyable game!
Both courses are made up of undulating greens, protected by various water features. The quality of the courses (and hotel) has helped the Dartmouth Golf & Country Club rank in the GB & Ireland Top 100 Resorts. 
2. Churston Golf Club
📌 Location: Dartmouth Road, Galmpton, Brixham TQ5 0LA | 💷 Green fees: from £42
Established back in 1890 (back when it was a 9-hole course), the Churston Golf Club is a parkland-style course located about 27 minutes from Dartmouth. 
The course, as it is today, features pretty coastal views throughout the round. Now an 18 hole golf course, each individual hole has its own test. The layout of the holes are not only visually appealing, but also challenging for any player in its design. 
With perfect drainage for year-round play, and well-kept fairways, anyone and everyone can find a great game on this course.
3. Torquay Golf Club
📌 Location: 30 Petitor Rd, St Marychurch, Torquay TQ1 4QF | 💷 Green fees: from £50
Located in the heart of the English Riviera, the Torquay Golf Club was opened for play in 1909. 
This parkland-style course has 18 holes for you to play through, each of which takes advantage of the natural surrounding beauty and landscape. 
The fairways here are lined with trees, but occasionally you'll get a break in the trees to be treated to the stunning views. 
Each hole comes with its own unique challenges and the greens are perfectly maintained all year round. 
It's worth the 45 minute drive from Dartmouth for a game on this course. However, if staying closer by, or you're interested in more golf courses in the area, you can also check out our post on the best golf courses in Torquay.
4. Thurlestone Golf Club
📌 Location: Thurlestone, Kingsbridge TQ7 3NZ | 💷 Green fees: from £30
If you're looking for a course with a mix of cliff-top and links-style courses to play on, then Thurlestone Golf Club is a solid place for a game. 
You'll get to play along rocky coastlines, overlooking old smuggler's coves for some excellent views. 
You can play this course most of the year, as the weather allows, and the fairways are pretty expansive. 
Only a 36-minute drive from Dartmouth, you can enjoy this rewarding course. Players of any level can find something to love at this course.
5. Dainton Park Golf Club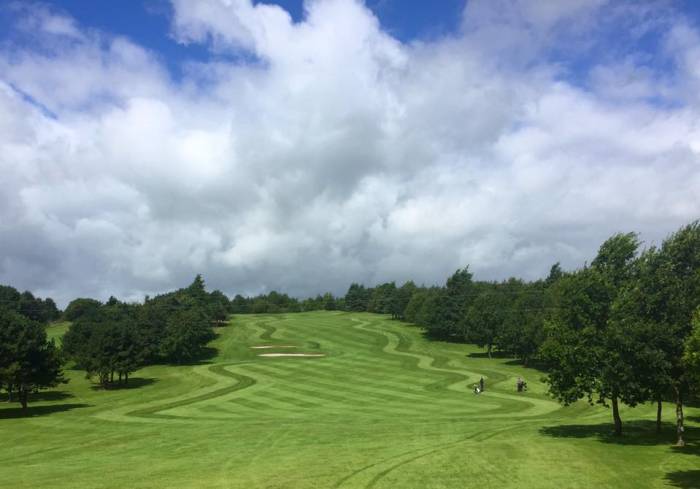 📌 Location: Totnes Rd, Ipplepen, Dainton, Newton Abbot TQ12 5TN | 💷 Green fees: from £31
For a golf game in the heart of Devon, stop by the Dainton Park Golf Club for a round. 
Commissioned in 1993, this course has become one of the most popular in Devon. It sits about 37 minutes outside of Dartmouth and is a parkland-style course. 
Spread out over 6,400 yards, and there are plenty of water features that will add excitement to the game. 
Each of the holes on this course will provide a unique experience due to the rolling greens and elevated tees that you'll be playing from. If you like a challenge, you'll especially enjoy their signature hole, the 2nd.
Final Thoughts
If you're still not convinced on where to tee it up, remember that these are just a small handful of our favourite golf courses near Dartmouth. 
You can always find more with a quick visit to our full UK golf course database to compare all of the golf courses in Devon and South West England!
However, we think you can't go wrong with 18 holes at one of the below:
Dartmouth Golf & Country Club
Churston Golf Club
Torquay Golf Club
Thurlestone Golf Club
Dainton Park Golf Club