Best Golf Courses Near North London
Go&Golf is supported by its audience. When you purchase through links on our site, we may earn an affiliate commission.
Learn more
Just a short journey from the centre of the capital, there are plenty of excellent golf courses in North London. It's hard to believe you can be teeing it up in the peace and quiet of the countryside in just half an hour after finishing up a meeting in the centre of London. 
The region of North London actually encompasses several areas: Barnet, Finchley, Haringey, Enfield, Tottenham, Waltham Forest. 
But for the purpose of this post, we're considering anywhere with a "N" postcode as part of North London!
We've been through and picked out the best golfing options in the area and listed them below. 
Best Course Near North London
For a good golf game near North London, check out one of these golf courses from our favourites list.
1. Muswell Hill Golf Club
💷 Green fees from £30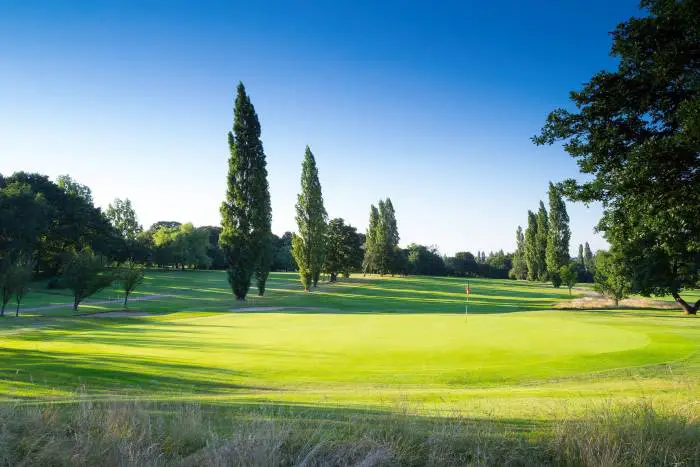 Just a 44-minute drive from North London you'll find Muswell Hill Golf Club. 
Founded  in 1893, this mature parkland-style course is full of little challenges along the way, from well-placed sand traps, tree lined fairways and more. It's a great 18-hole course perfect for all levels of players. 
The rolling fairways are undulating, creating an uneven surfaces which only adds to the challenge. 
Keep in mind that the final stretch of this course is the most challenging bit, so save some energy for that!
2. Hampstead Golf Club
📌 82 Winnington Rd, London N2 0TU
💷 Green fees from £50
Designed in 1893 by one of Britain's most notable course architects, Tom Dunn, Hampstead Golf Club is a charming 9-hole course that is considered a hidden gem in London. 
The undulating parkland is one of the most challenging short courses in all of England, with enough tricks to make any level of player stand up and pay attention as they play. 
At only half an hour's drive from North London, this course is definitely worth the trip.
3. Highgate Golf Club
💷 Green fees from £95
If you want to find a relaxing golf game that lets you overlook North London, Highgate Golf Club may be the place for you. 
Located just 25 minutes from King's Cross, this 18-hole parkland course offers rolling fairways that are ideal for creative players. 
The reservoir on the property makes a fantastic bit of scenery, as well! 
There are plenty of challenges throughout, enough to tempt and excite players of all types.
4. Finchley Golf Club
📌 Nether Court, Frith Ln, London NW7 1PU
💷 Green fees from £43
A picturesque parkland course, Finchley Golf Course is an 18-hole course located in Finchley, North London. 
These rolling fairways and mature trees of varying types will make for a nice backdrop as you navigate the layout. 
James Braid designed this course with the intent of keeping it beautiful, yet challenging for golfers of all abilities. 
If you're lucky, you may even see some wildlife roaming about as you go!
5. North Middlesex Golf Club
📌 Manor House, Friern Barnet Ln, London N20 0NL
💷 Green fees from £30
A course meant for all levels of players; North Middlesex Golf Club is located about half an hour from the centre of London. 
This parkland course is lined with beautiful trees and contains several water features, giving a nice little scenic view. 
Designed in 1903 by Willie Park Jr, this course has a few extra tricky holes that will require plenty of focus in order to make a perfect shot! 
6. Hendon Golf Club
📌 Ashley Walk, Devonshire Rd, London NW7 1DG
💷 Green fees from £32
Just down the road from Finchley Golf Club is Hendon Golf Club, an 18-hole course with rolling greens and tree-lined fairways. 
This course is built on 100 acres of London's Green Belt and fits right in with its scenery. You get that feeling of being in the countryside despite being just a short drive from the capital. 
While providing a challenge for all players, the goal is to keep it fun for everyone while maintaining the skill needed to have a solid game.
7. South Herts Golf Club
💷 Green fees from £60
South Herts Golf Club is a little further out of the capital on the edges of North London. There are two different courses on the property: The Vardon and The Rees, each of which is named after one of Britain's greatest golfers. 
The Vardon course is an 18-hole option, with greens challenging enough for them to be used as a qualifier course for The Open Championship many times over. 
The Rees course is their 9-hole choice, which is set in a hillside to give it an extra challenge. This course is ideal for those wanting to sharpen up their game before taking on a bigger course.
8. Bush Hill Park Golf Club
💷 Green fees from £45
Established in 1895, Bush Hill Park Golf Club is in the top 5 courses in the county of Middlesex. 
This parkland course offers 18 holes of history and fun, with enough of a challenge for any player and some stunning backdrops along the tree-lined fairways. 
Keep an eye out for the strategically placed bunkers, though!
Final Thoughts
As you could probably guess, there are so many options in the North London area for a round or two of golf! 
The ones we've listed here just happen to be our top choices. If you want to see what else is on offer, check out our full database of golf courses in London where you can compare all the options in the region. 
Otherwise, we'll leave you with a summary of favourites below!
Muswell Hill Golf Club
Hampstead Golf Club
Highgate Golf Club
Finchley Golf Club
North Middlesex Golf Club
Hendon Golf Club
South Herts Golf Club
Bush Hill Park Golf Club