Best Golf Courses in Plymouth
Go&Golf is supported by its audience. When you purchase through links on our site, we may earn an affiliate commission.
Learn more
If you're looking for a nice little vacation spot in South West England that cosies up to the water, then Plymouth might be a great option for you! 
Located on the southern coast of Devon, this port city has plenty of historical sights and commercial areas and is the 30th-most-populated city in the UK. 
You can find plenty to do in and around town for anyone, but if you want to get out into the fresh air for a bit of golf, then we can help you with that. 
We've compiled a list of our favourite golf courses in the area that are certainly worth a visit if you happen to be in the area. 
Best golf courses near Plymouth
Within a short drive from Plymouth, you can check out any of these courses for a quick golf game. 
Take your pick on how far you're willing to travel, but none of these should be more than a 40-minute drive for you.
1. Staddon Heights Golf Club
📌 96 Staddon Ln, Plymstock, Plymouth PL9 9SP
💷 Green fees from £25
Located right on the outskirts of Plymouth, Staddon Heights Golf Club is a cliff-top course that has 18 holes and endless views. 
As you play through, you'll get glimpses of the Devon and Cornwall coast, the Plymouth Sound, and out over the Dartmoor and more. 
This golf club was established in 1904 and features several holes that showcase the amazing views. While not the most challenging course you could play in the area, it is great for golfers of any skill level to enjoy.
2. Yelverton Golf Club
📌 Golf links Rd, Yelverton PL20 6BN
💷 Green fees from £40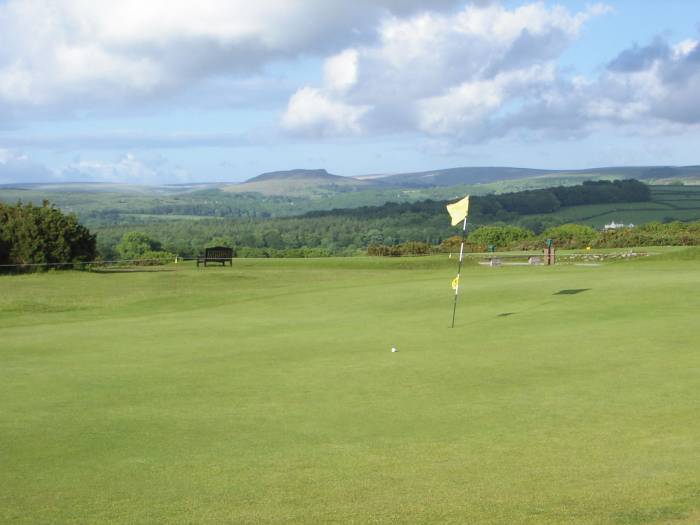 Regularly featured as one of the top golf courses in Devon, the Yelverton Golf Club is a moorland style course nestled into South Devon, about 15 minutes outside of Plymouth. 
With 18 holes and a plethora of natural challenges to play around, views across Dartmoor and Cornwall, and even some furry visitors like ponies and cattle. 
The old mine workings are also turned into a part of the course, so all players will have a fun time on this unique course.
3. St Mellion (Nicklaus Course)
💷 Green fees from £30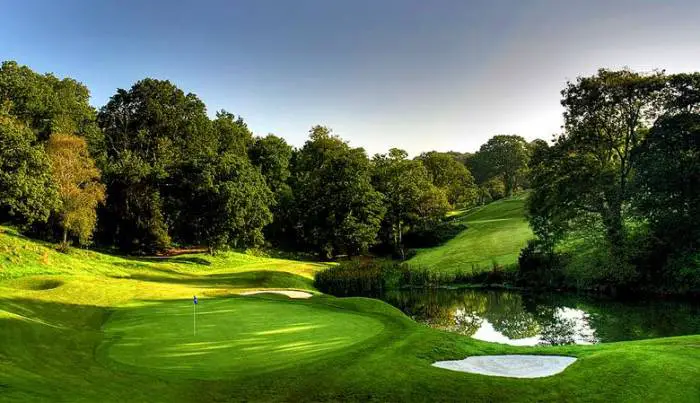 Of the two courses at St Mellion, located about 20 minutes from Plymouth, the Nicklaus Course opened up in 1988. 
It's actually the first European course to be designed by Jack Nicklaus, making it pretty well renowned. 
An 18-hole course with gorgeously maintained and rolling greens, this course is considered a "bucket list" course by many golfers. It features in the Top 100 in England and Next 100 (100-200) in the UK & Ireland lists. 
Full of water hazards and bunkers, all players will find something to love on this course.
4. St Mellion (Kernow Course)
💷 Green fees from £30
The second course at St Mellion is the Kernow Course and it's actually the original course on the property, built in 1976. 
This parkland course has 18 holes, wide fairways, and acts as an ideal foil to the Nicklaus Course in many ways. You still get some of the same stunning views, just a different feel to your game.
5. Ivybridge Golf Club
💷 Green fees from £13
Ivybridge Golf Club is a quick 20-minute drive from Plymouth and ideal for those who are looking to get a quick game in. 
Now, be aware that this course is definitely not on the same level as the others, but it would still make for a fun outing! 
With narrow fairways and small greens, this 9-hole course may be small, but it still packs in the fun. You get some water hazards, parkland course fairways, and more when you tee it up here.
6. Bigbury Golf Club
📌 Bigbury, Kingsbridge TQ7 4BB
💷 Green fees from £35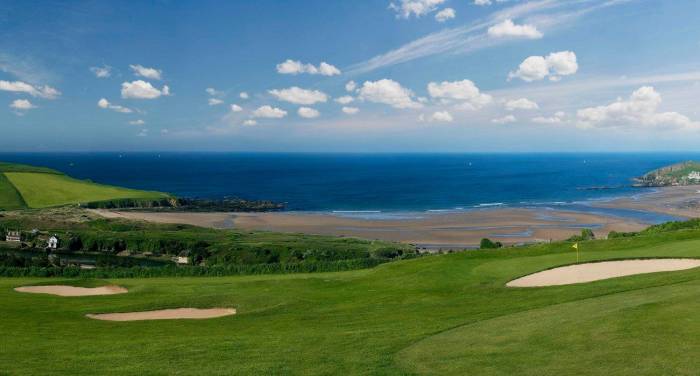 With a 360-degree view of rocky seascapes, the Avon estuary, the Moorlands, and Burgh Island, Bigbury Golf Club is here for all levels of players. 
Located about 37 minutes from Plymouth, this course is the furthest out…but also one of the most scenic. 
Founded in 1923, this course now has 18 holes on a well-groomed fairway that is sure to provide a nice challenge for anyone. Part of this challenge is the gusty sea breezes that sometimes roll through to you on your toes!
Final Thoughts
So there you have it. These are just a small handful of our favourite golf courses near Plymouth.
If you're still not convinced, or don't mind travelling a little further away from the city of Plymouth, then you can check out all the golf courses in South West England. 
Or visit our full UK golf course database to learn about any other courses you find yourself wondering about!
However, we'll leave you with a quick recap of the choices we've listed as our top picks in Plymouth:
Staddon Heights Golf Club
Yelverton Golf Club
St Mellion (Nicklaus Course)
St Mellion (Kernow Course)
Ivybridge Golf Club
Bigbury Golf Club