Best Golf Rangefinders
Go&Golf is supported by its audience. When you purchase through links on our site, we may earn an affiliate commission.
Learn more
You rip your drive down the fairway. You confidently stroll to your ball. You turn to your caddy and ask, "what's the number – what club should I hit?". Wait – you don't have a personal caddy? So then how do you figure out the yardage for your approach shot?
Our guess – you search for the nearest yardage marker and walk/count your strides. You estimate if the pin is front, middle, or back and you make an educated guess on the correct club to hit. Sound about right?
Well all of this takes time and isn't very accurate. There must be a better way.
The solution is a golf rangefinder. 
You can instantly shoot the distance to the flag, bunker, or a tree just over the green. Remove the guesswork and start playing with the same level of information a PGA tour professional receives from their caddy. 
Golf is hard enough without having to play with incomplete information.
If you're a little overwhelmed by all the golf rangefinder options, we're here to help. Below we walk you through making the right choice and provide you with our picks for best golf rangefinders. But if you're in a hurry, here are our top recommendations.
Our top pick for entry level golf rangefinders offering excellent value for money!
Bushnell V5 Tour
It's hard to separate any of the Bushnell rangefinders which are all excellent, but the V5 tour clips it for us!
Shotscope Pro L1 Rangefinder
The makers of the ShotScope GPS watches have also delivered an excellent rangefinder.
Key Considerations Before Buying
Before you start shopping, you need to determine the features you need versus want. In other words, what is a requirement vs. a nice-to-have.
Ease of Use
The simpler the better. You shouldn't need the steady hand of trained sniper to get your distance. Ideally, you point the golf rangefinder, push a button, and get the yardage. You may want to consider technologies that help you "hit the pin" when you aim the rangefinder. 
There is nothing worse than flying the green with your approach because you accidentally got the yardage to the hill behind the green instead of the pin. 
Look for a feedback feature. Many will vibrate or give you a jolt when you lock-in on the flag.
Accuracy
You need to be careful here, particularly in the lower end of the market, but the good news – you can trust the accuracy on all our "best golf rangefinders" listed below. 
As we discussed above, the most likely accuracy mistake will be operator error. Make sure that you spot check the yardage you receive. In other words, if you are standing near the 150-yard marker and your golf rangefinder tells you 220 yards, you are probably missing the flagstick.
Battery Life
You don't want to be on the back nine, shooting the round of your life, and suddenly lose the ability to check your distances. 
Pay attention to battery type for different rangefinders and always carry a spare in your bag.
Distance Range (Magnification)
All the best golf rangefinders can shoot distances further than you can ever hit a golf ball, but magnification is different between the different devices. 
Increased magnification can help you shoot your target and provide you with more information on a new course. You will find golf rangefinders that have everything from 2x to 7x magnification. We recommend you have at least 4x.
Slope vs. No Slope
If you are new to the idea golf rangefinders "slope" can be the most confusing topic/feature. 
If the device you purchase has a slope feature, that means it will give you an adjusted yardage based on the amount uphill or downhill your shot is. This is a very cool feature, but it is important to know that you are not allowed to use slope adjustment in a tournament.
Most golf rangefinders will allow you to turn this feature on and off. So if you ever plan to play in a competitive event and want slope, make sure you can turn it off.
Golf Rangefinder vs. GPS
If you are looking for distance on the golf course, a rangefinder isn't your only option, you also have the option of a golf GPS device. 
This post is focused on the rangefinder option. The rangefinder is a point-and-shoot technique, while a GPS device will give you basic yardage to front, center, and back of the green. GPS devices are available via your smartphone, a watch, or various other models. 
There are positives and negatives of both. You can check out our more detailed post on golf rangefinders vs. GPS devices if you haven't yet made your mind up.
However, some hybrid devices do exist. i.e. a golf rangefinder that also includes GPS features. We highlight a couple of these devices in our Premium section below.
Entry-Level Golf Rangefinders
As you will quickly see, golf rangefinders are significant investments in your game. To help you decide, we have categorised our best golf rangefinders by cost (Entry-Level, Mid-Range, Premium).
AOFAR GX-2S Golf Range Finder
Features
Flag Lock w/ vibration – vibrates when you lock in on the pin

Slope toggle – turn slope feature on/off

5 -600-yard range
Check price on Amazon
The AOFAR GX-2S golf rangefinder is the first of our entry-level options. Sleek and compact, it accurately can give you your distance for up to 600 yards. 
The flag lock feature provides you with instant feedback that you have correctly hit the pin and you can confidently select your club. The AOFAR GX-2S does allow you to turn the slope feature on and off. Use slope when you are practicing on the course and turn it off when you are ready to compete in a local or regional tournament.
TecTecTec VPRO500 Golf Rangefinder
Features
Accurately measures from 5 – 540-yards

Pin sensor technology to helps you hit the pin and not the hill or tree behind the green

Full package includes carrying case, CR2 battery, and cleaning cloth
Check price on Amazon
The TecTecTec VPRO500 golf rangefinder is the other entry-level option on our list. We appreciate the full package, which gives you everything you need to use your new rangefinder the day you purchase it. 
The VPRO500 uses a continuous scanning process that allows you to quickly get multiple distance readings. Very simple to use. Point, shoot, and pick your club.
Mid-Range Golf Rangefinders
We selected 3 mid-range options for our best golf rangefinders list.
Shotscope Pro L1 Rangefinder
Features
Range of up to 875 yards

Adaptive slope technology – quick toggle to turn slope on and off

Target lock vibration
Check Price on American Golf
The Shotscope Pro L1 rangefinder is accurate for up to 875 yards!
The ergonomic design fits perfectly in your hand – so you can easily get your yardage without needing both hands. 
The device provides 6x magnification, making it easy to pick out the flag on the course. Moreover the target lock vibration will help you avoid making mistakes by vibrating when you target the flag. 
The slope adjustment feature can be toggled on and off and the rangefinder comes with a carry case that easily attaches to your golf bag for quick access on the course. 
Golfbuddy Aim L10
Features
Pin finding technology with vibration

Audio distance read out option – hear your yardage

Slope option – easy toggle on and off
Check Price on American Golf
The Golfbuddy AIM L10 can be your friend. That's right – this rangefinder can talk to you. It has an audio read out option if you want to hear the number during your club selection process. 
You can choose from 3 different targeting modes – Standard, Scan, and Pin. It provides 6x magnification and offers a slope adjustment feature that you can quickly turn on or turn off. 
To help with battery life, it will shut-off after 15 seconds being left unattended.
Nikon Coolshot
Features
Compact design for ease of use

Measurement range of 8 – 650 yards

Quick measurements – less than a second regardless of distance
Check price on Amazon
The Nikon Coolshot is a sleek, compact golf rangefinder that is easy to operate. You can quickly get yardages of up to 650 yards regardless of target. 
The rangefinder provides 6x magnification in a bright, clear finder screen that also includes "first priority" mode that will help find the flag and not the woods behind the green. 
The Coolshot does not come with a slope adjustment mode so you don't need to worry if you're a competitive golfer.
Premium Golf Rangefinders
If you want the best of the best and you're willing to spend a little extra to get the top of the line technology, here are the 4 premium options that made our "best golf rangefinders" list.
Bushnell Pro EX
Features
Slope technology with elements (temperature and barometric pressure) toggles on/off

Pin seeker technology with visual jolt

Ranges 500+ yards with 7x magnification
Check Price on American Golf
Bushnell is known for making high-tech, high-quality golf rangefinders and the Pro EX is no exception. 
Not only does the rangefinder offer slope technology, but it has elements that include yardage adjustments based on the current temperature and barometric pressure! (This feature can be turned off for use in tournaments.) 
The device offers 7x magnification and 500 yards of range which removes the guesswork from your shots. This golf rangefinder will quickly find the pin and give you a slight jolt.
And for convenience, the Pro EX comes with BITE Magnetic Cart Mount which allows you to quickly mount the device on your cart.
Bushnell V5 Tour
Features
Provides target jolt from 5 – 1,300 yards

Protective carrying case and water resistant

6x magnification
Check Price on American Golf
The Bushnell V5 tour is designed for the competitive player that wants high-quality yardage information but doesn't need slope or element adjustments. 
This golf rangefinder provides 6x magnification and target jolt for up to 1,300 yards! 
It comes with a protective carrying case and has been built to handle the elements. Similar to the PRO Ex it does come with the BITE technology that will allow it to connect magnetically to your pushcart or golf cart. A simple, high-quality product for serious golfers.
Bushnell Hybrid V2
Features
2-in-1 device – laser rangefinder and GPS

Pinseeker with jolt technology

Exterior GPS readout includes front/centre/back
Check Price on American Golf
The Bushnell Hybrid V2 is a unique offering on the golf rangefinder market. 
The laser rangefinder has jolt technology, 5x magnification, and a range of up to 400 yards which is nothing out of the ordinary, but the device also acts as a GPS and is preloaded with over 36,000 golf courses in over 30 countries!
The display integrates both the GPS details and the results of the laser rangefinder so you're never short of information. It also has built in Bluetooth technology to wirelessly update course information. 
What makes the Hybrid V2 unique is that you get both in one device. You can't decide between a GPS or a rangefinder? You don't have to with the Bushnell Hybrid V2!
Garmin Approach Z82 Rangefinder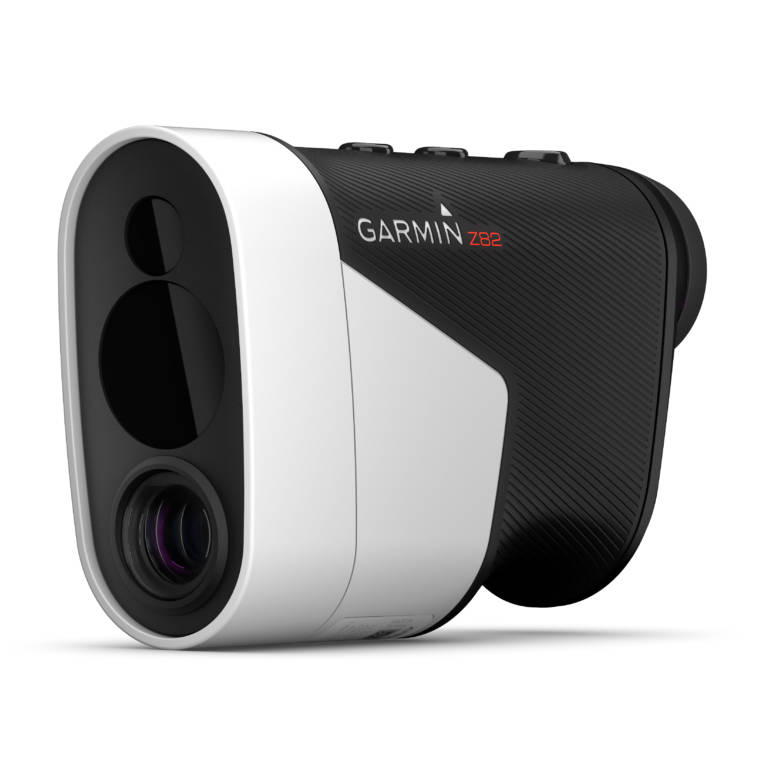 Features
Image stabilisation makes it easier to find and shoot the flag

Full colour, 2-D GPS mapping for over 41,000 courses

Integrated with Garmin Golf smartphone app
Check Price on American Golf
Garmin is known for making high-quality GPS devices, but the Approach Z82 is unique because it is also a golf rangefinder. The rangefinder flag finder locks in and provides you with a vibration when you shoot the pin. 
Meanwhile the GPS part of this device is pre-loaded with 41,000 courses and offers you distances to the green alongside a quick hazard view meaning you can scroll through potential trouble spots on each hole. 
The device integrates with the Garmin Golf app, so you can keep your score and measure shot distances to participate in online leaderboards and manage your key stats.
Final Thoughts on Golf Rangefinders
Are you still on the fence? 
Trying to decide if you want to spend money on a golf rangefinder or simply keep guessing the distance. 
Maybe this will help. 
It is true that buying a rangefinder is a significant investment, but it isn't something you have to buy every year. If you take care of your device, it should last for years. The only ongoing cost will be replacement batteries.
The more challenging decision is which one. 
You won't be disappointed with any of the products that made our list, and your choice should be based on features you will use. Do you need slope adjustment? Do you want help adjusting for weather conditions? What is your budget? Would you enjoy having a hybrid device that will provide both laser-shooting and GPS details?
Your answers to these questions will tell you which golf rangefinder is right for you.
If you are an avid golfer and you plan to play for years to come, a golf rangefinder will help you enjoy the game more.
Stand on the first tee, shoot the distance to the bunker to determine if you are going to hit driver or layup with a 3-wood. Once in the fairway, get exact yardage to the pin and confidently pick your club. Make an aggressive swing and watch the ball fly towards the flag. 
Better information equals better shots, and more birdies. 
And who doesn't enjoy making more birdies?