Garmin Vivoactive 3 Golf Review
Go&Golf is supported by its audience. When you purchase through links on our site, we may earn an affiliate commission.
Learn more
The Garmin Vivoactive 3 GPS Smartwatch isn't a golf GPS watch per say, but the multisports tracker does offer a golfing feature at a decent price point making it a worthwhile option for any serious golfer considering a golf watch. 
The GPS watch is an all-rounder in every sense of the word. 
Features
Sporty smartwatch with built in GPS

High resolution touch screen display

Fitness monitoring with 15 pre loaded sports apps

Built in golfing features

Garmin Pay

Battery life up to 7 days (13 hours with GPS enabled)

Connected features such as smart notifications
Check Price on Amazon
It's built to track activity for multiple sports including running, cycling, swimming, walking and even strength training. In fact it offers tracking for up to 15 different activities. 
But it's also designed to look good and with integrations such as Garmin Pay, notifications, all day HR monitoring and sleep tracking it's obvious Garmin have designed this watch to be worn at all times. 
Garmin Vivoactive 3 Design 
The design of the watch is sleeker and much smarter than your typical golf GPS watch. However it's a little bulkier than typical everyday smartwatches from Fitbit and Apple so occupies more of a middle ground.
I was testing the white and rose gold version (which had more of a bronze or gold appearance) and looked great on the wrist. Garmin offers the vivoactive 3 in several different colours, so if white and gold isn't your cup of tea, there are plenty of other options to choose. 
Whichever colour option you go for, they all have the same smooth, round, stainless steel face that comes in with a 1.2 inch diameter. The screen is a 240 x 240 pixel full colour touchscreen which has a sharp display, good enough to show details on green previews on the holes you're playing, but also a good size for everyday use when displaying the clock face, HR tracker and smart notifications. 
Using the touchscreen was flawless and very responsive making selecting functions and options simple and easy. There's also the additional button on the side of the watch which is mainly used for accessing the menu. 
The watches are finished off with a silicone strap with easy adjustment to make the watch fit pretty much any wrist comfortably. The silicone also ensures a good level of friction between the watch and skin so it doesn't move along your wrist when swinging a golf club, running etc. 
In fact, a combination of the material size and weight (it weighs just 43g) means you barely notice you have the watch on whilst playing golf. 
Garmin Vivoactive 3 Golf Features
So we've already established that the Garmin Vivoactive 3 is not only a golf GPS watch but an everyday smartwatch, but how does the watch perform on the golf course?
Firstly, as it's a Garmin watch, you have access to GPS data at over 40,000 golf courses worldwide. However, unlike specific golf watches designed by Garmin such as the Garmin Approach S10, the Vivoactive 3 doesn't come preloaded with all access to all these courses.
Instead you have to download the courses you want to your watch in advance of playing. It's very simple and easy to do via the Garmin Connect App and only takes a matter of seconds. 
If you're a member of a golf club and regularly play the same golf course, this won't be a problem however if you regularly play new courses this may become a bit of a pain. Also, if you forget to download the course in advance, you won't be able to use the GPS features, so you may want to consider an option with the courses preloaded if that's important for you. 
However, once you've downloaded your course data, you're set to go!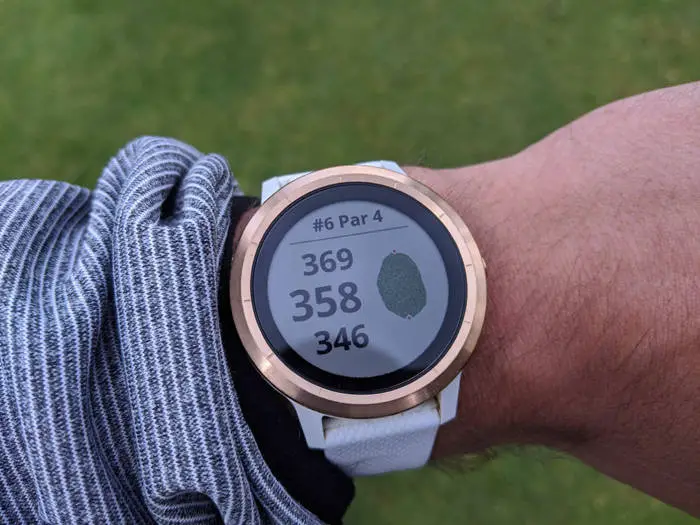 When set to golf mode, the default watch display shows distances to the front, middle and back of the green with a visual green preview on the right of that. This is pretty much standard across most golf GPS watches but not all offer the visual green previews making it a nice addition. 
When you click the image of the green you are then presented with a more detailed green view visual where you can select multiple pin positions on the green to get more precise distances to certain spots. This is definitely a feature of more mid-range to premium golf GPS watches so the fact it's included in the Vivoactive 3 is great.
Another smart feature was the Garmin Autoshot (automatic shot tracking). 
The watch automatically detects when you hit the golf ball and measures the distance from this point as you advance on the hole. This is a great tool for finding out how far you hit your drives or even each club in the bag. 
Shot tracking is available across many golf smartwatches, but not all offer the tracking automatically. The display also integrates this seamlessly where your shot distance replaces the hole information at the top of the screen. This was one of my favourite features of the watch and something I didn't expect from a multisport watch in this price bracket. 
Other features that were extremely useful when playing golf were the layup yardages. Particularly on par 5's or when I was out of position off the tee, you could easily see how far you needed to hit the ball to leave yourself, 100, 150 or 250 yards.
For the average golfer, the combination of this and additional features such as the digital scoreboard (allowing you to track you score through the round, stat tracking (strokes, putts, fairways hit),  hazard and course targets (for distances to dog-legs etc.) and Pinpointer (which points an arrow to the green when you can't see it) will mean the watch covers most requirements on the golf course.
I'd say the level of golfing features on the watch fall somewhere between the Garmin Approach S10 and the S40. But with the price falling closer to the S10 than the S40, you're getting excellent value for money when you consider everything else the watch offers.
| | | | |
| --- | --- | --- | --- |
| Features | Garmin Approach S10 | Garmin Vivoactive 3 | Garmin Approach S40 |
| Preloaded with 41k Courses | ✅ | | ✅ |
| Yardages to F/M/B | ✅ | ✅ | ✅ |
| Yardage to Layups/Doglegs | ✅ | ✅ | ✅ |
| Custom Targets | | | ✅ |
| Measures Shot Distance | Manual | Auto | Auto |
| Digital Scorecard | ✅ | ✅ | ✅ |
| Stat Tracking | | ✅ | ✅ |
| Garmin Autoshot | | ✅ | ✅ |
| Auto Courseview Updates | | | ✅ |
| Green View with Manual Pin Position | | ✅ | ✅ |
| Hazards & Course Targets | ✅ | ✅ | ✅ |
| Handicap Scoring | | | ✅ |
| Trueswing Compatible | | | ✅ |
| PinPointer | | ✅ | ✅ |
| Round Timer | ✅ | ✅ | ✅ |
| Auto Club Tracking (requires accesory) | | | ✅ |
Comparison of Garmin Golf Watches
Garmin Vivoactive 3 Everyday Features
Outside of golf, the Vivoactive 3 is a solid smartwatch. The always on HR monitor was measuring my heart rate whilst playing golf and it was interesting to see how high it was at certain points in the round. The below was taken right after a three putt on the final green so accurately shows how fuming I was!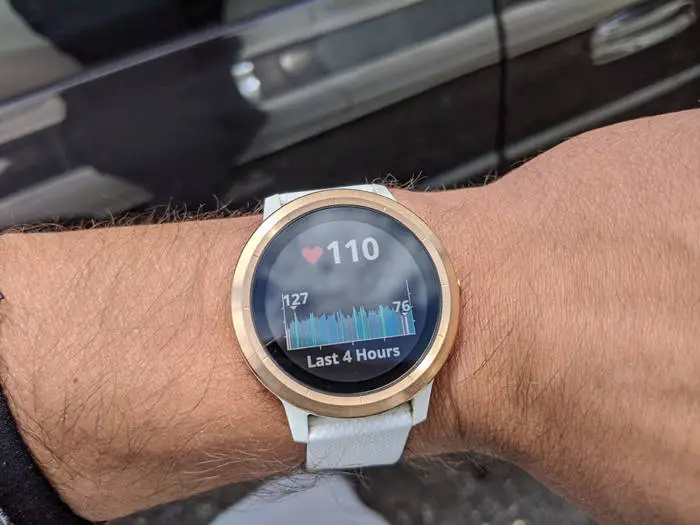 Smart Notifications are another feature of the smartwatch. Personally I'm the type of golfer who puts my mobile in my bag on the first tee and I don't pull it out until after the 18th green, but I can imagine this feature would be more useful for golfers who prefer to stay connected. After the golf a couple of texts did come through to the watch and they were easy enough to read on the display.
Otherwise, the watch is pretty much as capable as some of the most premium smartwatches out there. It has built-in alarms, a compass, automatic daylight savings, thermometer, Garmin Pay (meaning you can install your card on it and pay for things contactless), step counters and other features that you may or may not find useful. 
The main thing is, that you're not really missing out on anything that other watches offer, particularly within this price bracket.
But the beauty of the Garmin is the ability to track sports. 
Here there are limitless opportunities. If you're a golfer who does more than just golf then this watch is seriously worth considering instead of a specific golf GPS watch. You can track swimming, cycling, running, cardio workouts and strength workouts in the gym all with different metrics until your heart's content. 
The battery will last up to 13 hours with GPS enabled so should you want to, you've more than enough time to use the watch on the golf course in the morning and for your afternoon bike ride. And when you don't need the GPS tracking, the battery will last up to 7 days.
Once you've completed your activity and you sync this up with the Garmin connect app you're also provided with a wealth of information including GPS maps, heart rate charts and much more that will allow you to take your training to the next level. 
Garmin Vivoactive 3 Conclusion
Overall the Garmin Vivoactive 3 is an excellent choice for both the serious and casual golfer.
If you're in the market for a smartwatch and golf GPS watch then look no further. It makes complete sense to combine the two into one high performance watch such as this.
For me personally, I've always preferred a rangefinder vs. a golf GPS, however the additional features from a golfing and non golfing perspective have definitely got me thinking otherwise. I'm also a keen gym goer and my training would definitely benefit from the data that the watch can provide outside of golf. 
This really is the complete watch and at this price point, you can't go wrong!
Entry level golf GPS watch from Garmin with 41,000+ pre loaded courses
Best value for people who want a golf GPS watch that can be used everyday! Offers excellent performance both on and off the course.