How Long Does a Round of Golf Take?
Go&Golf is supported by its audience. When you purchase through links on our site, we may earn an affiliate commission.
Learn more
In 2019 the R&A and USGA introduced new rules of golf that were specifically designed to speed up the game of golf. 
Rules such as allowing golfers to leave the flag in the hole when putting, cutting the time to look for your golf ball from 5 minutes down to 3 minutes and not always having to go back to the tee if you lose your ball were all brought in with the pace of play in mind.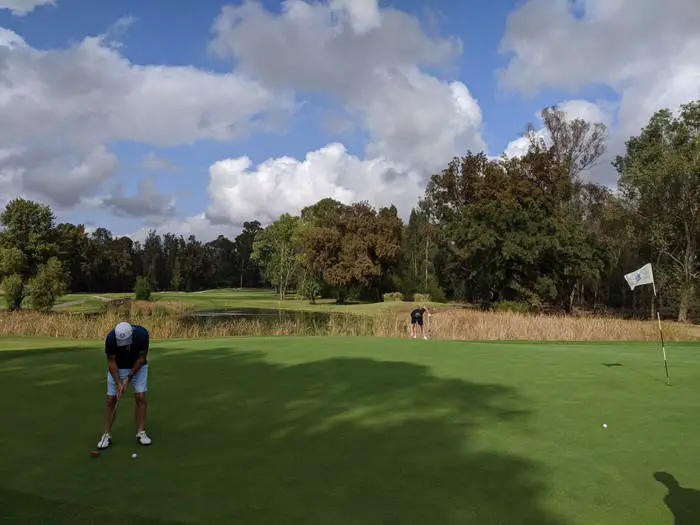 The rules were met with some controversy, but the reality is that golf has an issue in attracting new players due to how long it takes to play a round of golf. It's also proving tough to keep current golfers with young families playing the sport for the same reason, so the changes were needed. 
But just how long does it take to play a round of golf? We dive into the time it takes and the factors that contribute to the time taken to play 18 holes.
How long does it take to play a round of golf?
On an average length 18 hole golf course, it is expected to take 4 hours for a four ball to play a round of golf. 
The truth is, each golf course is different in size and length, so you can break this down to how long it should take a four ball to play each type of hole. 
Of course you'd expect that the longer a hole is (par 3, 4, 5), the longer the hole will take you, and that's true here. 
On average it takes 10 minutes to play a par 3. Then it should take you 13 minutes to play an average length par 4. Last but not least, we have the average length par 5 which should take you about 16 minutes to play. 
The number of players in the group also influences the time taken to play a round of golf. A two ball will play 18 holes much quicker than a four ball.
Factors that influence how long it takes to play a round of golf
If you're not willing to spend 4 hours out on the golf course, there are ways you can speed up a round of golf by understanding what factors influence the time it takes to play 18 holes.
The type of golf played
Starting intervals – Largely something out of your control for the most part, the time in between tee times has a big impact on time it takes to play a round of golf. This tends to be around 7 – 10 minutes at the average golf course. Golf clubs want to offer the maximum number of people a round, but if the starting times are too close together it results in groups having to wait and increase the time it takes to play a round.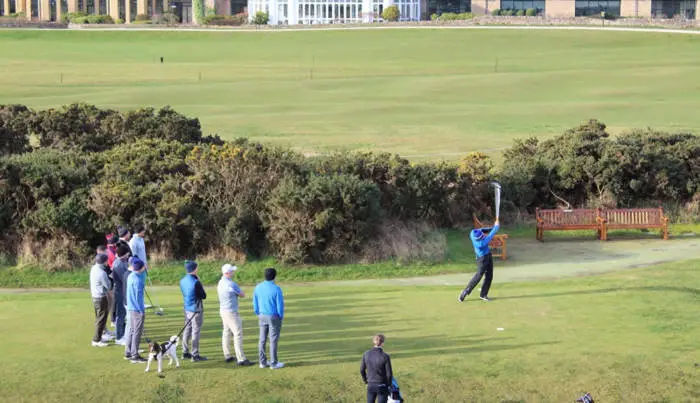 Number of players in a group – It just makes sense that the more people you have in your group, the longer it will take you to play a round of golf. This just comes from waiting for others, whether it's looking for lost balls or simply waiting out of courtesy for them to play their shot or putt out. 
Form of play – By form of play, we're referring to the type of golf being played, whether this is more traditional stroke play, match play or a Texas scramble, etc. Stroke play takes the most time out of all types of golf, but it is also the most common. Besides that, formats such as stableford and match play typically play faster because if you are having a bad hole you can concede it or blob the hole and move on. 
Course design
Unsurprisingly course design also plays a big factor in the time it takes to play a round of golf. Again this is mostly out of your hands, but it can help you decide which types of golf courses to play. 
Course length – First off, for obvious reasons, the longer the course is, the longer it will take you to play the course on average. Not only do you have to cover more ground, but if you're regularly having to hit driver off every tee and long irons into greens, the chances are you're going to hit a few more shots off line and spend time looking for balls.
Tees – The R&A have found strong evidence that players playing from appropriate tees (i.e. a 28 handicapper not playing from the tips) improves both pace of play and the enjoyment of the round. Not only this, but the distance between the greens and the following tee have a big impact on the time it takes to play a round.
Fairway width and rough height – Generally the wider the fairways and shorter the rough, the faster the round goes. This links back to the time spent looking for golf balls. If you're on the fairway or the rough isn't too severe, it's likely that you'll spot your ball pretty quick.
Obstacles on the course – The more trees, water hazards and bunkers on the course, the amount of time it will take you to play only increases. In bunkers you have to rake the sand after your shot. With water hazards, some golfers will spend a few minutes trying to fish their ball out and then agree on a place to drop this. It all adds up.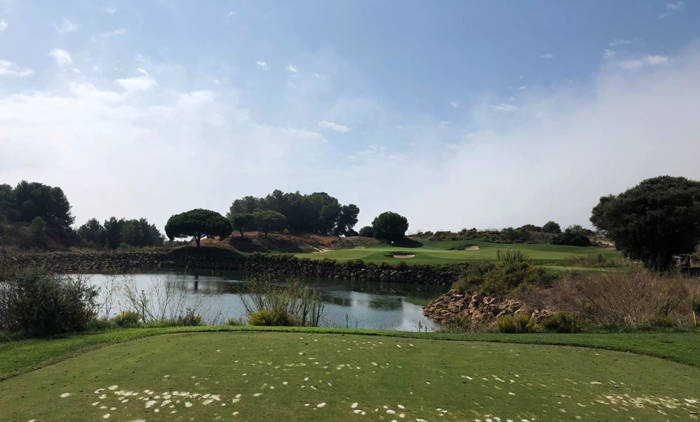 Putting greens – This is one that's commonly overlooked, but over half the shots played will be on or in and around the greens. So the difficulty of the putting surfaces have a big impact on the time taken to play. The easier they are, the quicker you will play. 
Weather conditions – Another factor you have no influence over but plays a part in the time to complete a round. If it's really windy or rainy, be prepared for your game to take longer than average. They'll be more time spent looking for golf balls, adding and removing layers and putting up umbrellas throughout the round. 
The Golfer
The final factor that influences the time taken to play a round of golf is your overall ability as a golfer!
Simply put, the better you are, the quicker you will play. 
Some of the slowest rounds often come from the people that are just getting started on their golf journey, not that there's anything wrong with that. If you're of a decent standard, just be patient with below average golfers and hope they let you play through. If you're a beginner golfer, be aware of the groups behind you and if you're holding them up, let them play through.
How to speed up your round of golf
So now you know the factors which contribute to a round of golf taking longer than it should, what can you actually do about it? Below we run through the things you can do to speed up your group's play.
Ready Golf – The easiest way you can speed up your round of golf is by playing Ready Golf! Another initiative that was brought in by the governing bodies, the idea is that Ready Golf skips the courteous part of the game where you wait for those furthest out to hit first. Instead, whoever is ready to hit the ball, hits it! Along the lines of Ready Golf, simply showing up ready to play on time helps too. 
Play from the right tees – We already identified that playing from longer tees than is suitable for your level can slow down a round of golf. Well, making sure you play from the right level of tees for your ability is an easy way to speed things up!
Be aware of your position on the course – When you start out playing golf, you're always told to keep up with the group in front. And that remains one of the best ways to keep up the pace of play. Just because the group behind isn't on your tail doesn't mean you should take as long as you want. If everyone tries to keep up with the group in front, the pace of play will be better all around. 
Be ready to play – Alongside Ready Golf, you should always be ready to play when it's your turn. Don't wait for it to be your turn before you assess the shot. Start thinking about what club you need to play and line up your putts whilst your playing partners are playing their shots so when it's your turn, you'll be ready.  
Imitating elite golf – Whilst you may want to imitate the swings of the best players in the world, one thing you can do to speed up play is not to imitate the way they assess shots and the time they take to play. The players on the PGA Tour are playing for millions of dollars each week and their livelihoods! You, most likely are not.
Position of trolley and bags – Make sure you leave your golf trolley or golf bag in a good spot around the green on the side towards the next tee. There's nothing worse than being stood in the fairway waiting for the green to clear to find one of the players has left their bag on the wrong side of the green.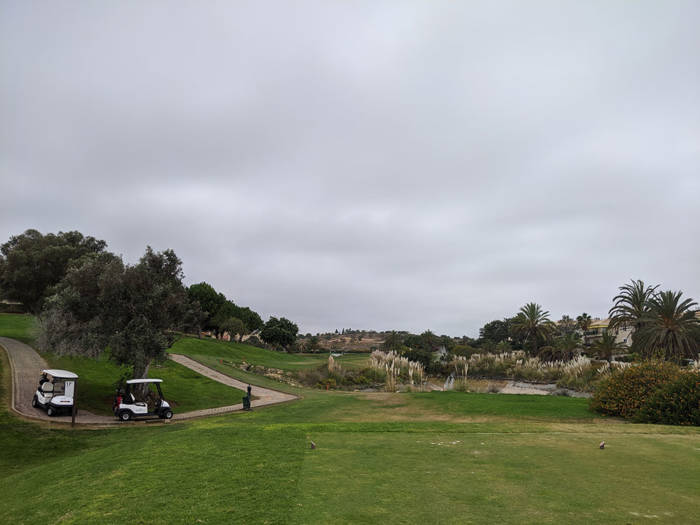 Play a provisional – Make sure you hit a provisional if you're not 100% confident you're going to find your ball. This way if you do lose your ball, it saves you an embarrassing walk back to the tee and you can just play your provisional. 
Watch your ball flight (carefully) – Last but not least, simply do your best to watch the ball flight very carefully. This is especially important if your ball is going off of the fairway. If your ball lands in a sketchy spot, try and pick something out nearby that will help you locate it easier. 
Overall, it takes roughly four hours to play a round of golf, but you can speed this up if you just make a small few changes to the way you play golf. A quicker round of golf is usually a more enjoyable round of golf!