Shot Scope V2 GPS Golf Watch Review
Go&Golf is supported by its audience. When you purchase through links on our site, we may earn an affiliate commission.
Learn more
The Shot Scope V2 is more than just a golf GPS device. In fact, if that's all you're after then I think there are better options out there. 
The biggest selling point of the Shot Scope V2 is besides providing the usual front, middle and back of green yardages, it also offers 100+ performance tracking statistics which are automatically captured as you play a round of golf.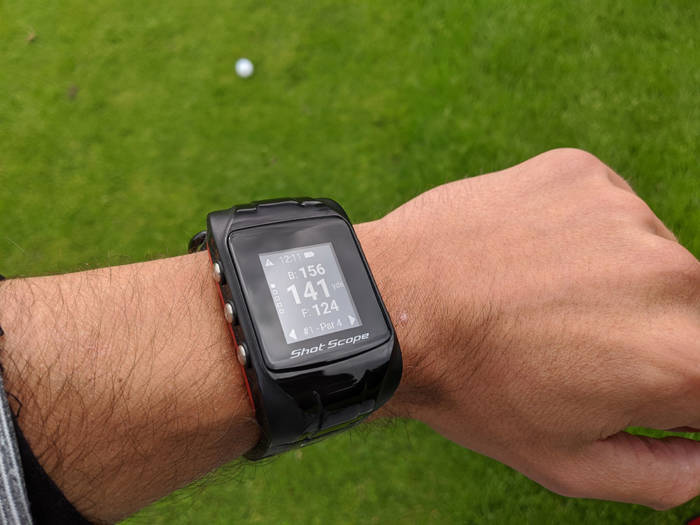 Stat tracking has become more important for the pro's on tour. It offers them a way to reflect on the strengths and weaknesses of their games and essentially where to focus their efforts when practicing. 
Feedback in the form of statistics has been fundamental to the rise of players such as Bryson DeChambeau and the Shot Scope V2 offers a glimpse of this for the regular amateur at an affordable price. 
If this is something that interests you then I suggest you read on…
Features
GPS data for 40,000 courses worldwide

No subscription fees

Front, middle and back green distances

Distances to hazards and other course targets

Automated performance tracking

16 club tags for club recognition

Advanced performance statistics
Check Price on Amazon
Shot Scope V2 Features and Design
First things first. There's no way getting around it, but the Shot Scope V2 is ugly. 
The actual size of the watch is 65mm x 39mm 14.4mm and it's as bulky, big and chunky as it appears in the photos. So if you have a smaller size wrist it's not going to look great. It may even get in the way of your natural wrist movement when you swing the club. 
However, if you have an average to medium size wrist and don't mind wearing something that looks like a Casio Calculator Watch whilst playing golf then you're good to go. And it'll probably be worth it!
The Shot Scope V2 comes with GPS data for 40,000 courses worldwide which is pretty similar to other golf watch manufactures, however the course data isn't pre-loaded onto the watch unlike some other brands. 
Instead, you'll have to manually download the data for each course you want to use the watch on. This can be done pretty quickly via. the app, then synced to the watch through Bluetooth. 
However, the good thing is that there are no subscription fees for the data. Course mapping data is updated by Shot Scope, and as long as you have an account and own the watch, you'll get updates without having to pay anything extra. 
Once you've done that, you're good to go!
You'll be able to use the watch in GPS mode which will mean you'll have distances to the front, middle and back of greens alongside distances to hazards and the front and back of bunkers. 
Unfortunately there are no hole previews or green previews like on other golf watches, but the basic information is there and nicely displayed on the watch face.
But anyway, the GPS features is not why you buy the Shot Scope V2. If that's all you're after, then you're better off with something like the cheaper Garmin Approach S10. If you're buying the Shot Scope then you'll be more interested in the tracking side of things.
Automatic shot tracking is done via. the GPS watch and 16 club tags that come included in the box. There's one for each club in the bag and a couple of spares for extra clubs or in case you lose any. 
You simply screw the tags into the bottom of each club grip, making sure to match the club numbers and away you go. You can also identify each club the tag is associated to, within the app. This way you can track different models of the same club and compare one brand vs. another for example.
When you play out on the course, the watch and tags work in sync to figure out which club was hit and how far. As a result the device automatically tracks your score along with other statistics.
Shot Scope V2 Performance
The performance of the Shot Scope V2 on the course was excellent. I used the watch alongside my Bushnell rangefinder and found all the distances to match pretty accurately. 
The watch keeps track of which hole you're on pretty simply too. Whereas I've previously had issues with GPS watches swapping to different holes if you hit a few wayward drives, I never had any issues with Shot Scope doing this. 
Even so, it's pretty simple to change holes with the two buttons at each side of the face. 
With the button at the top it was also really easy to find the distances to hazards and other points on the course. Again, I found all the data to be accurate.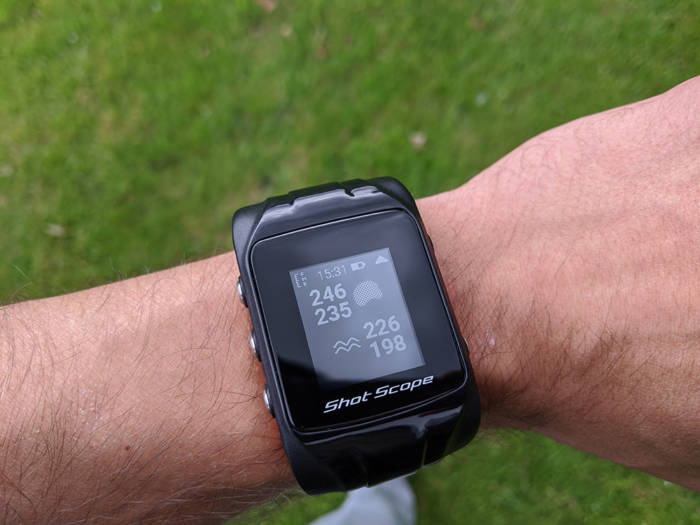 The only downside is that a couple of times I accidentally ended up pressing a couple of these buttons whilst swinging the club. As mentioned earlier, there's no getting around it that the device is chunky, and for me, it was noticeable on the wrist. And even though the rubber strap is nice and secure I had to adjust it on my wrist a few times in the round. 
Each time I used the watch I used it in the GPS and Shot Tracking mode. You can also use it with GPS only and Shot Tracking Only, but I wanted to take full advantage of all the features. 
As already highlighted, the tracking is easy and works automatically in the background whilst you play your normal game.
The only time you're required to intervene is on the putting via. PinCollect, where you confirm how many putts you had on the green whilst over the flag so the device can work out your putting and approach stats.
It sounds easy in principle, but to be honest I kept forgetting to do this and it's not always easy to do it directly over the pin whilst playing a game with friends or in competitions as you can end up slowing the game down a little. 
I ended up clicking this a couple of yards from the flag (each time I remembered) which skews the data a little, but this can easily be edited post-round.
Once you complete your round, you can download your data by syncing the watch to the Shot Scope App. Getting straight to the point, the Shot Scope V2 did a great job of tracking each shot, but it's not perfect.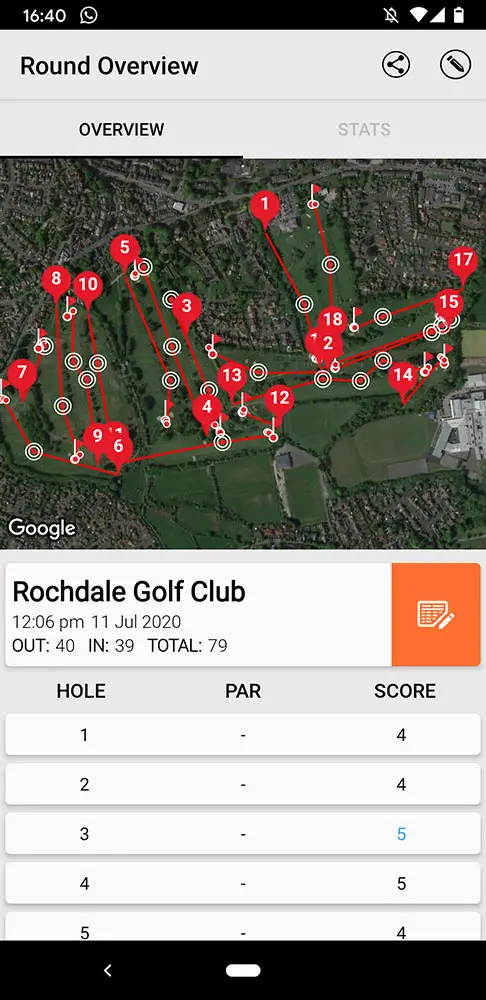 Initially you are present with an overview of the round and as I hadn't remembered to the PinCollect on a couple of holes, so my score showed 79 instead of 77 which I scored. 
But that's easy to fix.
Within the app or on the desktop site you have to confirm each round and can add, edit or remove shots which have either been recorded incorrectly or not at all. In my case this involved moving the flags and putts to the correct positions (or best estimate).
It's pretty easy to do with a drag and drop on a map of the hole, but it still took around 10-15 minutes to complete each round. 
I also found that the same error kept occurring on our third hole where I usually walk back to the tee and leave my bag. Each time I put the club back in my bag before walking to my ball the Shot Scope seemed to think I'd topped it off the tee and hit another shot.
You also have to remember only to take practice swings near your ball. On the hole below I actually scored a par (4) but as I took practice swings whilst waiting for my playing partners, the device recorded me as scoring 8.
But once you've been through the pain of adding a couple of rounds, you start to get some decent statistics on your game.
Basic statistics are viewable within the app itself such as average club distances, usage percentages, approach stats and short game stats. Within these you can filter to all or individual clubs to see where you're performing better to give you confidence on the course or show where you need to improve – I found this particularly useful off the tee!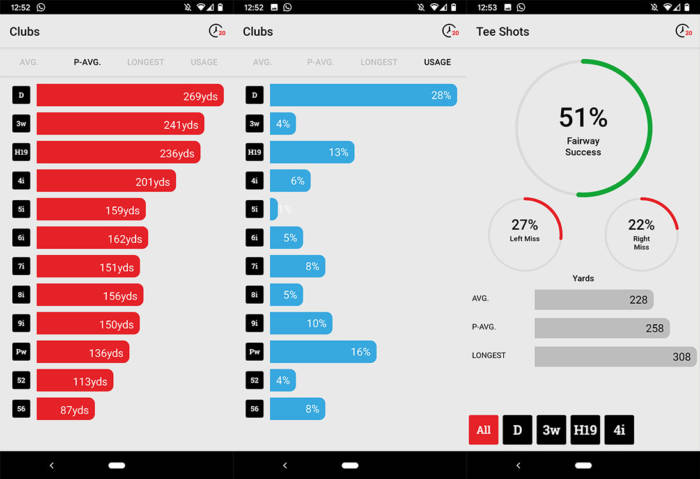 If you want to dive deeper into this, you can also log onto the desktop portal and view more in depth stats.
Here you have more visual representations of the data and additional detail which again will highlight areas to improve or help you further with decision making out on the course.
One thing to note is that the quality of the data is only as good as the input. For me the putting stats and approach stats aren't as reliable or accurate as I wasn't using the PinCollect one each hole, but the data still gives a good rough trend.
Shot Scope claims that the average Shot Scope user drops their handicap by 2.7 shots. It's easy to see why with the feedback available as it certainly confirmed aspects of my game I was unsure about and highlighted other areas where it's clear I could improve. 
Shot Scope V2 Conclusion
Overall the Shot Scope V2 is an excellent addition for those golfers looking to take their game to the next level. 
The GPS provides accurate data and the yardage targets will satisfy most golfers. The battery comfortably lasted a round but two was a push. I think I got to the 13th hole on round two and the battery died but as long as you remember to charge it before a game then it shouldn't be an issue. 
However, the tracking is what sets this GPS watch apart from the rest and makes this one of the best options on the market.
Granted it comes with a little bit of work, but once you've invested the time it will provide invaluable data on your game.
Excellent GPS Watch with automatic advanced performance tracking and statistics