Should I Join a Golf Club?
Go&Golf is supported by its audience. When you purchase through links on our site, we may earn an affiliate commission.
Learn more
Prior to recent years, it was no secret that golf club membership was falling in the UK. Rising membership fees complied with less free time put a strain on golf clubs up and down the country. The situation became so drastic in some cases that golf courses have had to shut all together. 

But with much more to consider than the cost of a membership we wanted to get to the bottom of whether it's worth being a member of a golf club these days.

We also take a look at the benefits of being a member of a golf club alongside some alternatives to being a golf club member and whether these would be more suited for you. 
How much does it cost to be a member of a golf club?
Golf membership rates vary dramatically depending on where you live and the type of membership category you are interested in. However, as a useful guide, the average golf club membership in 2018 was £901 (source: England Golf). 

If you want to become a full member with no playing restrictions, you should expect to pay around that mark. If you're interested in other membership categories, you can expect to pay a little less but with certain restrictions on play. 

It's also worth checking out the terms of the membership as some clubs include bar tabs, practice facility access and other extras. On the other hand, some other clubs will charge you more for lockers, trolley storage and additional services you may be interested in. 
Is it worth being a member of a golf club? (the money view)
There's no short answer to this, but generally it depends on how much golf you play. 
One year, I kept track of every round of golf I played at my home course alongside any rounds of golf I played at away courses.

In total, I played 48 rounds. 30 of these were at my home club and with my membership fees at £970, that works out at £32 per round. 

During the year I also played 18 rounds at other courses, paying a total of £595 in green fees. This averages out at £33 per round. 
| | | | |
| --- | --- | --- | --- |
| | Home Course | Away Courses | Total |
| Number of rounds | 30 | 18 | 48 |
| Cost per round | £32 | £33 | £33 |
Looking at that, you could say that it is worthwhile being a member of a golf club. After all, I'm saving £1 per round versus when I play at other courses. However, there's more to consider behind the data. 
The year I recorded this was particularly busy for me (with five weddings and three stag do's) meaning I didn't play nearly as much as I usually would. Every year prior to this, I suspect I would have played at least ten more rounds, probably more. Say I'd have played 40 rounds during the 12 months, that would have worked out at £24.25. A whole £8.75 cheaper than rounds at away courses. 
On five of the rounds at away courses, I teed it up for free, or at a heavily reduced green fee because of the affiliation with my home golf club. Without that, the difference would have been even greater. With those rounds out of the average, it works out at £45.75 per round at away golf courses, meaning a round at my home club is up to £21.50 cheaper.
Looking at that, you'd say it's worth it for me to be a member at my golf club. 

But then if you look at the visitor green fees at my course (£30 summer / £20 in winter), it would have cost me £800 to play the 30 rounds of golf instead of £970, meaning I've overpaid by £170. 🤷

The point I'm trying to illustrate is that there's no straight answer. There are a number of different ways of looking at whether it's worth being a member of a golf club for you. 

Generally, if you play less than twice a month, you're probably not going to see much value from a golf club membership. On the other hand, if you play closer to once a week, it'll probably work out much cheaper for you to be a member of a golf club. 

There are however more benefits to a golf club membership (that we'll explore below) which determine whether stumping out the membership fees is worth it. 
6 benefits of being a member of a golf club
Cheaper golf isn't the only plus side to being a member of a golf club, there are many other benefits that are worth considering.
1. Regular competitive golf
One of the big attractions to being a member of a golf club is the competitive side of golf. This isn't something that's always available for the casual golfer. 
Golf clubs will usually host around 2-3 competitions that you can enter each week as a member. 
For me, this is the biggest draw!
Around 80% of the rounds I play are in competitions of some sort and I very rarely play a casual round of golf.
Usually you have to pay a small entry fee into each club competition (around £3-£5) but this does mean that you can play for prizes. Depending on the number of entrants, most clubs will give prizes for 1st, 2nd and 3rd – which makes a good round even sweeter.
A few times a year you can also expect to play board competitions. These are the "majors" for each golf club meaning the prizes are usually a little bigger and you can earn bragging rights with your name engraved on a board in the clubhouse.
As well as making your round of golf a little more meaningful and competitive, regular competitions help you improve your golf as you play under greater pressure. 
2. Team events
If you're keen, and are lucky enough to be picked, then as a member of a golf club you may have the opportunity to try your hand at some team events.
Not only do these provide a great opportunity to play competitive match play golf, they're also usually a great way to integrate into a club and get to know some of the members.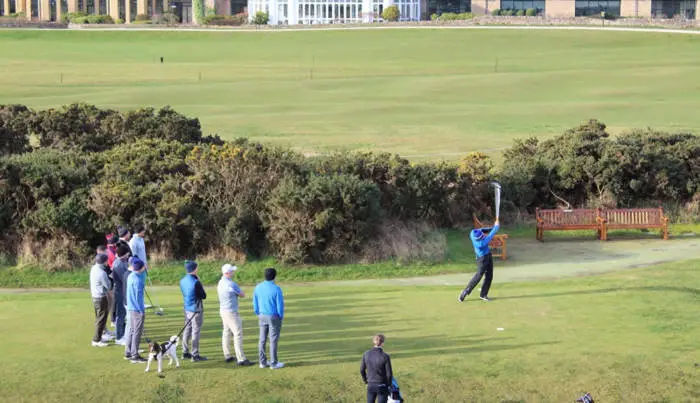 Most golf clubs will be in a league with other clubs in the area where each golf club will play each other home and away throughout the course of the season. This is a great way to play some new courses (usually for free) in a competitive manner. 
Outside of a league, most clubs will also enter a number of different club knockouts (scratch, mixed, doubles, senior, juniors etc.). There's usually one suitable for ages and levels of golfers. 
Some of my favourite rounds of golf have been in one of our club knockout competitions where even at times there have been some of the other members out on the course to watch and support us! 
3. Get an official handicap
If you're playing in competitions regularly as a member of a golf club, you'll usually have an official handicap. 
This opens a world of other opportunities. 
For a start most of the better courses over the globe will ask for a handicap certificate to prove that you are at least at a decent level to get around the course. With an official handicap, you're going to be free to play most of them. 
4. Play in open competitions
Once you have a handicap, you can enter other competitions away from your home golf club.
The majority of golf clubs in the UK offer open competitions which you can usually enter on your own or with a group of mates. These offer the chance to play the courses for a fraction of the regular green fee with the chance to win some prizes.
They are a great way of ticking off some courses on your wishlist. The courses are usually in their best condition as clubs look to show off their courses to potential future members. 
If that wasn't enough you can also enter regional or national knockout competitions. Usually subsidised by a big sponsor, these types of knockouts provide further opportunity to play new courses whilst also giving you the chance to win some decent prizes.
5. Social side 
One of the other best things about joining a golf club is the social aspect.
Having joined my golf club as a junior at 13 years old, I instantly found myself making friends with other juniors at the club.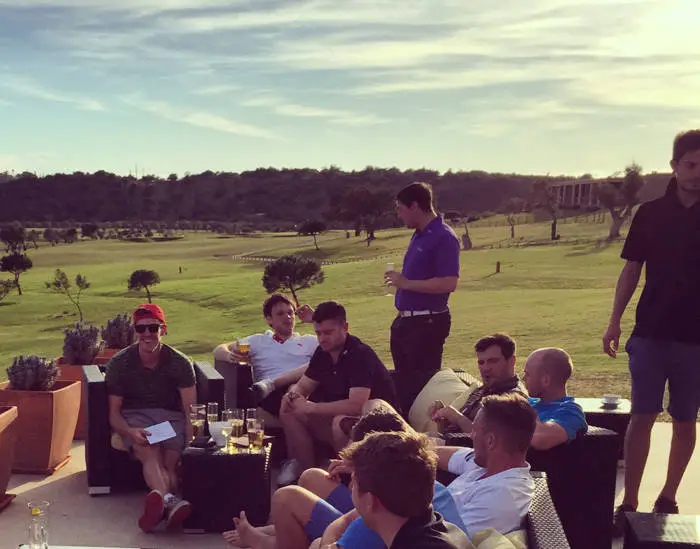 At the time, we were 150+ junior members and there would be 30-40 of us that played regularly. Within the younger members I quickly made closer friends with a small group. We would play a round each Sunday and during the school holidays our parents would drop us off at the golf club each day pretty much from 9-5.  
I've made lifelong friends from my golf club. Granted I was a junior when I joined so it's a slightly different story, but golf clubs are great places to meet like minded people.
I've also had the chance to mix with different groups of people. I think the situation is pretty unique where at 20 years old you can have numerous "mates" who are 50+ and running successful companies. I've met people from all walks of life through golf, from retired service men, tradesmen, lawyers, accountants and even a captain of a private yacht! 
6. Networking
In that sense, golf clubs provide a great way to network. If you own your own business, are a freelancer or a salesman then you're likely to meet potential new customers. I know people who've ran a business with more than 80% of their customers from one golf club. 
On the other hand, there's always the potential for a step up the career ladder through networking.
I've also heard stories of people being made redundant from work only for someone to get wind of it at the golf club and later employ them or pass their name onto a friend. You can't put a price on the opportunities golf clubs can offer from a social aspect. 
After all they do say it's not what you know, it's who you know. 
What are the alternatives to golf club membership?
So, you'll never actually know whether joining a golf club is the right decision for you if you don't consider the alternatives or know what they are. 
We'll run through each of the different options to playing golf without being a member of a golf club and why they may suit you.
1. Pay and Play
Best for golfers who aren't bothered about playing competitive golf but want to try different courses regularly
The most basic alternative to joining a golf club is to pay as you play golf. Generally this means booking tee times with a golf club each time you want to play a round. 
As we've discussed earlier in the article, you'll generally pay more each time you play with this option (up to £22 more per round in my case), but if you're not playing each week then you'll probably actually save money during the course of the season. 
If you know where to look and aren't too fussy about the time of year or time you tee off, you can also find some pretty good deals out there.
1. Winter Golf – if you're not a fair weather golfer, most clubs will offer a discounted rate during the winter months. Some golf resorts also offer some excellent stay and play options which can see rates slashed by over 50% compared to the summer months too. We've compiled a list of cheapest rounds we can find at the Top 100 courses in the UK and Ireland and most of the best rates are found in the winter months.
2. Twilight Golf – If you don't mind finishing a round in the sunset, some golf courses in the UK offer twilight golf tee times with discounted rates for golfers who are willing to tee it up after a certain time. 
3. Discount Tee Times – with large numbers of golf clubs generally struggling these days, a number of them have decided to sell off tee times at highly reduced rates though sites such as GolfNow. Here you can pick up selected tee times at over 1,700 courses in the UK for a fraction of the usual green fee. Another option is the 2-FORE-1 golf vouchers which give you two green fees for the price of one across thousands of courses in the UK. 
To help you, we've made it super easy to search for discounted tee times across our Go&Golf website. When searching for golf courses, keep an eye out for the 2-FORE-1 logo at golf courses which accept the vouchers. 
We've also linked up with a number of golf clubs to showcase their best offers. Keep an eye out for our deals flags when browsing for golf courses to find out which courses currently have special offers on.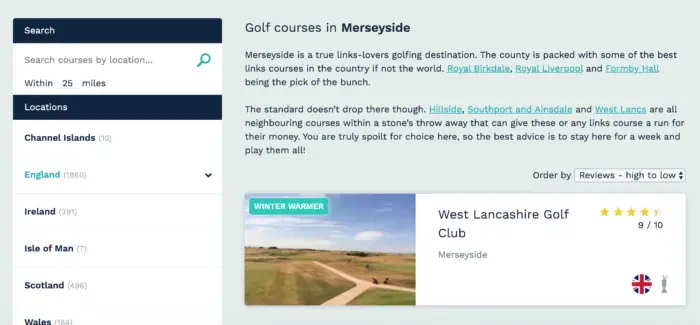 However, if you go down the pay and play route there are a couple of things to be aware of…
Some clubs won't allow visitors to play on either a Saturday or a Sunday or on other restricted days – not ideal if you work 9-5 Monday to Friday. 
You're also limited to the times available. Some clubs will block out the best times for member bookings and only offer the remaining times to visitors.
If you're going down this route, you'll also need some like minded friends. It's probably best if you have at least a 3 ball when visiting golf courses, the last thing you want to do is shell out north of £50 for a round and find you're on your own stuck behind a four ball. 
However if you can make pay and play golf work for you, you'll find that you can play a wider range of courses than the average golf club member at incredible value. 
2. Join a Golf Society 
Best for golfers who don't have that many friends who play golf and are looking for something more social
Golf societies are excellent options for those who aren't members of a golf club. 
One of the best things about golf societies is that similarly to being a member of a golf club, you can benefit from the social aspect as they are usually made up of the same group of players each month, week or however often they play. If you join a society you'll likely get to know some of the members over time as most randomly draw the pairings each round. 
Also most of the society bookings offered by golf clubs include a spot of breakfast before the round and you'll usually find most will stay behind after the round for a pint or two in the clubhouse. Again, another great way to meet like minded people in a more casual manner. 
They normally work whereby a president or captain of the society will arrange a fixture list at the start of the season. This will include a number of rounds (depending on how often they play) at various nearby courses. 
The benefit to this over pay and play golf is that the dates are usually booked well in advance and locked in with golf clubs and you don't have to worry about finding a suitable day or time. Instead you can just play the rounds which work for you. 
A lot of golf clubs will actively encourage societies as they are good money makers.
But be aware that some clubs will avoid booking societies on the course on either one of the days of the weekend. Clubs look to avoid upsetting their higher paying members by blocking off 10-15 tee times on a weekend. For that reason it's quite common that golf societies run on a Friday. 
What you will get though is the opportunity to play competitive golf on a number of different golf courses throughout the season.
Golf societies will usually add a little more to the green fee to contribute to prizes for the winners on the day. Some will even have season long order of merits with bigger prizes for the most consistent members of the course of the season. 
3. Play in Open Competitions 
Best for golfers who want to play different courses competitively
Once you have a golf handicap you are entitled to play in Open Competitions. As highlighted earlier, open competitions provide the chance to play a competitive round of golf at different golf courses.
There are a whole host of different types of open competitions available with the most common being:

Individual 
Pairs
Team
Mixed
Scratch (no handicaps)
Junior
Seniors
Ladies
I've played a lot of these competitions over the years and found them great ways to play those courses that you've always wanted to play at a decent price (with the added bonus of the chance to win some prizes!). 
At some clubs if you enter the more serious open competitions you'll even get the chance to play a practice round there for free! And best of all, the entrance fees are usually less than their standard green fee.
If you're interested, you can usually find the open competitions available at each golf club on their website. There's also another great resource Golf Empire which has the listings of all Open Competitions in the UK and beyond. 

The only thing to be aware of with open competitions are the rules. Certain clubs will do random draws for tee times meaning you don't have control over when you play. This can occasionally mean some very slow rounds!
Likewise, unless you're entering a pairs or team event some clubs won't allow you to book with friends. As well as randomly drawing tee times, you'll be randomly drawn partners. I've met some great people through these types of comps, but I've had my fair share of short straws where I've drawn with people I'd rather not play with. It's generally potluck!
NOTE: You'll need an Official Handicap to enter most of these competitions
4. Flexible Golf Membership – PlayMoreGolf
Best for golfers who want the member experience but need more flexibility than a traditional golf club membership
Flexible golf membership, particularly PlayMoreGolf, is something that's becoming more popular over recent years as people's free time has become more and more limited.
It's an excellent option for beginners who want to dip their feet into golf club membership or those who want to join a golf club but don't have the time or money to commit to a full membership. 
Whereas the average golf club membership is £901, PlayMoreGolf flexible golf membership starts from £325 per year. 
For that you get a "genuine golf membership" with member benefits at one of the 260+ golf courses in the UK that are signed up to the scheme (you'll have to nominate a home club when you join).
The catch is that you can only play a limited amount of golf unlike a full membership where you can play as much as you like. 
However it can work out as pretty good value…
As a PlayMoreGolf member you receive 100 points that you can spend on rounds of golf. The amount of points per round depends on the course, but they start from 2 points per round meaning you could play up to 50 rounds per year for just £325. At £6.50 a round, that's a lot cheaper than my average of £32 a round.
The other member benefits you receive vary course by course, but generally you'll get:
Access to your home course 7 days a week
Invite up to 3 guests per round
Book tee times online
Receive a preferential booking window for all tee times at your home club
Receive an official CONGU handicap
Play in selected club competitions
Receive member discounts at your home club
The fact you can invite guests, play in club competitions and have few restrictions on bookings makes this a great option for those who want more than just to pay and play golf but don't have a regular group of friends that play. 
So should I join a golf club?
If you play regularly (more than three times per month) there's definitely a case for you to join a golf club as a member from a financial perspective. Alongside saving money each round you play, you'll also enjoy the many other benefits that exist from being a member of a golf club. 
Even in my case, despite not playing enough golf to make it necessarily financially beneficial last year, I've valued my membership in other ways. Whether that's;
Playing golf with my mates a couple of times a month
Being able to play competitively in competitions
Being invited to other golf courses through my affiliation with my home club
The additional advantages have made it personally worthwhile. 
If you don't play quite as regularly or can't commit to 3-4 rounds of golf a month, then maybe club membership isn't for you. There are lots of other alternatives out there to make the most of the time you have to play golf. 
However, it mainly comes down to what you value most when playing golf. Whether that's the competitive aspect, the social side or whether you don't mind playing the same course each week or prefer to play a different course each time. 
If you have any stories to share or comments on whether it's worth being a golf club member, feel free to get in touch as we'd love to hear them.