Arccos Golf Smart Sensors Review
Go&Golf is supported by its audience. When you purchase through links on our site, we may earn an affiliate commission.
Learn more
There's no excuse when it comes to improving your golf game. We have slo-mo videos, thousands of videos on YouTube, a training aid for every movement and plenty of places up and down the UK to work on your swing. 
But a new area of data and shot tracking is making waves in the game of golf.
Data has long been making strides in the pro's game. We're all familiar with stats from TV commentary such as fairways hit, greens in regulation, sand saves and putts per green. But now we hear things such as strokes gained, proximity to the hole, carry efficiency, distance to apex and a whole host of other terms.
Whilst they may not mean much to the average golfer, the teams behind professional golfers have been breaking this data down for years to help put together structured practice sessions to help them score better. 
And it's working. 
When Danny Willett won his green jacket, he credited the 15th Club, a London based company, who supported him with data in helping him prep a better course strategy. 
Meanwhile, Bryson DeChambeau has built his game around data. He credits much of success in becoming one of the biggest hitters on tour, breaking into the top 10 world rankings and winning his first major on his statistical approach to the game. And others are starting to follow suit. 
But now amateurs have the chance to get a slice of the pie thanks to Arccos Caddie. 
Arccos Caddie provides automatic shot tracking, distance tracking and an A.I. powered GPS rangefinder through their smart sensors and mobile app, which in turn spits out on course analytics and caddie advice to help golfers lower their scores. 
In fact, Arccos claim that Arccos Caddie users reduce their handicaps by an average of 4.2 strokes in the first 12 months! 
If this sounds like something you're interested in, then read on…
Features
14 Smart Sensors

Automatic shot tracking

Smart Distance Club Averages

A.I. Powered GPS Rangefinder

Personalized Caddie Advice

Strokes Gained Advanced Analytics

1-Year Subscription Included
Check price on Amazon
Arccos Caddie & Smart Sensors Features and Design
Basically Arccos Caddie works by utilising smart sensors which are placed in the grips of each of your clubs.
The box comes with 14 tags (one for each club) and It's a pretty similar set up as to how ShotScope works in automatically tracking your shots. The difference is that instead of needing a GPS watch, the smart sensors link to the Arccos Caddie mobile app on your smartphone. 
And then you're pretty much set to go!
Arccos have over 40,000 courses worldwide mapped so you'd have to be unlucky to play a course that isn't mapped on their system. And when purchasing the Arccos Smart Sensors you get unlimited access to all courses for a year. Following that it's a yearly subscription cost of $99.
For this you'll also get access to the Arccos AI Caddie App which gives you GPS data, holes previews and statistics for each of the courses. If you're already paying for a GPS app or device then making the switch to Arccos wouldn't make much of a difference, however I can't get away from the fact that all of this is free on the ShotScope. 
Arccos Caddie & Smart Sensors Performance
The first thing you need to do with the Smart Sensors is pair each one of them up with a club in your bag.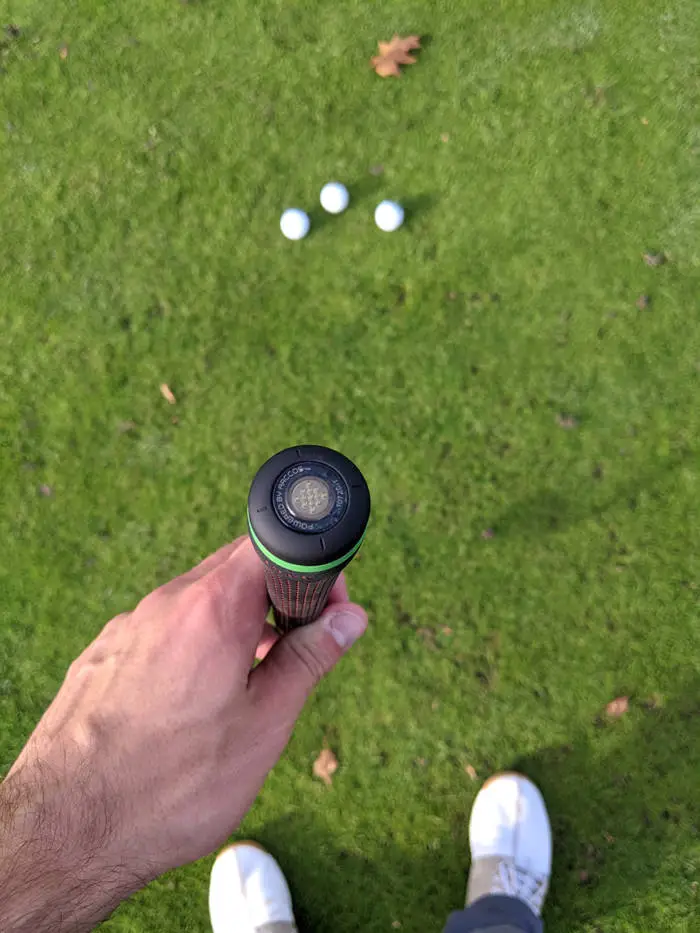 The design of the Smart Sensors make them really easy to screw into the grips of each club and they fit really secure. They're also hardly noticeable once in the club and when playing it's easy to forget that you even have them.
However if you think this would annoy you, Arccos have teamed up with Lamkin to provide Smart Grips which include the sensors already built into the grips for a seamless experience. They're also making waves with club manufactures and have teamed up with the likes of Cobra, TaylorMade and Ping to offer a combination of free Smart Grips and subscriptions to golfers who purchase new clubs. So it's worth checking this out if you're in the market for some new bats.
Once you've decided on the route you want to go down, the pairing is pretty straightforward too and can all be done via. the app from home.
When you head to the course, it's pretty much golf as normal. You just have to remember to carry your phone in your leading pocket (i.e. left pocket for right handed golfers and right pocket for left handed golfers) so the Smart Sensors can work in conjunction with the app.
I personally found a couple of issues with this. 
I hate carrying my phone in my pocket playing golf – I'm the type of golfer who likes to disconnect completely and leave my phone in my golf bag. 
Not all my shots are always captured – whilst my irons worked perfectly, this only seemed to happen with my woods. I'm not sure if it's the faster swing or my pockets are deep, but it didn't alway pick up my shots from the tee.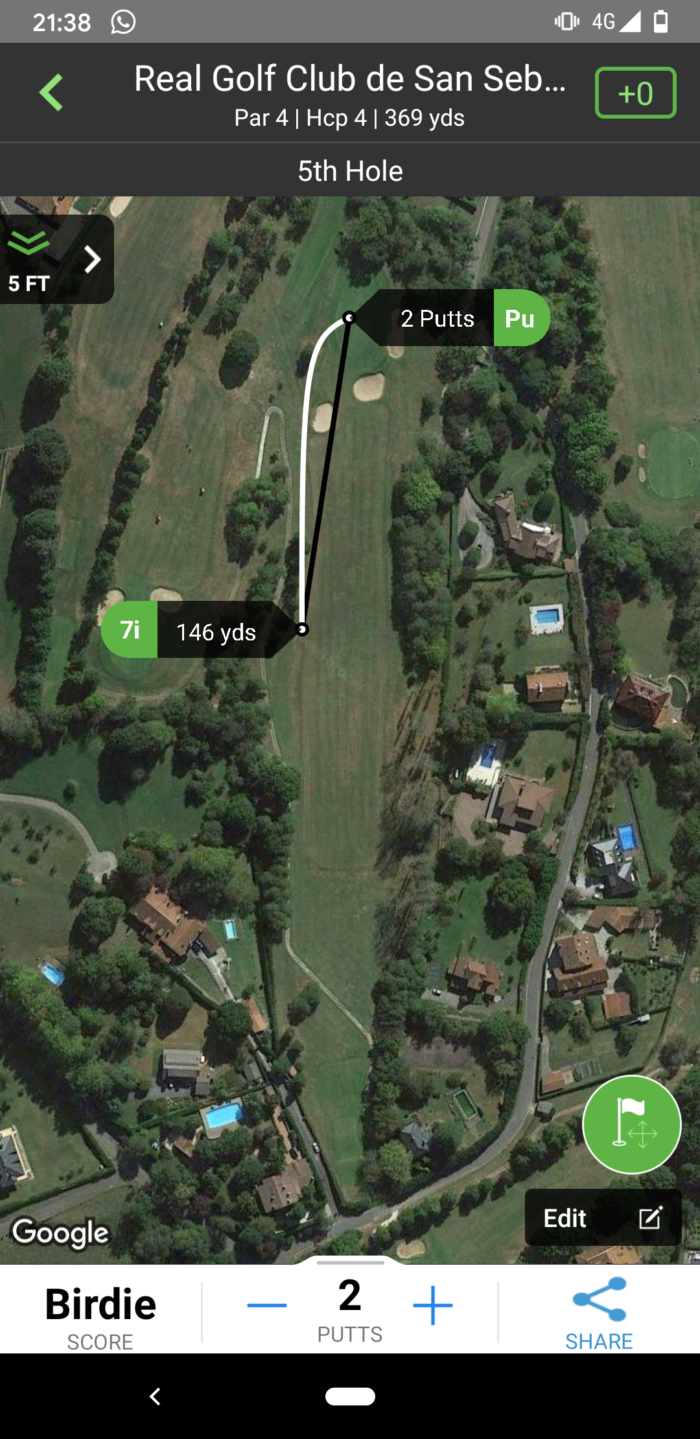 The good news is that Arccos have a solution to this. The bad news is that it'll cost you more money…
They have recently released The Arccos Link. This is a small device that you can clip onto your belt and link your Smart Sensors to your phone app without having to have your phone in your pocket. It will set you back another $99 though!
The other alternative is to link the app to your Apple iWatch. If you already have an iWatch then this is a pretty straightforward (and free) solution. This way it's more like the ShotScope system leaving you free to leave your phone in your golf bag. If you don't own an iWatch, then again it's a very costly interim solution and you're probably better with the Link.
But playing golf with Arccos Smart Sensors isn't the sexy bit. The good stuff comes after your round when you have all the data to play with. 
Upon completing your round, you have the chance to edit any information that may not have tracked properly. 
For me this meant adding in most of my drives from the tees. Despite it being a little frustrating that these shots weren't captured, it was really easy to correct the shots. The editing system is much more intuitive than the ShotScope and was a lot quicker for me.
Each hole is presented with a nice map overview of each shot. And if you can be bothered to mark the location of the pins whilst out on the course, you can get more accurate putting data, proximity to the hole data etc. 
If however, like me, getting your phone out on each hole is a bit of a pain, then you can edit the rough location of the pin on the map of the green to give you a rough idea.
Once you've saved the round you're then given a Round Summary which gives you a strokes gained summary compared an average handicap level of your choice (or ambition). This is split into driving, approach, short game and putting. 
You can then dive into more information in each of these areas of your game and see where you're gaining strokes or losing them. For example within driving, this is then broken down into extra data with; distance, accuracy and penalties and you can see where you're gaining or losing strokes within each of these. 
And you get all this data from recording just one round!
OK so in the round I recorded above I played pretty well and gained +3.9 strokes over a 0 handicapper (I play off 2). However I can see that I gained most of my shots around the green (+1.4 strokes in my short game and +1.2 in putting) and little from the tee / on approaches. 
If I dive into the driving I can see that I actually lost -0.2 shots to the average scratch handicapper as I only hit 43% of fairways vs. 51% average for scratch golfers. I can then go further and see that I'm missing as many fairways as I'm hitting to the right. 
So straight away from 2 minutes in the app, I can see that perhaps I need to work on my driving. What's more, next time I'm on the course and playing a hole with out of bounds on the right, I'll probably think twice about hitting it on an aggressive line and play for my miss a little bit more. 
It's easy to see how quickly you can save shots by knowing things like this and you can do this with each area of your game. 
What's more, once you have recorded multiple rounds you'll start to get more accurate stats which shows you where you really need to improve (I don't shoot -1 each round either). 
If you stick with it long enough, you'll also see trend data and be able to track any improvements you're making with any work you're putting into your game. 
Across Caddie & Smart Sensors Conclusion
I'll be honest, before trying the Arccos caddie I was a little sceptical. 
I thought the Smart Sensors were overpriced and the fact that you have to then subscribe each year (after your free 12 month trial) for $99 to use them really put me off. 
However, I'm a convert. 
If you're serious about your golf, then investing in Smart Sensors will certainly outweigh the benefits of spending north of £400 on a new driver (which I bet most of you would do first!). If you already own an iWatch then it makes the decision even easier as you'll have the complete package. 
Whilst the app is super intuitive and excellent for analysing your round, I didn't like having to have to carry my phone in my pocket. It also didn't track all my shots from my pocket, so I think the only way I'll use the Arccos Smart Sensors long term is via. The Arccos Link or iWatch.
If you don't mind shelling out £300 on this combo, then by all means go for it! 
If you're willing to put the work in on the range, you can easily shave off the 4.2 strokes the average golfer loses using the Smart Caddie and having access to all this data. 
ShotScope is a good option if you're not prepared to spend that much. But as you'll pay less, you'll also get less back.