Best Golf Courses in Bath
Go&Golf is supported by its audience. When you purchase through links on our site, we may earn an affiliate commission.
Learn more
Are you looking for the best golf courses in Bath? If so, you're in luck. 
We've compiled a list of some of the best golf courses in the area, so you can get out and enjoy a round of golf. Whether you're a beginner or an experienced golfer, we have a course that will fit your needs.
The area is a popular UK tourist destination, but not many know that it's also home to some of the top golf courses in South West England.
We take you through our favourites below.
Best golf courses near Bath
Some of the golf courses below are just a few minutes drive from the centre of Bath, whilst others are a little further out (less than 40 minutes away). 
Each of them offer something different, so there's sure to be a course that suits your needs.
1. Bath Golf Club
📌 Sham Castle, Golf Course Rd, Claverton Down, Bath BA2 6JG
💷 Green Fees from £50
Bath Golf Club is widely regarded as one of the long-standing best golf clubs in the area. And having been founded in 1880, it's been around for a long time and is one of the oldest golf clubs in England.
Designed by Harry Colt, it's an 18-hole, 6464 yards, par 71 course located on the Bathampton Down hilltops, with stunning views of the city. 
The course is well known for its rapid draining, meaning you can play all year round. With its hills, valleys, and challenging layout, Bath Golf Club is a true test of golf that can be enjoyed by all.
2. Saltford Golf Club
📌 Golf Club Ln, Saltford, Bristol BS31 3AA
💷 Green Fees from £35
Founded in 1904, Saltford Golf Club is located between Bristol and Bath, making it easily accessible for golfers from both cities. 
The 18-hole layout isn't the longest, measuring in at 6,183 yards (from the yellows) with a par of 71. But the course features fast undulating greens, tree-lined fairways, and strategic bunkering, making it a challenging but enjoyable round of golf whatever your handicap. 
In addition to the course, the club offers a range of facilities and services, including a pro shop, driving range, and clubhouse.
3. Orchardleigh Golf Club
📌 Frome BA11 2PH, United Kingdom
💷 Green Fees from £21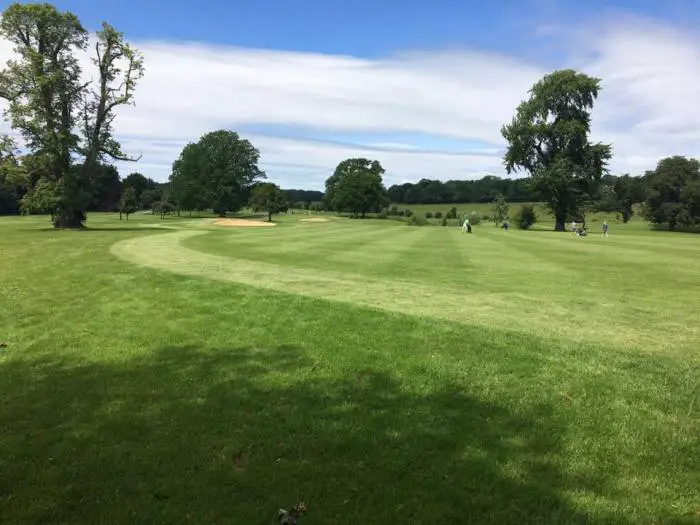 Orchardleigh Golf Club is located just 8 miles from the city of Bath, and is home to an 18-hole course that's one of the premier layouts in the West of England.
All 6,824 yards of the course meanders through the idyllic setting in the grounds of a stunning country estate. 
The layout was designed by Brian Huggett and takes advantage of local Somerset countryside, offering picturesque and demanding holes. It's a par 72 for men and a par 73 for ladies and playable all year round thanks to the excellent drainage.
The club has some of the best facilities in the area, with a full-length covered driving range, chipping and putting areas and a stunning, friendly clubhouse. 
If you're looking for a challenging, scenic, and friendly golf club in Bath, Orchardleigh is a perfect choice.
4. Mendip Golf Club
📌 Golf Links Ln, Radstock BA3 4UT
💷 Green Fees from £30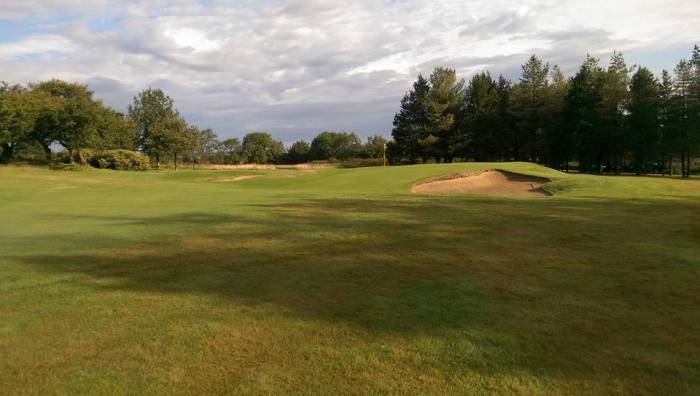 Founded in 1908, Mendip Golf Club is one of the oldest golf clubs in the area and boasts a beautifully maintained course. With panoramic views of the surrounding countryside, it's the perfect place to tee off and enjoy a round of golf.
A 35 minute drive from the centre of Bath, the course is a little further away than some of our other recommendations. But if you do make the effort you'll be rewarded with one of the best golf courses in Somerset. 
The parkland-downland layout is suitable for all types of golfers, measuring in at 6,383 yards and easily walkable. Famous for its beautiful panoramic views of nature in Bath, you can actually see seven counties from the 3rd tee which stands 1,000 ft above sea level.
5. Cumberwell Park
📌 Great Cumberwell, Bradford-on-Avon BA15 2PQ
💷 Green Fees from £27.50
Cumberwell Park Golf Club is set in the stunning, elegant and tranquil Wiltshire countryside, just 15 minutes from the centre of Bath.
Set in 400 acres of beautiful woodland, there's enough space here for the venue to offer a total of 45 holes of golf, split into 5 different loops of 9. 
The Red and Yellow nines make up the original 18-holes that were opened in 1994, consisting of an undulating parkland layout with flowing streams and natural water hazards. 
The Blue and Orange nines and nine hole par-3 course followed in later years, but were designed by the same architect, Adrian Stiff. What you're left with is a number of different ways to play a course that has a wonderful blend of rolling countryside, natural water, woodland and greens to the highest specifications.
The club also features a traditional barn-style clubhouse, with the Spikes Bar being the perfect place to relax after a round of golf. 
6. Kingsdown Golf Club
📌 Kingsdown, Box, Corsham SN13 3BS
💷 Green Fees from £30
Kingsdown Golf Club is set to the north east of Bath just 5 miles from the city centre, and easily accessible from the M4. 
For over 150 years, it's been one of the best golf clubs in the area. The club was founded in 1880 making it the oldest golf club in Wiltshire and the second oldest in the whole of the West of England!
The club is located in a stunning setting, with beautiful fairways and superb greens. The 18-hole par 72 course spans 6,501 yards, making it a challenging yet enjoyable round of golf. 
Kingsdown is also home to a thriving membership with a vibrant social scene and a warm and welcoming atmosphere for all visitors. 
7. Bowood Golf Club
💷 Green Fees from £65
Our final pick in the area is Bowood Golf Club. It's a little further out from the city centre of Bath, set on 1,500 acres in the stunning grounds of Bowood House and Gardens (about a 35 minute drive from Bath). 
As well as a luxury hotel and spa with all the amenities you could wish for, the resort offers a beautiful 18-hole championship golf course which is the official home of the PGA in South West England.
The course measures in at 6,692 yards and features beautiful holes with views of the impressive estate, alongside some challenging holes that will test all the clubs in your bag. 
What's more, the club offers a luxury golf break package that includes everything you need for a relaxing weekend away. The club features in the Top 100 GB & Ireland Golf Resorts so it's well worth taking advantage of everything on offer here on a stay and play package.
Map of golf courses in Bath
Final thoughts
That rounds up our list of some of the best golf clubs located near Bath. 
Within this list, there's everything on offer, from resorts with a great range of facilities to golf courses with some of the best scenery around. Whichever course you choose, we guarantee you won't be disappointed.
However, if you're still looking for more options in and around Bath, you can check out our directory of all the golf courses in the south west of England or some of the best golf courses in nearby Bristol. 
Otherwise, we'll leave you with our recommendations below.
Bath Golf Club
Saltford Golf Club
Orchardleigh Golf Club
Mendip Golf Club
Cumberwell Park
Kingsdown Golf Club
Bowood Golf Club