Best Golf Courses in Cheltenham
Go&Golf is supported by its audience. When you purchase through links on our site, we may earn an affiliate commission.
Learn more
If you find yourself looking for a nice Regency spa town, Cheltenham near the edge of the Cotswolds is an excellent choice! 
The town hosts a plethora of festivals of all sorts, from science to music to literature and more. But there are also some great golf courses near Cheltenham. 
Below we've picked out some of our recommended golf clubs in the area for you to check out!
Best Golf Courses Near Cheltenham
If you're in the mood for a round or two of golf, below are some excellent picks. They are all reachable in less than half an hour from Cheltenham town centre. 
1. Cotswold Hills Golf Club
📌 Ullenwood, Cheltenham GL53 9QT
💷 Green fees from £40
Nestled into the hills of Cheltenham, Cotswold Hills Golf Club has been around since 1976. 
This scenic course is only an 11-minute drive from the city centre, meaning that you can get there easily for a quick visit. These well-designed 18 holes are set on rolling, nicely manicured greens with a variety of challenges designed to test any player. 
As you make your way around, you'll see the Cotswold stone walls and trees lining the fairways. Enjoy the views and the exciting game here at Cotswold Hills.
2. Cleeve Hill Golf Club
📌 Cleeve Hill, Cheltenham GL52 3PW
💷 Green fees from £20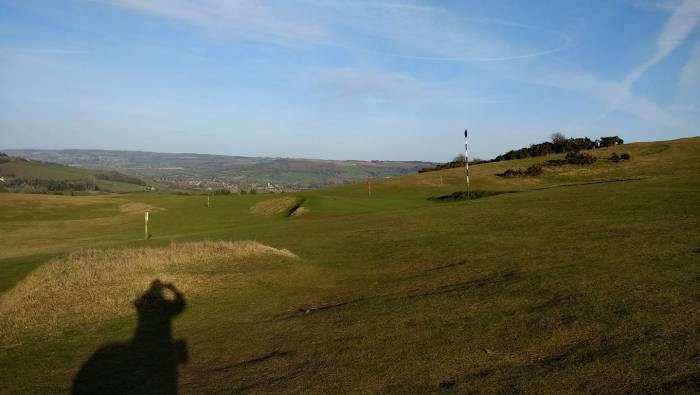 Take a quick, 13-minute drive from Cheltenham and you'll find yourself at Cleeve Hill Golf Club. 
This heathland style course contains 18 holes set into the natural surrounding beauty high up in the Cotswolds, providing stunning views all around. 
With abundant natural hazards like high winds and the rolling hills, tight lie of the fairway, as well as the man-made additions of bunkers, this layout is sure to test your game on any day. 
Highly regarded amongst the best golf courses in the UK, Cleeve Hill features in England's Top 100 and GB & Ireland's next 100. There aren't many better places for a round of golf for the price of the green fee!
3. Tewkesbury Park Golf Club
📌 Lincoln Green Ln, Tewkesbury GL20 7DN
💷 Green fees from £25
If you're wanting to play at a club with two different course options and a beautiful panoramic view, a visit to Tewkesbury Park Golf Club should be at the top of your list.
Recognised as one of the best in the area, this golf club has plenty to offer. Set on well-draining and neatly manicured grounds, the 18-hole Deerpark Course and the 9-hole Acorn Course are made up of various water features and cross-cut fairways to keep the game interesting. 
For golfers of any handicap level, Tewkesbury is sure to provide a day of fun that's only 18 minutes from Cheltenham.
4. Brickhampton Court Golf
📌 Cheltenham Rd E, Churchdown, Gloucester GL2 9QF
💷 Green fees from £40
Only 15 minutes outside of Cheltenham, resting on 200 acres of the hilly Gloucestershire countryside, is the Brickhampton Court Golf Complex. 
This impressive golf complex was founded in 1994 and it holds two parkland courses: the Spa Course and the Glevum Course. 
The Spa Course is an 18-hole course, lined with trees and providing a challenge for even advanced golfers. 
The Glevum Course is 9 holes of a more peaceful variety, perfect for newer golfers. There is something for everyone to enjoy at Brickhampton.
5. Painswick Golf Club
📌 Golf Course Rd, Painswick GL6 6TL
💷 Green fees from £18
With a quick, 18-minute drive from Cheltenham, you can find yourself at Painswick Golf Club. This course is steeped in history and beauty and is full of character, its 18 holes each designed to provide a stimulating task. 
Sitting at the top of Painswick Beacon, you'll get beautiful panoramic views as you make your way around the remains of an old Iron Age fort which has left plenty of hazards to navigate. This course also happens to put in effort into wildlife conservation efforts due to the makeup of the area that it's set on.
The undulating fairways will have all golfers thinking on their feet to make their shots. Painswick is a unique place to play, and anyone will enjoy their time here.
Final Thoughts
That sums up our favourite golf courses near Cheltenham. If you want to compare more golf courses in the area, then you can pay a visit to our page on all the golf courses in Gloucestershire. 
You can easily find other options by checking out our full listing of UK golf courses too. 
However, you can't go wrong with a round at one of our top picks below:
Cotswold Hills Golf Club
Cleeve Hill Golf Club
Tewkesbury Park Golf Club
Brickhampton Court Golf Complex
Painswick Golf Club