Best Golf Courses in Croydon
Go&Golf is supported by its audience. When you purchase through links on our site, we may earn an affiliate commission.
Learn more
Croydon sits smack in South London and is actually one of the largest commercial districts in London. 
From the Middle Ages on, Croydon has been growing and developing into the bustling town it has become today, making it a popular area to both live and visit. With plenty of shopping, dining, and activities to keep you fully immersed and entertained, you won't be easily bored here.
However, if you want to escape the hustle and bustle of South London, there are plenty of excellent options for a game of golf in the local area! 
Below we'll run through some of our top picks.
Best Golf Courses Near Croydon
If you are looking for a quick 18 holes, below are our recommendations of where to play golf in Croydon.
1. Shirley Park Golf Club
📌 194 Addiscombe Rd, Croydon CR0 7LB
💷 Green Fees from £40
A quick 5-minute drive from East Croydon Station is a hidden gem of a course in the Surrey countryside. 
Shirley Park Golf Club boasts an 18-hole golf course that is sure to please. Set across 130 acres of rolling countryside, this gorgeously maintained course is parkland in style, lined with woods to give stunning backdrops as you navigate the fairways. 
However, it's not just pretty but also challenging! There are 38 bunkers to play around, a water hazard on the 18th hole, and a few other hazards in between. This course is perfect for all levels of golfers, so give it a visit.
2. The Addington Golf Club
📌 205 Shirley Church Rd, Surrey CR0 5AB
💷 Green Fees from £100
Designed in 1913, The Addington Golf Club has had a distinguished history of patrons (including King George VI in 1937). These days, they are a bit more down to earth, but just as beautiful on the 18-hole course. 
Located about 13 minutes from Croydon, this course creates a unique balance between nature and metropolis as you play with plenty of trees along the course coupled with some great views of the city from a few of their hilltop tees. 
Golfers of all abilities will find something to get excited about at The Addington.
3. Addington Palace Golf Club
📌 Gravel Hill, Croydon CR0 5BB
💷 Green Fees from £45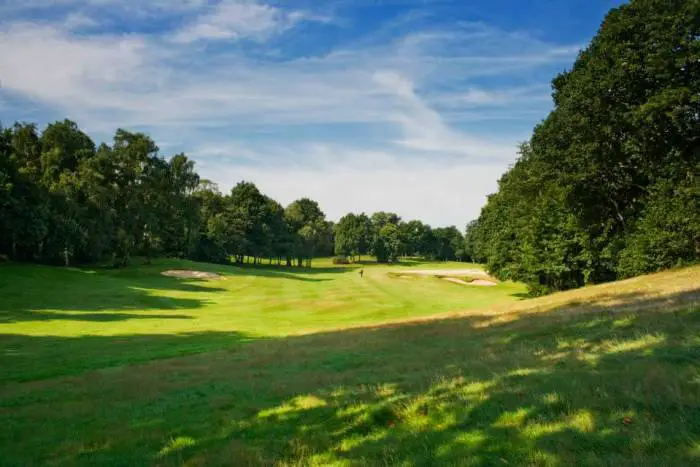 Founded in 1930, Addington Palace Golf Club has hosted prestigious championships and some of the best golfers of their generations over their near 100-year history.  
Located on the grounds of the lovely Addington Palace, about 12 minutes from Croydon, these greens are perfectly manicured and perfectly maintained throughout the year. 
The course is full of wooded glades, parklands, and plenty of challenges for golfers of any level. If you are looking for a course with charm, come check Addington Palace Golf Club out.
4. Croham Hurst Golf Club
📌 Croham Rd, South Croydon CR2 7HJ
💷 Green Fees from £35
Designed by Fred Hawtree and James Braid in 1911, this 18-hole course is beloved by all who have played it. 
Despite being just two miles outside of Croydon, Croham Hurst has an overall rural feel with many pretty views to enjoy as you play. 
Parkland in nature, it lies surrounded by trees with rolling, flowing fairways that makes for great game. As well as navigating the trees, there are a few cheeky challenges, including two long uphill holes!
Despite this, it's a fair challenge for any level of player, so come out and enjoy.
5. Purley Downs Golf Club
📌 106 Purley Downs Rd, South Croydon CR2 0RB
💷 Green Fees from £35
One of the older courses in the region, Purley Downs Golf Club was established in 1894 and designed by the illustrious J.H. Taylor. The club has been home to several championships and big-name players over the years. 
This countryside course will give players a blend of London cityscape and natural beauty as they play through, depending on where they look. 
The gentle slopes of the course will help to provide a subtle challenge to anyone playing. It's also home to what has been called "the best opening par 3 in golf".
6. Farleigh Golf Club
📌 Old Farleigh Rd, Warlingham CR6 9PE
💷 Green Fees from £35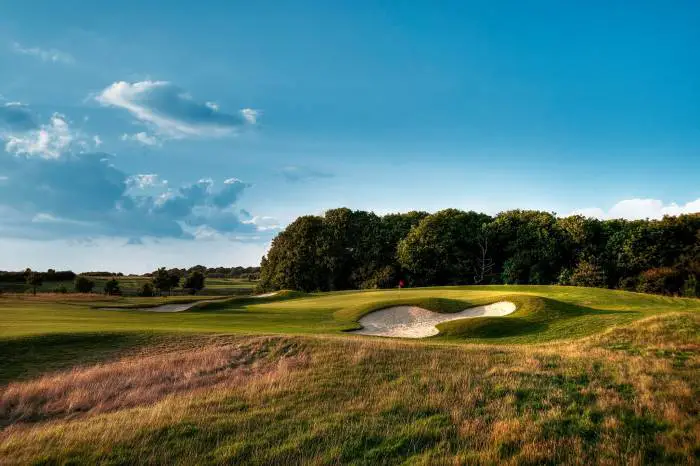 Whether you're a new or experienced player, Farleigh Golf Club (about 20 minutes from Croydon) is an excellent spot to visit for a game. 
This perfectly manicured course is actually made up of three different 9-hole courses that can be combined in multiple ways to make an 18-hole round! 
With plenty of challenges throughout, Farleigh will make for a great time for any player.
7. Addington Court Golf Club
📌 Featherbed Ln, Croydon CR0 9AA
💷 Green Fees from £25
Boasting two gorgeous 18-hole courses, a 9-hole academy hole and two-tier floodlit driving range on the property, Addington Court Golf Club has something for everyone. 
Whichever course you choose, you can guarantee it will be filled with stunning views as you make your way around. 
There are a few little (nice but fair) challenges on both courses, making it a great spot for a game for all levels. 
The fact it's only 17 minutes from Croydon is another bonus!
Final Thoughts
So there you have it, these are just a small selection of our favourite golf courses near Croydon. 
If you're not convinced, you can take a look and compare all of the golf courses in Greater London in our full UK golf course database.
However, you can't go wrong with a round at one of our favourites in the area below:
Shirley Park Golf Club
The Addington Golf Club
Addington Palace Golf Club
Croham Hurst Golf Club
Purley Downs Golf Club
Farleigh Golf Club
Addington Court Golf Club