Best Golf Courses in Newbury
Go&Golf is supported by its audience. When you purchase through links on our site, we may earn an affiliate commission.
Learn more
Welcome to Newbury! A small market town located in Berkshire, Newbury has a rich history of commercial retail and is actually home to several large well-known company headquarters. 
The area also boasts one of the major racecourses in England, Newbury Racecourse, plenty of shopping and dining, and several historical spots. It may be small, but it'll keep you busy!
But if you're looking for something a little bit quieter, there are actually some great golf courses in the area that are worth a visit.
Best Golf Courses Near Newbury
If you're looking for a quick escape from the bustle of town, below we've pulled together a list of our top picks of golf courses in the nearby area.
1. Newbury & Crookham Golf Club
📌 33-35 Burys Bank Rd, Newbury, Thatcham RG19 8BZ
💷 Green Fees from £45
Built in 1873, Newbury & Crookham Golf Club is set in mature woodland and heathland, which gives a different parkland-heathland dynamic to the course. 
The 18-hole course is finished with gorgeous greens that are kept in perfect condition year-round, so you can stop by any time you happen to be in the area. 
And only an 8-minute drive from Newbury, it's the place to go. 
2. Donnington Grove Golf Club
💷 Green Fees from £45
If you're looking for a championship-style golf experience that lies close to town (only a 9-minute drive), you'll want to visit the Donnington Grove Golf Club.
Founded in 1993, this 18-hole parkland is young but already has a strong reputation having already hosted PGA Europro Tour events. 
And it's easy to see why! Set in 500 acres of beautiful Berkshire countryside around the river Lambourn, it's hard to find a more perfect place to play golf.
The layout stretches to over 7,000 yards from the back sticks. But don't let that put you off! There are plenty of tee options and the challenge is suitable for all golfers.
3. West Berkshire Golf Club
📌 Hangman's Stone Ln, Newbury RG20 7DU
💷 Green Fees from £30
Founded 1975, the friendly atmosphere at West Berkshire Golf Club will make any player excited to come out and play. 
The well-kept, downland-style freeways are lined with trees and have a gently undulating lay of the land. The best part? This course is built on a chalk plateau along with being equipped with the latest irrigation system, making it easily playable year-round.
The club is only an 18-minute drive from Newbury, so you can make it an easy day trip! 
4. Deanwood Park Golf Club
📌 Baydon Rd, Stockcross, Newbury RG20 8JP
💷 Green Fees from £15 (9 holes)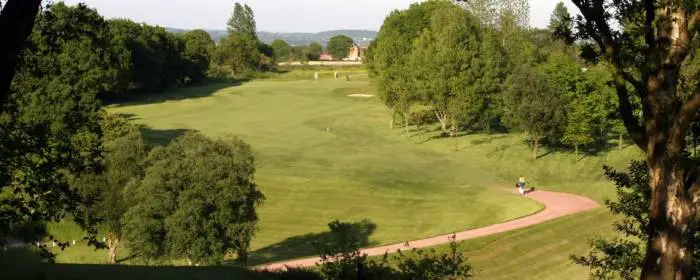 Located only two miles from Newbury is the lovely Deanwood Park Golf Club, a little course founded in 1995 filled with rolling downs and peaceful rivers. 
With 9 holes and plenty of nice scenery, this smaller course will still pack a challenge for all levels of golfers with its tight fairways and contoured greens. 
The 9-hole course is made up of four par 3s and five par 4s, reaching just over 2,000 yards in total. Alongside this, there's a driving range which is open all year round. 
5. Sandford Springs Golf Club
💷 Green Fees from £30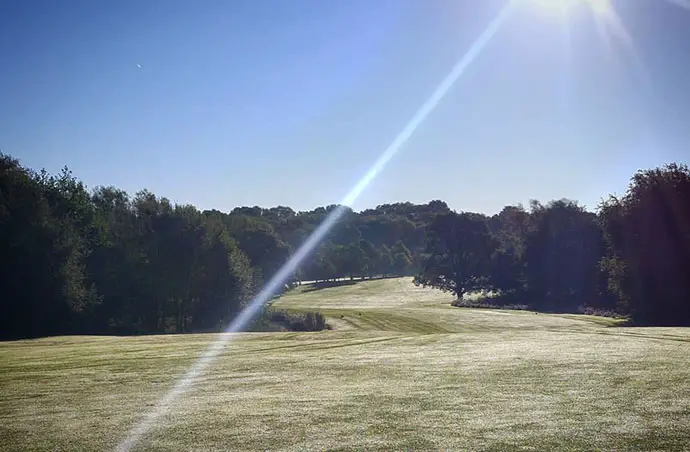 If you're looking for a bit more variety, Sandford Springs Golf Club may be to your taste. 
Made up of 3 different loops of 9 (The Park, The Woods, and The Lakes) that can be mixed and matched to provide 3 different 18-hole layouts. 
All 3 loops are set in the picturesque Watership Down countryside, each with their own unique challenge. 
The Park course gets a lot of wind shear, meaning control on your ball flight is paramount.  The Woods course could be considered the most challenging. It features lots of fully grown trees and sloping hills. And lastly, The Lakes course is, as the name implies, a heavily water-filled nine, so be prepared for that challenge!
6. Bishopswood Golf Club
📌 The Clubhouse, Bishopswood Ln, Tadley, RG26 4AT
💷 Green Fees from £17 (9 holes)
If you're looking for a top-ranked course (in the top 50 of 9-hole courses in the UK), then come visit Bishopswood Golf Course. 
This natural woodland-style layout is located about 19 minutes from Newbury. Whilst the course is on the shorter side, the terrain is challenging for any level of golfer, with plenty of water hazards and groomed fairways. 
Coupled with some great views as you make your way round, you'll enjoy the scenery between your shots!
Final Thoughts
So that sums up our list of top picks in the Newbury area. 
If none of the above courses strike your fancy, don't worry! There are many other options for a round of golf that you can choose from in the area. 
You can check out our page on all of the golf courses in Berkshire, or search by postcode on our database of golf clubs in South East England.
Otherwise, we really don't think you can go wrong with a round at one of the below:
Newbury & Crookham Golf Club
Donnington Grove Golf Club
West Berkshire Golf Club
Deanwood Park Golf Club
Sandford Springs Golf Club
Bishopswood Golf Club