Best golf courses in North Wales
Go&Golf is supported by its audience. When you purchase through links on our site, we may earn an affiliate commission.
Learn more
When it comes to golfing, North Wales, with its rugged coastline, stunning mountain ranges, and charming countryside, is an unexplored gem waiting to charm you.
It's not just the scenic beauty that will take your breath away, but also the region's rich golfing history and the variety of challenging courses it offers. 
From the shadows of ancient castles, to the edges of beautiful beaches, the golf courses of North Wales will provide a unique experience that blends tradition, excitement, and scenic beauty.
The best golf courses in North Wales
All the golf courses below are located in North Wales, but if you're looking to extend your search a little further, check out our database of all the golf courses in Wales. 
1. Royal St. David's Golf Club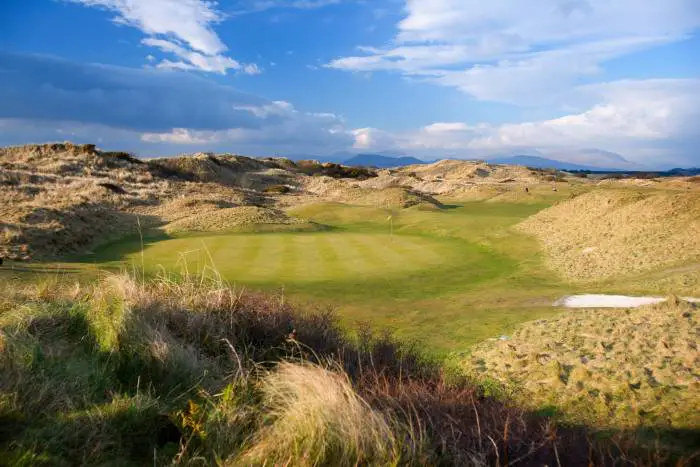 📌 Location: Gwynedd, Harlech LL46 2UB | 💷 Green fees: from £60
With the castle of Harlech serving as an imposing backdrop, playing at the Royal St. David's Golf Club is like stepping back into history. 
Founded in 1894, this 6,629 yard (par-69) 18-hole links course is a testing ground for golfers. And despite being one of the shorter championship venues, it is famously challenging, thanks to its crafty design. 
A rough day of wind can transform the course into a golfer's nightmare, but that's part of the thrill. With green fees ranging from £60 (winter rate) to £115, it provides an affordable yet royal golfing experience.
2. Aberdovey Golf Club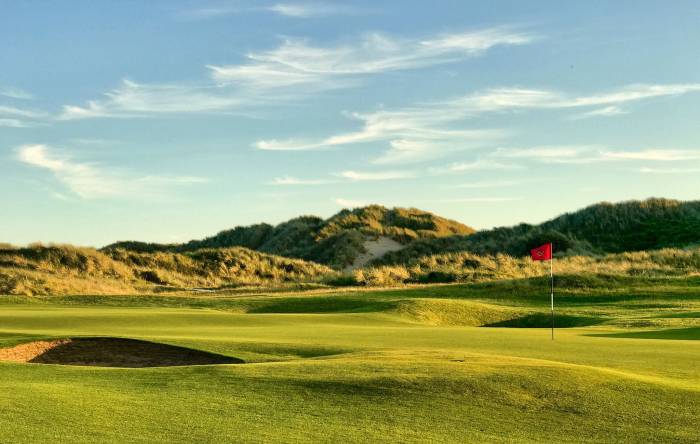 📌 Location: Aberdyfi, Aberdovey LL35 0RT | 💷 Green fees: from £55
Next, we move on to Aberdovey Golf Club. Nestled between the hills of Snowdonia and the Cambrian Coast, this classic 18-hole links course offers you a golfing experience with a stunning panorama. 
Founded in 1892, the Aberdovey has evolved over the years, refining its design to challenge the modern golfer. It reaches 6,535 yards from the back tees and the greens are some of the firmest and fastest in the country!
3. Nefyn Golf Club
📌 Location: Lon Golff, Pwllheli LL53 6DA | 💷 Green fees: from £25
Possibly one of the most photographed golf clubs in the country, Nefyn Golf Club offers 27 holes of golfing paradise!
Golfers can choose from the 18 hole championship course and the world famous 9-hole "Point" loop (you're bound to have seen some of the drone pictures of these holes)!
The "Point" is the star here. It's a 9-hole stretch that extends out into the sea, promising both challenging golf and some of the most scenic views in the game. With green fees ranging from £25 to £60, it's harder to find a better option to experience one of the country's most picturesque golfing destinations.
4. Conwy Golf Club
📌 Location: Beacons Way, Conwy LL32 8ER | 💷 Green fees: from £95
Moving on to Conwy Golf Club, another stunning links course on the North Wales coastline. 
It's been the home of numerous prestigious championships, including the Wales Seniors Open and The Curtis Cup.
The views of the Conwy Mountain, Llandudno's Great Orme, and the Isle of Anglesey provide a serene environment that contrasts sharply with the tough golfing test that this course presents. 
5. Bull Bay Golf Club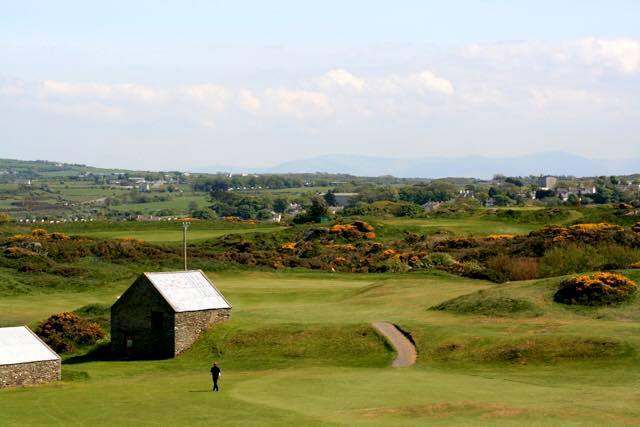 📌 Location: Bull Bay, Amlwch LL68 9RY | 💷 Green fees: from £35
Bull Bay Golf Club offers a challenging course with a breathtaking backdrop of the Irish Sea. 
As the most northerly course in Wales, it's laid out on the rugged coastline on the spectacular island of Anglesey, with panoramic views over Snowdonia. 
The 18-hole, par-70 course was designed by Herbert Fowler and meanders through valleys, rocky outcrops and gorse, providing an exciting challenge for golfers of all skill levels.
6. Porthmadog Golf Club
📌 Location: Fford Morfa Bychan, Porthmadog LL49 9UU | 💷 Green fees: from £25
Porthmadog Golf Club is a delightful 18-hole course that blends parkland and links styles beautifully. 
Founded in 1905, it's a well-established links course designed by one of the most famous golf course architects in his time, James Braid. 
The front nine starts the round on more heathland-style terrain with stunning views over the Cardigan Bay coastline and Snowdonia. The back nine in contrast, is renowned for its tough links-style design.
7. North Wales Golf Club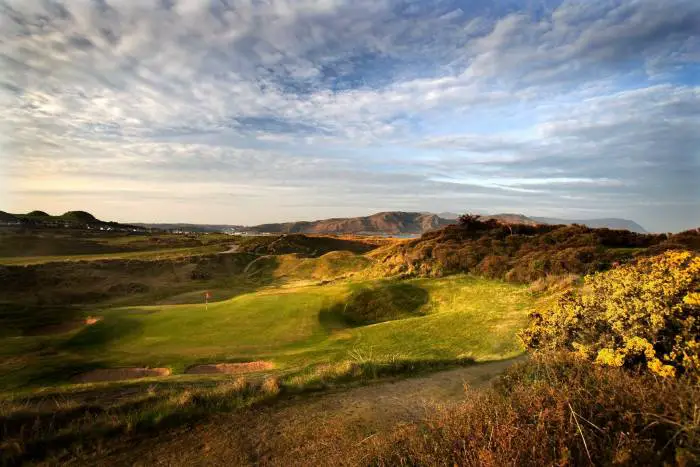 📌 Location: 72 Bryniau Rd, Llandudno LL30 2DZ | 💷 Green fees: from £35
Located in the seaside town of Llandudno with views over the Conwy estuary to Anglesey, North Wales Golf Club is another true Championship links course in North Wales. 
The course was established in 1894 and stands as a testament to golfing tradition, with a layout that rewards strategic play. Best of all, green fees are a steal, ranging from just £25 to £40.
8. Abersoch Golf Club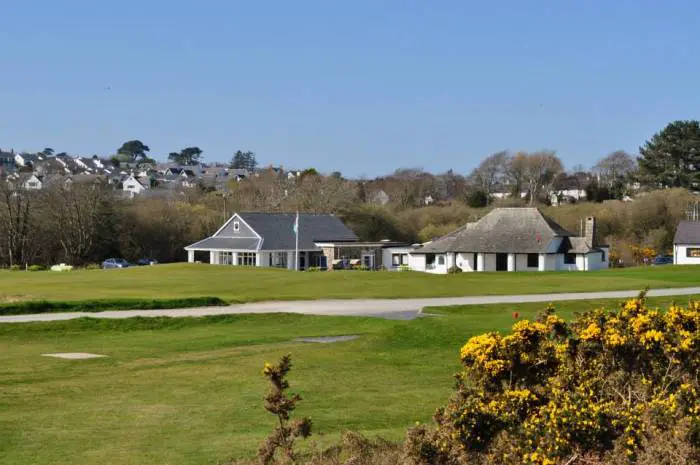 📌 Location: Golf Rd, Abersoch, Pwllheli LL53 7EY | 💷 Green fees: from £25
With panoramic views over Cardigan Bay, Abersoch Golf Club offers a delightful blend of parkland and links-style holes. 
The course is meticulously maintained, and although it's not a long course (it reaches 5,873 yards from the back tees), it will test your skills with its varied hole designs. 
The more links-style holes that hug the coastline will particularly test your accuracy. Any wayward drives will be severely punished!
9. Llandudno Golf Club
📌 Location: 31 Hospital Rd, Llandudno LL30 1HU | 💷 Green fees: from £25
Llandudno Golf Club, also known as Maesdu, is a mixed parkland/links course with incredible views of the North Wales coast. 
Nestled between Conwy and Llandudno, the club offers a unique mix of quality golf, stunning views and over a hundred years of history!
Established in 1915, the course itself is another parkland-link mix. It offers a fair challenge to golfers of all abilities, with strategically placed bunkers and challenging greens. 
10. Pwllheli Golf Club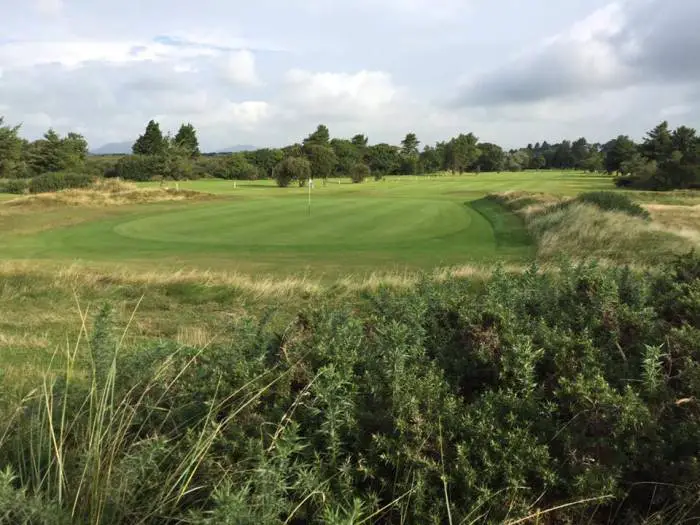 📌 Location: Golf Road, Pwllheli LL53 5PS | 💷 Green fees: from £25
Last but not least, we have Pwllheli Golf Club, which boasts another part-parkland, part-links course, unique to the North Wales coastline. 
With the sea on one side and the backdrop of Snowdonia on the other, this course is as scenic as they come. 
The layout reaches just over 6,100 yards from the back tees, with a par of 70. Designed by Tom Morris and James Braid, two excellent golf course architects have had influence over the beautiful design.
Final thoughts
That sums up our recommendations for golf courses in North Wales. 
The region offers a unique blend of history, challenging layouts, and stunning scenery that few golfing destinations can match. Each course has its unique charm, and there's excellent value from green fees to be had.
If you're looking to compare more golf courses in Wales, you check out our recommended golf courses in South Wales. Otherwise, we'll leave you with our favourite North Wales golf courses below:
Royal St David's Golf club
Aberdovey Golf Club
Nefyn Golf Club
Conwy Golf Club
Bull Bay Golf Club
Porthmadog Golf Club
North Wales Golf Club
Abersoch Golf Club
Llandudno Golf Club
Pwllheli Golf Club