Best Golf Courses in South Wales
Go&Golf is supported by its audience. When you purchase through links on our site, we may earn an affiliate commission.
Learn more
South Wales, with its dramatic coastline, verdant valleys, and historical grandeur, offers an exciting array of golf courses, each with its unique charm. 
It's a place where stunning sea views, lush parkland, and a legacy of golfing history come together. Every golfer, regardless of their handicap, can look forward to a memorable round filled with both challenges and scenic beauty. 
From renowned championship venues to hidden gems, we round up our favourite golf courses in South Wales below.
The best golf courses in South Wales
All the golf courses below are located in South Wales, but if you're looking to extend your search a little further, check out our database of all the golf courses in Wales. 
1. Royal Porthcawl Golf Club
📌 Location: Rest Bay, Porthcawl CF36 3UW | 💷 Green fees: from £125
Hailed as not just one of the best golf courses in Wales, but one of the world's top golf courses, the Royal Porthcawl offers a classic 18-hole links course right next to the Bristol Channel's rugged coastline. 
With no high sand dunes, this course offers unobstructed views of the sea from every hole. It's a fine example of a classic links course, where the winds can make the game challenging, testing the skills of the most seasoned players. 
As the number 1 golf course in Wales, Royal Porthcawl has hosted big events such as The Walker Cup, Senior Open and The Amateur Championship. Expect green fees to reflect that pedigree, with an international reputation and high demand.
2. Pennard Golf Club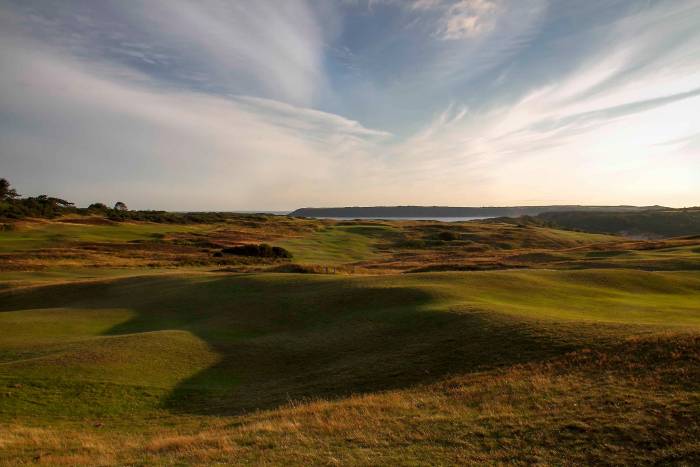 📌 Location: 2 Southgate Rd, Southgate, Swansea SA3 2BT | 💷 Green fees: from £55
Next on our journey is the Pennard Golf Club. Often referred to as the 'links in the sky', Pennard is a 6,420 yard, 18-hole course that sits atop a sandhill with panoramic views of Three Cliffs Bay. 
This course is unique for its hilly terrain, making the game challenging yet extremely satisfying. It's a truly unique and visually striking course.
It offers some of the best value golf in South Wales too, with green fees starting from £55. You can even play their Open Competition in August for just £20! Not bad for a UK & Ireland Top 100 course. 
3. Southerndown Golf Club
📌 Location: Ogmore-by-Sea, Bridgend CF32 0QP | 💷 Green fees: from £65
Sitting atop a sandstone cliff, the Southerndown Golf Club is a unique downland-links blend. 
With its fairways naturally drained by its underlying shale and limestone, it's playable all year round. 
The panoramic views of the countryside, the Bristol Channel, and the North Devon coast are nothing short of breathtaking.
4. Celtic Manor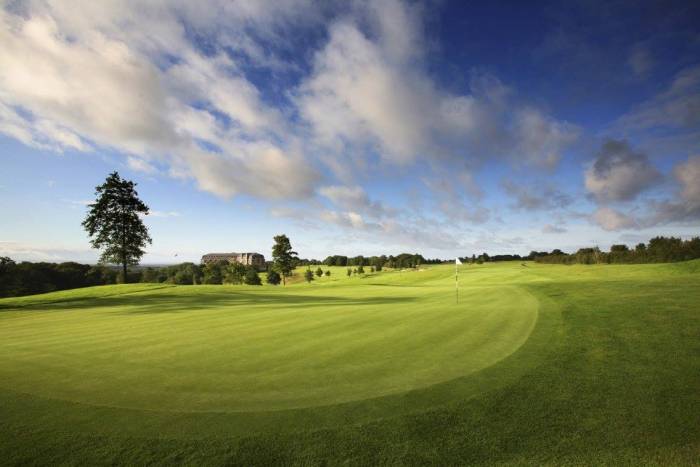 📌 Location: Caerleon, Newport NP18 1HQ | 💷 Green fees: from £49
Celtic Manor, with its three championship courses – The Twenty Ten, The Montgomerie, and Roman Road is one of the best golf resorts in the UK. 
It's also one of the handful of golf courses in the UK that has hosted the Ryder Cup. Europe took victory in the 2010 Ryder Cup which was held here, giving you a chance to walk in the footsteps of golfing history. 
Whilst the Ryder Cup course (The Twenty Ten) is the star attraction, each golf course offers a different style and enjoyable challenge. Alongside the world-class facilities on site, there aren't many better places to play golf in South Wales.
5. Pyle & Kenfig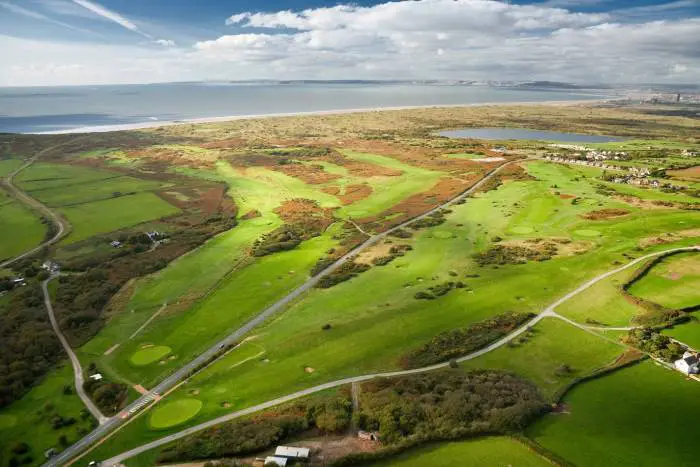 📌 Location: Waun-y-mer, Bridgend CF33 4PU | 💷 Green fees: from £65
Pyle & Kenfig, or P&K as it's often known, hugs the coast of South Wales and is one of the best golf courses near Swansea. 
It's a unique place, as it's a course that offers the best of both worlds. Built as two loops of nine, the front nine was designed by Harry Colt and has more inland, parkland features. The back nine then brings you to the coastline, amongst the dunes and is a true test of links golf. 
With the Bristol Channel and the Swansea Bay offering a spectacular backdrop, golfers can enjoy a challenging yet visually soothing round of golf. 
6. St Pierre Golf Club
📌 Location: St Pierre Park, Chepstow NP16 6YA | 💷 Green fees: from £20
St Pierre Golf Club, a part of Marriott, offers two courses: the Old Course and the Mathern Course. 
The Old Course is the star, having hosted many tournaments, including the Solheim Cup. A championship course that stretches to over 7,000 yards from the back tees, It offers a delightful mix of parkland and woodland play. 
The Mathern Course, while shorter, offers an engaging and more forgiving game. Reaching 5,730 yards, it's set in the same beautiful Chepstow estate, which makes St Pierre one of the best golf resorts in the country.  
7. Rolls of Monmouth Golf Club
📌 Location: B4233, The Hendre, Monmouth NP25 5HG | 💷 Green fees: from £40
Set in the stunning countryside, the Rolls of Monmouth Golf Club is a beautiful parkland course with its fair share of water hazards and woodland. 
The club is named after Charles Rolls, of Rolls-Royce fame, with his former mansion situated on the grounds of the club!
The course itself is a championship 6,733 yard golf course, set in superb countryside with spectacular views of the Welsh hills. The 18th hole is considered one of the best finishing holes in the country. 
8. Newport Golf Club
📌 Location: Great Oaks Park, Rogerstone, Newport NP10 9FX | 💷 Green fees: from £30
Newport Golf Club, founded in 1903, offers a 6,500-yard parkland course that's meticulously maintained. 
Parkland in nature with its mature trees, water hazards, and strategically placed bunkers, the course is designed to test your skills. 
Not just one of the best in South Wales, it's considered one of the best in the country. The club has been given the honour of hosting a number of Men's and Ladies' Welsh and National Amateur events over the years. 
9. Langland Bay Golf Club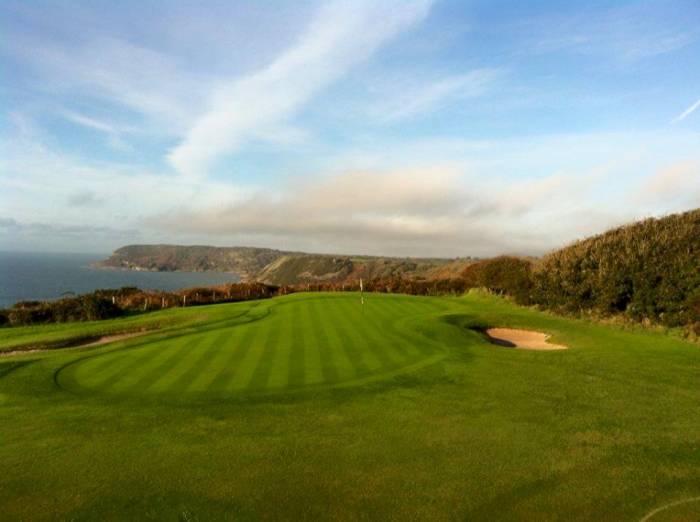 📌 Location: Langland Bay Rd, The Mumbles, Newton, Swansea SA3 4QR | 💷 Green fees: from £30
Langland Bay Golf Club is quite simply one of South Wales' gems! 
Whilst there are a number of courses in South Wales with great views, rarely do they beat the backdrop at Langland Bay. As you make your way around this cliff top course, you're delighted by panoramic sea views at every turn.
The course itself is fairly short in length, but it has plenty of challenges that will present an enjoyable challenge to golfers of all levels. 
10. Whitchurch Golf Club
📌 Location: Pantmawr Rd, Cardiff CF14 7TD | 💷 Green fees: from £60
Rounding up our list is the Whitchurch Golf Club. Lying just 3 miles north of Cardiff, this parkland course offers an enjoyable and challenging round for golfers of all abilities. 
The layout reaches 6,278 from the back tees, offering beautiful views over the city of Cardiff, the Bristol Channel and beyond.
Founded in 1914, it's a mature parkland course that provides a scenic setting for a day of golf.
Final Thoughts
From the wild beauty of Royal Porthcawl to the historical grandeur of St Pierre, South Wales offers a diverse and exciting range of golfing experiences.
Each course on our list brings its unique charm, combining the thrill of the game with awe-inspiring views. Whether you're a seasoned pro or a beginner, golfing in South Wales is bound to be an experience that will leave. 
If you're looking for more options in the area, you can compare all the golf clubs in South Wales on our golf course database. Otherwise, we'll leave you with our top picks in South Wales below.
Royal Porthcawl
Pennard 
Southerndown Golf Club
Celtic Manor 
Pyle & Kenfig
St Pierre Golf Club
Rolls of Monmouth Golf Club 
Newport Golf Club
Langland Bay 
Whitchurch Golf Club