Best Golf Courses in Stevenage
Go&Golf is supported by its audience. When you purchase through links on our site, we may earn an affiliate commission.
Learn more
Of the many places you can visit in the county of Hertfordshire, Stevenage may be the best-kept secret you haven't visited yet! 
This little historical gem of a town is about 51 km north of central London. It's known for being the first new town built after World War II. It also boasts a great pedestrian shopping precinct, which is always bustling. 
This town, while many don't view it as a tourist attraction, has so much charm that it deserves a visit, even more so if you enjoy your golf. 
In this article we're going to go over some of the best golf clubs in the area that you definitely need to visit while you're here!
Best Golf Courses near Stevenage (under 30 minutes)
We'll start off with the best golf courses that are a little closer to Stevenage, easily reachable in less than half an hour.
1. Brocket Hall (Palmerston and Melbourne Courses)
💷 Green fees from £90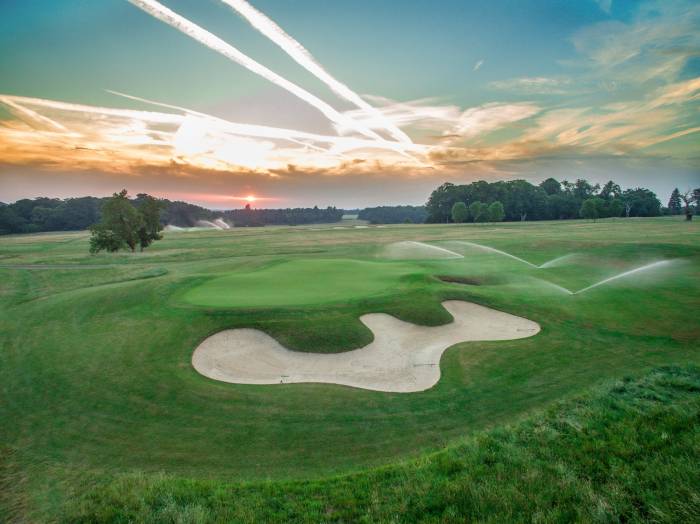 Brocket Hall is your classic English country estate, which is beautifully designed to be opulent and filled with greenery. The Hall itself has been present since 1760.
Two Prime Ministers have actually resided here, which is how the courses at the resort got their names: Melbourne and Palmerston. 
They are two very different courses, built in 1992 and 1999 respectively. The Palmerston plays a little longer and is more of a traditional woodland style course. Whilst the Melbourne course is more parkland style built around the river. 
The one thing that they have in common is the unique challenges they present for golfers of all levels. 
Brocket Hall features in the top 100 resorts in the UK and also in our list of the best golf courses in Hertfordshire. If that doesn't convince you how good they are, the fact they both regularly host pro tournaments should! 
2. Knebworth Golf Club
📌 Deard's End Ln, Knebworth, SG3 6NL
💷 Green fees from £35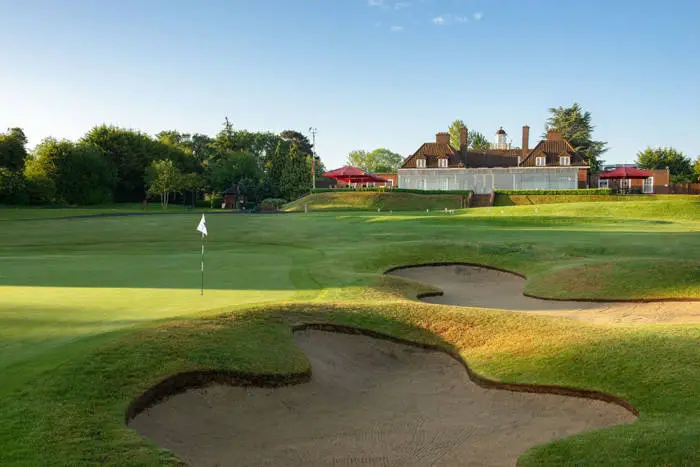 Knebworth Golf Club is home to an 18-hole course designed by famous course designer Willie Park Jnr in 1908. 
The course has been designed around the woodland for added challenges, as well doglegs and gorgeous rolling greens. This course will satisfy any type of golfer. 
You'll also find a great practice facility at the club, so you can dial in your game before you head out on the course. This club prides itself on a "home away from home" feeling, so get ready for a warm welcome.
3. East Herts Golf Club
📌 Hamels Ln, Buntingford, SG9 9NB
💷 Green fees from £55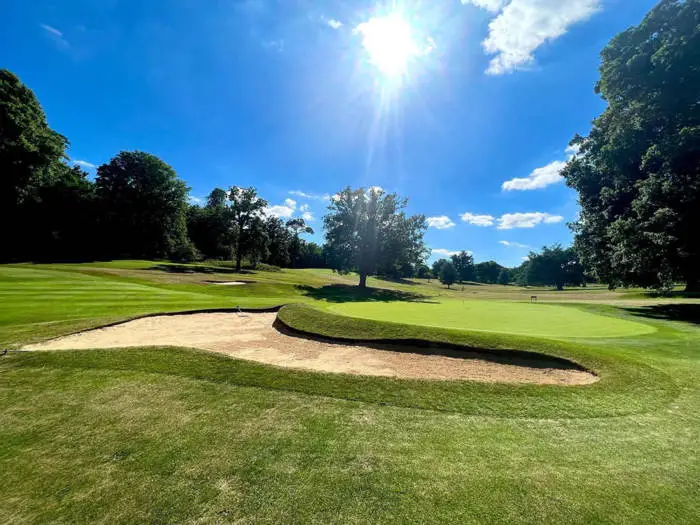 For a classic golf experience, the East Herts Golf Club (founded in 1899) is known for being one of the best courses in Hertfordshire, located on the Hamels Park Estate. 
The easily walkable course stretches to just over 6,400 yards, winding through the old trees planted in the 18th century which gives this area such a cool atmosphere.  
It's a great course for golfers of all levels, and makes a great introduction to golf in Stevenage.
4. Mid Herts Golf Club
📌 Lower Gustard Wood, St Albans, AL4 8RS
💷 Green fees from £40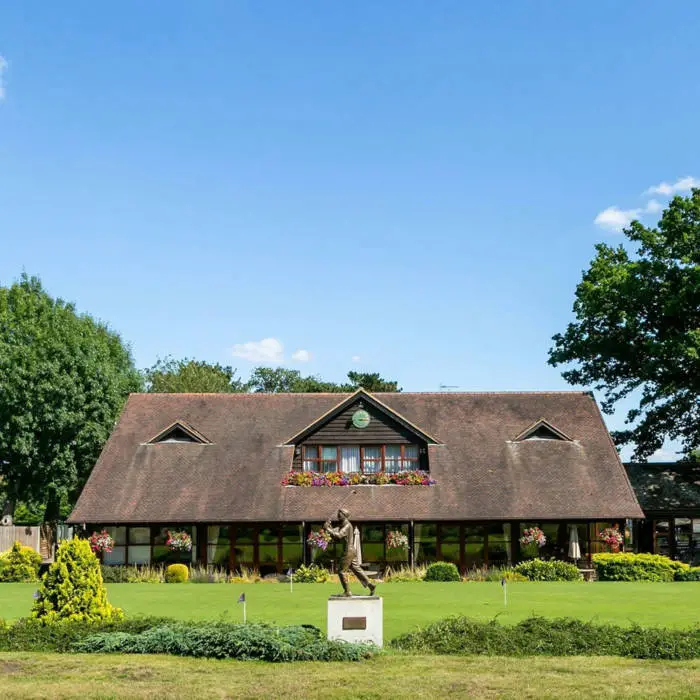 One of the oldest golf clubs in the country, Mid Herts Golf Club was built in 1892. It's a scenic course, tucked into the Hertfordshire countryside. 
A classic heathland by design it was laid out by five times Open Champion James Braid. The natural drainage from the heathland turf means that the course is open year-round.
And its rippling fairways are sure to provide a nice little test for all levels of golfers. If you like a challenge, then this course is a must in the area.
5. Whitehill Golf Club
📌 Whitehill, Dane End, Ware, SG12 0JS
💷 Green fees from £31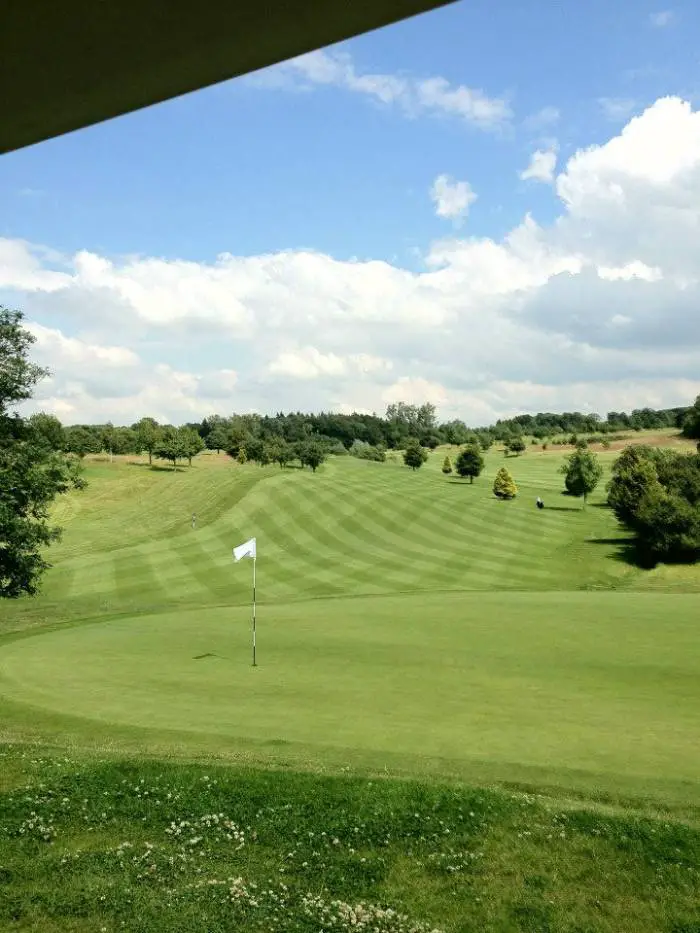 If you are looking for a more rural golf course, you'll definitely want to visit Whitehill Golf Club. 
This course was designed in 1988 on farmland owned by the Smith family, and it keeps the look of that natural beauty of the countryside from the rolling grounds to the various trees. 
There are plenty of challenges to work with provided by a host of little ponds and bunkers along the course. It's a club that's open to families of all types and golfers of all skill levels. Along with the rustic fairways, there's also a nice driving range!
6. Stevenage Golf Club
📌 Aston Lane, Stevenage, SG2 7EL
💷 Green fees from £20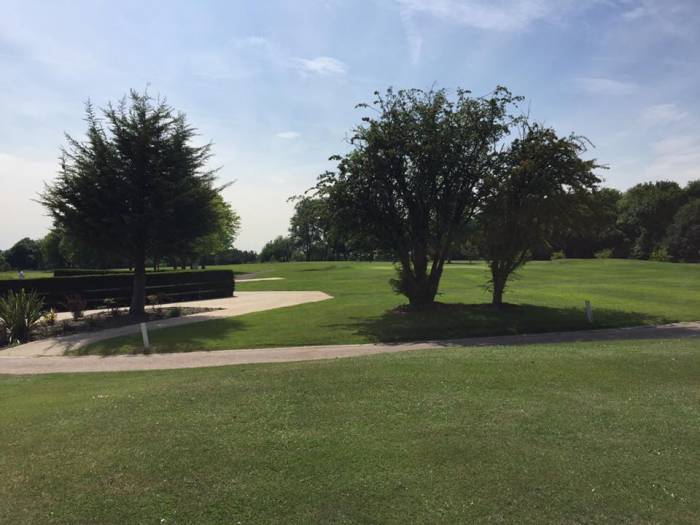 If you want to experience a truly "Stevenage" golf course, check out Stevenage Golf Club! It's set in the Aston countryside and offers all the golfing facilities you could need.
This club is home to an 18-hole course as well as a 22 floodlit bay driving range and a 9-hole "pitch and putt" if you want to brush up your game before hitting the big course. When the weather's not quite up to it, or you're after a little more fun, then there's also a golf simulator. 
The course itself was designed by John Jacobs, and it features a layout that will challenge any level of golfer.
Best golf courses a little further out from Stevenage (over 30 minutes)
Whilst all the options above are some of the best in the area, if you're willing to travel a little further you can take advantage of some other great courses.
7. Hanbury Manor Golf Club
💷 Green fees from £50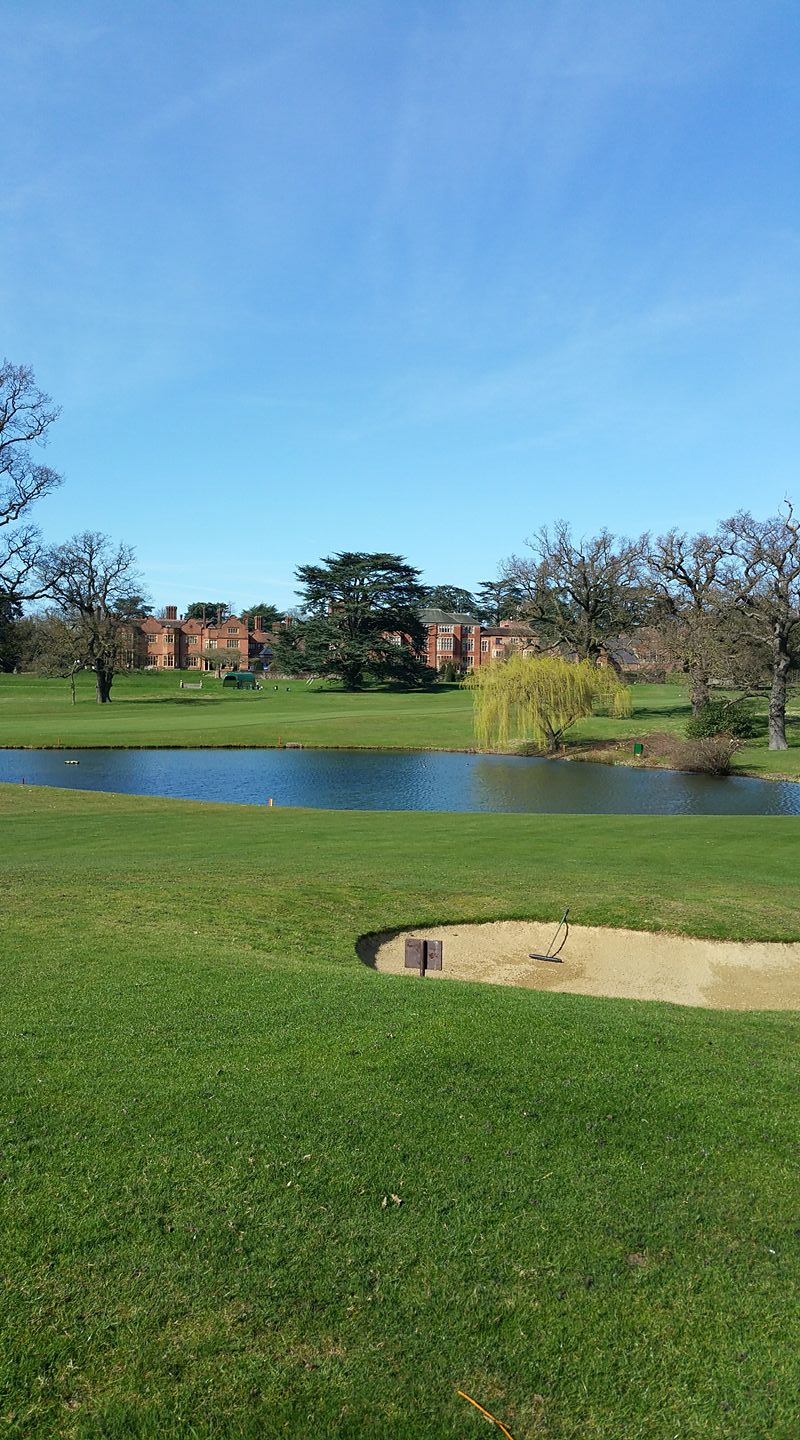 Located on the property of a Marriott Bonvoy in Hertfordshire, the gorgeous Hanbury Manor Golf Club offers a championship-style 18-hole course, driving range, and even a golf simulator. 
The design of the course was set up by Jack Nicklaus and features rolling greens, tree-lined ponds, and plenty of sand traps to keep golfers on their toes.
8. Dunstable Downs Golf Club
📌 Kensworth, Dunstable LU6 2NB
💷 Green fees from £40
This particular golf club is technically in Bedfordshire, but not too far out from Stevenage. 
Dunstable Downs Golf Club is another course designed by James Braid, featuring downland turf and stunning views. As it's set about 800ft above sea level, golfers will get to take in a view of the surrounding seven counties as they play this 18-hole course! 
There are plenty of challenges built into the course, so players of every level will be able to find a stimulating game.
Conclusion
Just to be clear, we'll openly admit that there are a ton more courses out there for golfers to choose from, each with different levels of difficulty and varying degrees of beauty. These just happen to be the courses we think are the best in the area.
If you're after a more comprehensive list of all the golf courses around Stevenage, you can search by postcode or town on our full UK golf course database and decide for yourself  
Otherwise, we'll leave you with a summary of our 8 (well, technically 9) favourite courses in the area:
Brocket Hall (Palmerston & Melbourne Courses)
Knebworth Golf Club
East Herts Golf Club
Mid Herts Golf Club
Whitehill Golf Club
Stevenage Golf Club
Hanbury Manor Golf Club
Dunstable Downs Golf Club