The Best Golf Courses in Hertfordshire
Go&Golf is supported by its audience. When you purchase through links on our site, we may earn an affiliate commission.
Learn more
Hertfordshire boasts some of the finest inland golf courses in the country many of which can be accessed incredibly easily due to great transport links via train and tube from London or via the M1 and M25 motorways.
It's a rich and vibrant county for golf, with over 50 golf courses and cubs registered with The English Golf Union.
List of the top 10 golf courses in Hertfordshire
Having played every single course over the past 18 months, I feel particularly privileged to be able to share my opinion as a mid-handicapper on the playability, condition, enjoyment and accessibility of my favourites.
1. Ashridge Golf Club
⭐ AGolfingLife Rating: 92/100 | 📌 Location: Berkhamsted HP4 1LY | 💷 Green Fees: from £90
Set in the beautiful National Trust forest, walking amongst the century old tree lined fairways and mixing with wild deer and various wildlife this course feels like something of magic and wonder throughout.
The entrance drive, car-park, practice facilities, clubhouse and the course at Ashridge Golf Club ooze class, you just cannot fail to fall in love with the game over and over again. The course is challenging without being exceptionally long or difficult but holds a number of challenges for any standard of golfer.
Visitors are made extremely welcome and considering the package on offer, you should be able to play a round here from as little as £75 throughout the year. This is as close to Sunningdale as I have found.
Favourite Hole: All of them!
2. Hadley Wood Golf Club
⭐ AGolfingLife Rating: 91/100 | 📌 Location: Beech Hill, Barnet EN4 0JJ | 💷 Green Fees: from £30
Designed by the chief architect of the infamous Augusta National (home of the Masters), Hadley Wood echos some familiar visionary experiences and whilst it's far from a carbon copy of the great course it holds it's own as one of the finest courses in the South East of England.
Historic splendour mixed with modernised facilities will suit all ages of golfer, the course itself is testing with some decent length Par 5's along with punishing water hazards and really quick greens.
The green staff and groundworks team here keep the course in amazing condition, even the fairways feel like carpets. Visitors are welcome all year round, with twilight rounds available from £35!!! Not bad for a slice of Augusta quality.
Favourite Hole: 9th
3. Centurion Club
⭐ AGolfingLife Rating: 90/100 | 📌 Location: Hemel Hempstead HP3 8LA | 💷 Green Fees: Private
Host of the European Tour's flagship GolfSixes tournament and exclusive member's only course, The Centurion Club is a golfing experience which is hard to beat.
If you are looking for millionaires golf, love concierge service, chauffeur parking, bag drop, club cleaning and a true caddie-master then look no further than this course.
The relatively modern course is in magnificent condition with a mixture of woodland and parkland holes reminiscent of Wentworth or Woburn, considering it's only been open since the mid 90's the course has already gained a level of maturity which will only improve. 
Unfortunately this is a private members club with a no visitors policy. However they do accept golf societies!
Favourite Hole: 18th
4. The Grove
⭐ AGolfingLife Rating: 90/100 | 📌 Location: Chandler's Cross, Rickmansworth WD3 4TG | 💷 Green Fees: from £99
A rare find in the UK, a course that has hosted a WGC event, not only so, but a course that Tiger Woods competed in said WGC event and won the championship. It does feel like something else when you can say you have walked in the footsteps of true GOATs of the game.
In stark contrast to it's 3rd place co-share Centurion, The Grove is a visitors only club! Bucking the trend of expensive memberships, here you can get our on a fabulously designed golf course which is both long and challenging from around £100 a round. 
Couple this with the ample facilities and beautiful landscapes you are truly in for a treat if you take the plunge on the green fee.
Favourite Hole: 4th
5. Moor Park – High Course
⭐ AGolfingLife Rating: 83/100 | 📌 Location: Rickmansworth WD3 1QN | 💷 Green Fees: from £80
Situated merely a few moments drive from The Grove is Moor Park Golf Club, in stunning contrast this historic 17th century country mansion is a spectacle of amazement on it's own, as you wind through the entrance drive which borders the first few holes of the West Course you will come upon the Mansion and formal grounds. The pro-shop and facilities are all found inside!
Heading out south of the clubhouse to the 1st tee for this magnificent course you are transported from luxury to a serious golf course, challenging at length and always in fabulous condition. I was fortunate enough to have membership here for couple of years and the High Course was always first pick for any visitors.
Its small claim to fame is that Barack Obama has played the course on a couple of occasions. A snip at £75 and if you want to play a further 18 on the West course you won't be disappointed.
Favourite Hole: 12th
6. Batchworth Park Golf Club
⭐ AGolfingLife Rating: 83/100 | 📌 Location: London Rd, Rickmansworth WD3 1JS | 💷 Green Fees: Members & Guest Only
For those with a keen eye, you'll have spotted that the postcode WD3 features significantly in my favourite courses for the region, this is for no reason other than the land and the golfing gods have collided to produce some spectacles that have to be played and enjoyed.
Batchworth Park is another that falls into that category, however its another in this Top 10 that will be a real tough one for a visitor to tee off at due to their strict members only policy.
If you are a fan of elevated greens, undulating fairways and truly crafted into the existing terrain style golf courses then this isn't for you… well OK, this is totally for you but I wanted to blunt the blow of it's brilliance. 
Offering a number of risk and reward holes for the player and a course which depending upon the weather is really two different courses!
Favourite Hole: 7th
Fun Fact: Matt Wallace (Pro) was their Junior Champion for many years before turning Professional.
7. & 8. Brocket Hall – Palmerston & Melbourne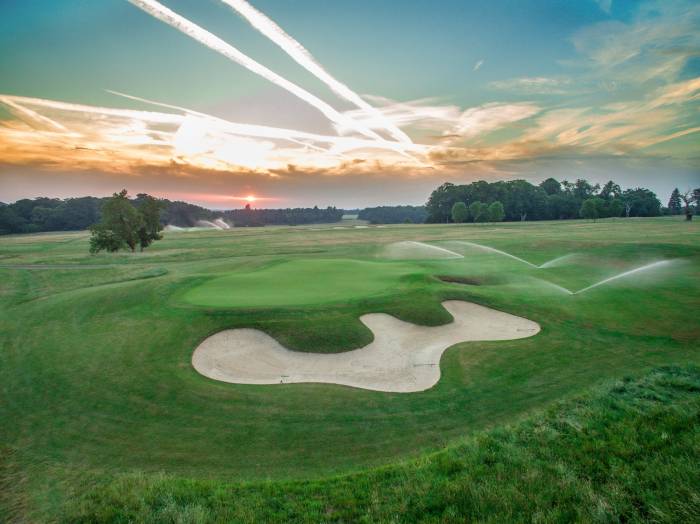 ⭐ AGolfingLife Rating: 82 & 81 respectively | 📌 Location: Hatfield, Welwyn Garden City AL8 7XG | 💷 Green Fees: from £85
At Brocket Hall there are two fabulous golf courses with almost nothing to pick between them. A state of the art practice facility and golf academy, pro-shop and welcoming staff – What. More. Could. You. Ask. For? 
The courses are both intrinsically different, the Palmerston playing a longer more traditional woodland style course with the Melbourne being formed around a river with a Parkland style. Therefore, if you find water to be a bit of a nemesis for you, then stick to the Palmerston (not that you will find that easier by any stretch).
As with most courses in Hertfordshire, you could literally be anywhere in the world such is the beauty of the scenery and landscape. If you are fortunate enough to find yourself free on a weekday afternoon you can play one of either course from only £55, which is an amazing price for either of these golf courses.
Favourite Holes: 7th and 18th
9. Sandy Lodge Golf Club
⭐ AGolfingLife Rating: 80/100 | 📌 Sandy Lodge Ln, Northwood HA6 2JD | 💷 Green Fees: from £80
The only one of two inland links style courses in the county, Sandy Lodge stands out for its purest approach to golf, combinations of open flatland bunkers and pot bunkers, wide open fairways and brutal conditions when the wind is up! The heathland that separates the fairways is not where you want to lose you ball either.
Sandy Lodge is a traditional club but has really good facilities, including a lovely open air driving range, putting green and chipping area with plenty of pot bunkers to practice getting stuck in.
The range is a great shout actually. Especially if you haven't played much links golf as it's positioned into the prevailing wind and gives you opportunity to hone your driving irons for a low flight afternoon. 
From just £25 weekday twilight this cannot be missed and shouldn't be underestimated.
Favourite Hole: 18th
10. Moor Park – West Course
⭐ AGolfingLife Rating: 79/100 | 📌 Location: Rickmansworth WD3 1QN | 💷 Green Fees: from £60
The shorter and in my opinion prettier relative of the High Course at Moor Park. This is a gem of a course and you should not be left disappointed if the Pro-Shop offer you the chance to play this when you enquire about the aforementioned alternative. 
This course is full of challenging of holes that will test your tee shots, shot shaping and approaches due to the nature of its tighter layout. 
The greens, fairways and tee boxes are all plush and managed by the same green staff therefore you get all the benefits of this too! From £50, who could resist?
Favourite Hole: 10th
Other great golf courses in Hertfordshire
It's hard to believe I've covered my top rated Hertfordshire golf courses without mentioning some fantastic facilities that in other counties could be in the Top 3! 
So I've listed out my 11 through to 20 with a small bit of commentary to tempt you into giving those a visit too!
– Woodland, National Trust, No Bunkers and Picturesque!
– Beautiful, Rolling Undulations, Classic and Pure!
– Stately, Impressive, Challenging and Aesthetic
– Pure Parkland, Great Condition, PGA Regional Home
– Stunning, Playable, Parkland Classic
– Private, Quiet, National Trust Borders, Unique
– Home of the best amateur hole in England
– Classy, Great Golf, Challenging Format
– Oozes Class, Sophisticated, Risk/Reward, Long
– Only Seve Ballesteros designed course in UK.