Best Golf Courses in York
Go&Golf is supported by its audience. When you purchase through links on our site, we may earn an affiliate commission.
Learn more
Are you looking for the perfect place for a golf holiday? Regardless if you are planning a long weekend or a full week you should consider York. 
You can play great golf courses during the day and explore a unique and vibrant festival town in the evenings. With Roman roots and a Viking past, York is unlike any other English city.
Sounds good, right? 
Below we have outlined our favourite golf courses in and near York. If you tee it up at one of these courses, you won't be disappointed!
Best golf courses in York
Let's get started with the golf courses that are in York.
1. Fulford Golf Club
📌 Heslington Ln, Heslington, York YO10 5DY
💷 Green Fees from £100
Play Fulford Golf Club and you will get to enjoy a course that has been played by legends of the game. For 20+ years Fulford hosted a regular stop on the European Tour where past champions include the likes of Sam Torrance, Greg Norman, Tom Weiskopf, Lee Trevino, and Tony Jacklin. 
But don't worry, this course is not stuck in the past. They continue to host championship events including the 2019 R&A Girls U16 Amateur Championship.
It's a true test of golf that can be enjoyed by all levels of golfers. The course combines parkland features with a heathland links, making it a true joy to play this championship course!
2. York Golf Club
📌 Lords Moor Ln, Strensall, York YO32 5XF
💷 Green Fees from £60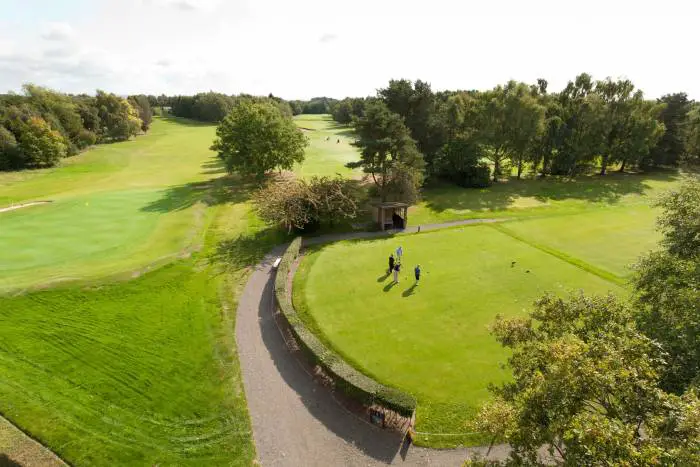 Founded in 1890, York Golf Club is located five miles north of the city of York. It's designed by 5-time Open Champion J.H Taylor and you'll find the course to be a serene blend of parkland and heathland. The club calls it a "lowland heath" style course.
The club invests heavily in its course and off-course facilities. The result is that you'll enjoy some of the best putting surfaces in the area. 
Hole number 7 is the signature hole at York – it is short, but tricky par 3 over water. Pay close attention to your club choice! We don't want your ball to find a watery grave or visit the "out of bounds" located to the right of the green.
3. Pike Hills Golf Club
💷 Green Fees from £17.50
Travel 2 miles southwest of York and you will find one of the finest parkland courses in the north. Pike Hills routes through the Yorkshire Wildlife Trust's Askham Nature Reserve letting you experience everything Mother Nature has to offer. You'll most likely encounter deer, squirrels, rabbits, and birds during your round.
The course is a 6,200-yard par 71 that includes par 3s, par 4s, and par 5s. Course management is more important than raw power when you play Pike Hills. Bring your short game because the fun has only begun once you reach the putting surfaces. Most golfers consider the greens at Pike Hills the trickiest in the area.
4. Forest Park Golf Club
📌 The Village, Stockton on the Forest, York YO32 9UF
💷 Green Fees from £30
A short drive (4 miles) to the northeast of York and you will find 27 holes at Forest Park Golf Club. The Old Foss is an 18-hole track that can be stretched out to 6,673 yards. The name comes from the Old Foss Beck that meanders through the course, creating a natural hazard on many holes. Holes 10-12 are particularly challenging – the locals refer to it as "Forest Park's Amen Corner".
If 18 holes has left you wanting a little more, or you want to warm up properly with a few holes, then the West Course at Forest Park is perfect! This 9-hole layout measures 3,186 yards and will test even the best players. You can easily spend an entire day enjoying Forest Park Golf Club.
The best golf courses near York
Are you willing to take a drive out of the city? Explore a little more of the region by turning your golf round into a day trip. If you do, there are some of Yorkshire's best golf courses awaiting you.
Here are three more great courses for you to try near York.
5. Selby Golf Club
💷 Green Fees from £30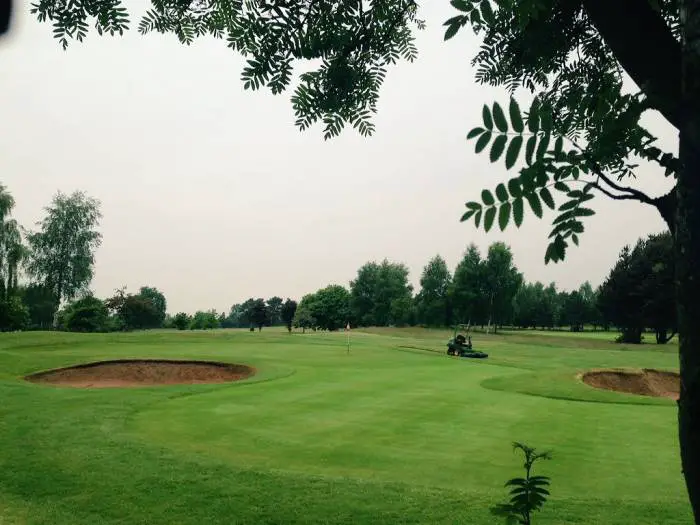 Don't worry. You don't have to drive too far to enjoy Selby Golf Club. Less than 15 miles from York, this golf course can easily be part of your York golf weekend. 
After your short drive, you will find a par 71 golf course that was built on sandy soil. This ensures that Selby Golf Club is playable year-round – the course is famous for its great winter conditions if you're considering a game in the colder months!
The layout measures a little over 6,300 yards and is a fun test for all skill levels. It features a number of par 3's, ranging in length from the 140 yard 5th, up to the 211 yard 15th, which means all the clubs in your bag will be tested. 
6. Garforth Golf Club
💷 Green Fees from £30
Garforth Golf Club was designed by Dr. Alister Mackenzie. If the name sounds familiar, wel, there's a good reason. MacKenzie has designed some of the world's best golf courses including Augusta National, Cypress Point, and Royal Melbourne. 
To be successful on this course, you'll need to navigate the water hazards that are made by the Cock and Carr Becks. The Cock Beck has its place in local history and is reputed to have run with blood during the Battle of Towton (during the War of the Roses).  The good news is that the worst you will experience is a lost ball!
The course is situated in picturesque, mature parkland and measures 6,381 yards from the back tee box. We're confident you will enjoy your day at Garforth Golf Club.
7. Pannal Golf Club
📌 Follifoot Rd, Pannal, Harrogate HG3 1ES
💷 Green Fees from £35
The final course (but by no means least) on our list is Pannal Golf Club. Near the spa town of Harrogate, you will find a heathland and moorland classic design. 
Pannal officially opened in 1908 with a golf match between James Braid and Harry Vardon. The golf club has a rich history and was a regional qualifying location for the Open Championship from 2006 to 2012.
The par 72 golf course measures 6,404 yards from the longest tee box. The front 9 has 1 par 3 and 1 par 5, whilst the back 9 has three of each. The facilities make it well worth your 1-hour drive from York. You will be impressed by the luxurious clubhouse and top-quality food. Enjoy a round and get a bite to eat. Make a day of it.
Map of the best golf courses in York
Final thoughts
So there you have it, our top picks of golf courses in and around York. If you're staying a little longer or willing to travel even a little further, then check out our full golf course directory for all the golf courses in Yorkshire. 
But there is no time like the present, start planning your golf trip to York today and play one of our recommendations in the area below.
Fulford Golf Club
York Golf Club
Pike Hills Golf Club
Forest Park Golf Club
Selby Golf Club
Garforth Golf Club
Pannal Golf Club