Best Golf Courses In Bournemouth (and Poole)
Go&Golf is supported by its audience. When you purchase through links on our site, we may earn an affiliate commission.
Learn more
Bournemouth, a lively town on the South coast, is home to not only some of the best golf courses in Dorset, but all of England.
The wider region boasts a number of protected areas of outstanding natural beauty and is home to acres of lush green countryside, making it the ideal place for golf. 
In fact, the area's connections to golf go back all the 1890s and Victorian times when Bournemouth began to blossom as a popular tourist destination and golf course construction began. 
What makes Bournemouth special is that it's home to some of the finest heartland courses, able to compete with the best in the country. The quality of the courses in the area means there's no shortage of options if you're on a long break in the popular seaside resort. 
Best golf courses in Bournemouth
Let's dig into the details of awesome golf courses this beautiful place hosts and see what they all have to offer. 
We'll start with the best golf courses in Bournemouth, before we visit some other options if you're willing to travel a little further. 
1. Broadstone Golf Club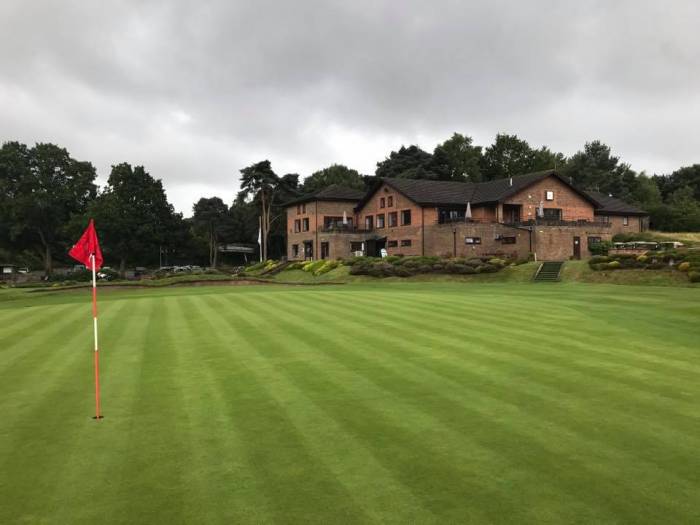 📌 Location: Broadstone BH18 8DQ | 💷 Green fees: from £80
Broadstone Golf Club (formerly known as Dorset Golf Club) was established in 1898 and is ranked as the number one course in Dorset by multiple publications.
Its quality is also recognised at a national level, ranking in the top 100 in the UK & Ireland and also the top 100 golf courses in England lists. 
And for golfers who are specifically looking for a unique heathland golfing experience, Broadstone should be at the top of their list.
The course is set on the beautiful rolling ground of Bournemouth, with panoramic views of Poole Harbour and the Purbeck Hills. Whilst the expanses of heather, wild bunkers, pine, and rhododendron on the course makes it quite a challenging test.
A Harry Colt classic design, nestled on 250 acres of spectacular Dorset countryside, you wouldn't want to be anywhere else!
2. Parkstone Golf Club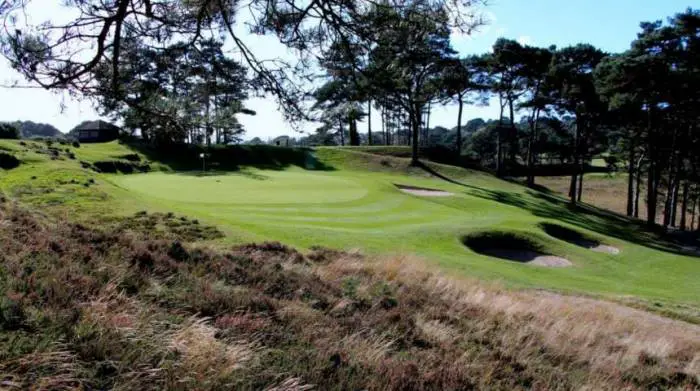 📌 Location: 49A Links Rd, Poole BH14 9QS | 💷 Green fees: from £70
Parkstone, another wonderful heathland course in the area, was established in 1909 by Lord Wimborne. 
The course layout provides a varied and demanding round of golf, with five superb short holes and five different par 5s. Although considered a bit short with respect to the modern standards, Parkstone can easily be called a positional course, placing a premium on accuracy off the tee.
Tree-lined fairways by the gorgeous old pines are the main reason for this. But between the trees, you're offered spectacular panoramic views of Brownsea Island, the Isle of Purbeck's coastal downs, and Poole Harbour.
If you're seeking for a one-of-a-kind and spectacular golfing getaway, go no further than Parkstone. The magnificent Dorset countryside will mesmerise you while you play a fairly challenging round of golf.
3. Knighton Heath Golf Club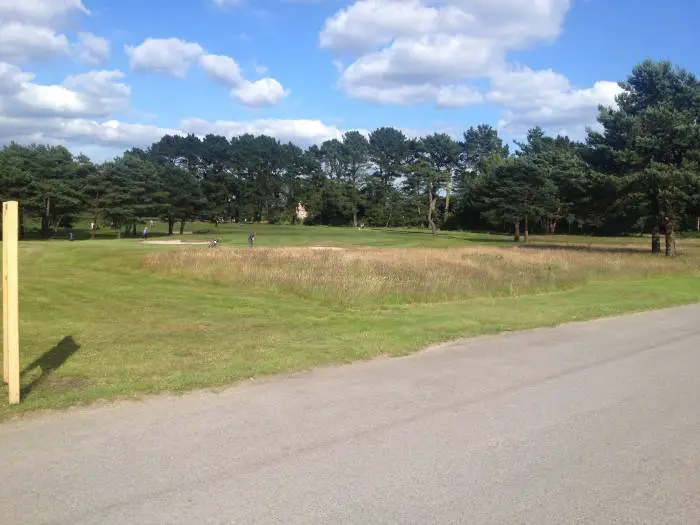 📌 Location: Francis Ave, Bournemouth BH11 8NX | 💷 Green fees: from £40
Knighton Heath Golf Club is located just 5 miles from Bournemouth town centre. 
Despite that, it's nestled in 90 acres of high ground beside Canford Heath, providing stunning views. 
Don't be fooled into thinking it's going to be easy by the fact that the course measures just 6065 yards long from the blue (rear) tees! The golf club is known to host most of the major Dorset County Championships!
You'll need to plan your route around the layout, which is densely forested and features small fairways. The greens are always in great shape, and the course provides a great challenge and competitive play for golfers of all levels.
4. Dudsbury Golf Club
📌 Location: 64 Christchurch Rd, Bournemouth, BH22 8ST | 💷 Green fees: from £35
The championship layout at Dudsbury Golf Club was designed by Donald Steel.
It's a top-notch course nestled on 160 acres of Dorset suburbs, 6 miles from Bournemouth town. The layout has played host to numerous renowned tournaments including the PGA Europro Tour, which airs on Sky Sports, as well as the BMW PGA Order of Merit Championship.
Golfers who visit Dudsbury will be impressed by the course's excellent condition, since the layout benefits from great drainage, allowing it to be played almost all year.
The 16th hole is without a doubt one of the highlights of the round!
5. Ferndown Golf Club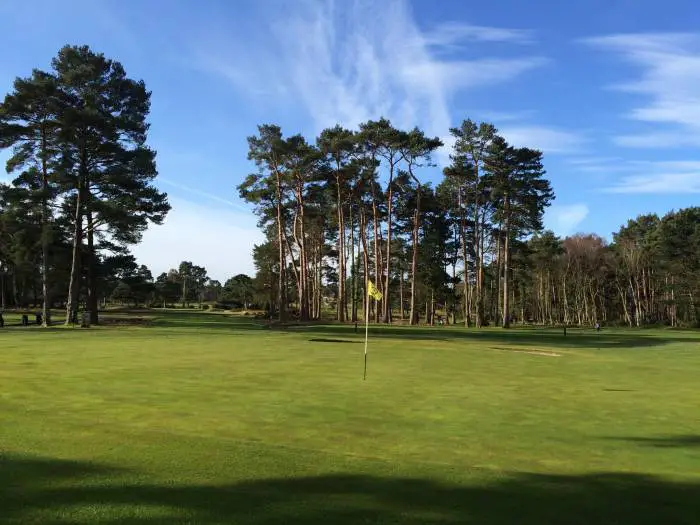 📌 Location: 119 Golf Links Rd, Ferndown BH22 8BU | 💷 Green fees: from £80
Ferndown Golf Club, one of Bournemouth's "Big 3," is a must-see in Dorset. It's a great golfing location that provides 27 holes of superb heathland golf.
This golf course is set in the stunning Dorset countryside under 7 miles from the centre of the beach resort of Bournemouth, and is a pine and heathland paradise.
The ingeniously crafted 18-hole "Old Course" created by Open Champion Harold Hilton, is the premier event at Ferndown and will challenge and thrill players of all abilities.
It will engage your golfing senses while striking the sweet spot of calm and tranquillity, with discreet hazards, well-placed bunkers, and picturesque heathland surroundings.
Best golf courses near to Bournemouth
Whilst the above represents our top selection of courses closer to Bournemouth and Poole, there are some other great options if you're willing to travel a little further out!
6. Remedy Oak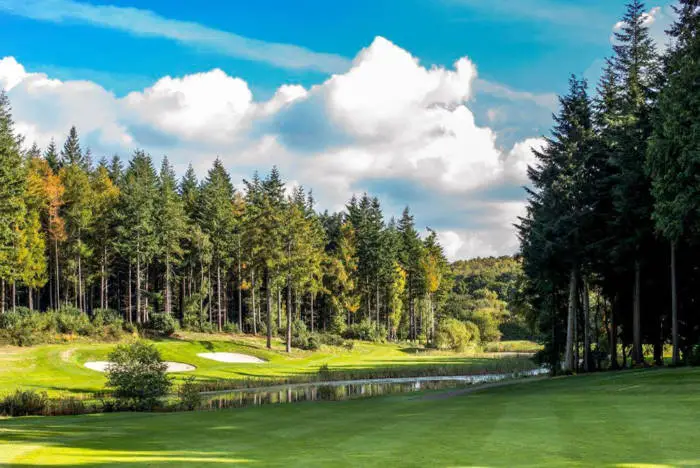 📌 Location: Horton Rd, Woodlands, Wimborne BH21 8ND | 💷 Green fees: from £150
Remedy Oak Golf Club, designed by former Ryder Cup captain John Jacobs, is a perennial favourite among golfers who visit Dorset.
The course is located in 256 acres of lovely old forest and is one of the top three courses in the South of England. 
Having only opened its doors in 2006, achieving this milestone in such a short time is highly incredible! It also features in the top half of the top 100 golf courses in England.
If you're to score well at Remedy Oak, you're highly urged to prioritise accuracy over power. Keeping the ball in play (on the short grass) is essential to achieving a good score thanks to the heather, wild grass and mature woodland lining the fairways.
7. Isle of Purbeck Golf Club
📌 Location: Corfe Rd, Studland, Swanage BH19 3AB | 💷 Green fees: from £30
Atop the Dorset Hills, this moorland/heathland course overlooks some of the most stunning landscape you'll find on a golf course. 
The 5th tee alone is one of the game's most photographed vistas as golfers get the chance to take in the stunning view of Poole Bay.
On the course (if you don't lose all concentration on your game whilst taking in the views), the wind, strategically placed fairways and greenside bunkers are just a few of the hazards that stand in the way of a good score. 
Outside of the 5th hole, the remaining 17 holes on the course are just as amazing, with each hole giving an unique outlook on the stunning surroundings.
If you fancy a different challenge, there's also a 9 hole "Dene Course" at the Isle of Purbeck Golf Club. A short (mainly par 3 course) it still offers amazing views and a good place to practice for those shorter on time.  
8. The Dorset Golf Resort
📌 Location: Bere Regis, Nr Poole BH20 7NT | 💷 Green fees: from £60
The Dorset Golf & Country Club, located between two areas of remarkable natural beauty, is an award-winning golf resort that offers a true retreat from everyday life.
Three championship loops of 9 developed by famed designer Martin Hawtree are available at the resort. The Parkland, Lakeland, and Woodland courses each provide a memorable golfing experience and a distinct challenge.
Playing at this club will allow you to enjoy the pleasures of one of the top-150 golf courses in England with the comforts of a four-star resort in the picturesque Dorset countryside.
The venue has been ranked in the top 50 golf resorts in Britain & Ireland and has top rate facilities including a floodlit driving range and practice facility. 
Map of the best golf courses in and around Bournemouth