How To Travel With Golf Clubs?
Go&Golf is supported by its audience. When you purchase through links on our site, we may earn an affiliate commission.
Learn more
Whilst the UK boasts some of the best golf courses in the world, every once and while you'll want to take your clubs and head off to warmer climates for a different type of challenge.
From the courses on the PGA Tour in North America, to upcoming areas in the Middle East, there are plenty of courses where you can experience a completely different game of golf, just by hopping on a short flight. So if you're a passionate golfer, then the chances are one of these beautiful courses have found their way onto your bucket list. 
However, travelling with golf clubs can be a bit of a pain, something that's easier said than done.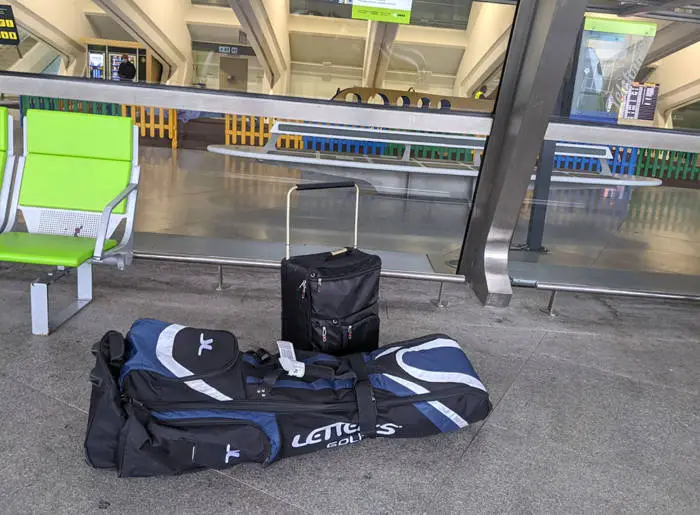 Not only do you have to pay for the extra check-in baggage, but you also have to make sure that your clubs are secure and ready for the journey ahead. Last thing you want to do is arrive at your dream golf course to find one of your clubs is broken. So if you want to know how you can travel with golf clubs, then you have come to the right place. 
In the following article, we are going to show you how you can pack your golf clubs with ease, while also explaining the various fees and obstacles you may face when travelling abroad with golf clubs. So if you are ready to finally take that golfing trip, we have everything you need to start packing. 
Why take your own golf clubs? 
When it comes to planning your golf trip abroad, you will need to decide whether you will take your own golf clubs or hire some when you arrive. For some avid golfers who've spent hundreds of pounds on custom fit golf clubs, taking their own equipment is the only option, even though there are certain limitations and obstacles that have to be considered. 
While taking your own golf clubs can save you money on hiring fees, you may find yourself having to pay a large sum of money for their travel, which can vary depending on the airline that you are flying with. Because of this, it may be a more viable option to rent some clubs once you have reached your destination. 
If the golf buddies you're travelling with are competitive, or you're playing in a tournament, then you'll probably want to take your own clubs as this will help you on the course. However, if the trip is truly a holiday, then it will not be necessary. 
What are airline allowances? 
If you've decided to take your own golf clubs, you will need to consider the various allowances that you may have to pay and how you can cut costs when the time comes.
To help you further understand the kind of money you will be spending, we have compiled a list of the different airlines and their different allowances. 
| | | |
| --- | --- | --- |
| Airline | Weight Limit | Price |
| Air France | 23kg | Standard checked baggage |
| British Airways | 23kg | Standard checked baggage |
| EasyJet | 20kg | £30 |
| Flybe | 23kg | £30 |
| Jet2 | 22kg | £30 |
| Lufthansa | 23kg | Standard checked baggage |
| Ryanair | 20kg | £30 |
| TUI | n/a | £27 |
Air France 
Unlike other modern airlines, Air France considered golf equipment to be standard checked luggage, which means you will not have to pay extra for your clubs. However, there is a weight limit for passengers (23kg) that could cost you extra if you exceed it. You'll also need to seek the approval of the airline's customer service department before taking your equipment on the plane. 
British Airways 
BA allows you to take your golf clubs on the plane for free, as part of your checked baggage allowance. However, if your golf bag weighs more than the allotted amount, you could find yourself having to pay an extra fee. Like most airlines, the price of this fee will vary depending on your destination, so it is best not to exceed the allotted 23kg. 
EasyJet 
As an airline, EasyJet charges what is known as a sports equipment fee, which means you can take a bag that weighs no more than 32kg. However, there's also the option of choosing the small sports equipment package, which allows you to take 20kg on the plane. The only setback is that you will be charged £30 for both journeys. 
Lufthansa 
With this airline, you can transport your golf clubs for free as long as you include them in your normal baggage limit. In economy, this means that your luggage can not exceed 23kg, while in first-class this weight is bumped up to 32kg. However, if you want to take your golf clubs as well as other baggage, then you will be expected to pay around £50 each way. 
Ryanair 
Ryanair charges a fee of £30 for golf clubs if you book your flights online, and £35 if you book your equipment in the airport. However, the maximum weight of your golf bag cannot exceed 20kg, otherwise, you could find yourself having to pay £10 for each additional kilo. 
How can you travel with golf clubs? 
While stress and money may deter some golfers from taking their own clubs, there are others who will refuse to part from their equipment, which is why we have compiled a selection of useful tips to help aid you on your journey.
The first thing is to make sure you own a golf travel bag. If you don't already have one, check out our guide to the best golf travel bags.
Get Golf Travel Insurance 
Although it may sound like a strange notion, there is actually specific travel insurance that has been created for golfers, which helps to protect your equipment against loss and damage. Beyond this, the insurance will also cover the price of transportation and any loss of green fees that you have paid for. 
Book Your Golf Clubs 
Booking your golf clubs onto a flight is a rather simple process. All you have to do is book your ticket online and then search for the sports equipment option, which will be offered by most airlines. Here you will find all the information you need to book your equipment on the flight. 
It's worth doing this as early as possible as some airlines have limited oversized luggage space on each flight.
Label Your Golf Bag 
If you are the kind of person who labels your luggage, then you shouldn't treat your golf bag any differently, as labels can be extremely useful should the worst happen and your golf bag go missing.
For the best results, we recommend putting a label on both the outside and inside of your bag, as this will make it easier to find during transit. It's also important to cover the label in as much information as possible, such as your name, address and contact information. 
Store Everything In One Bag 
It's no secret that golf bags are filled with countless pockets and compartments, which means you should always take advantage of them when travelling with your clubs. The average golf bag only weighs 15kg whilst most airlines have much higher golf club allowances, so there should be plenty of extra room.
Not only can you use your golf bag for your equipment, but you can also use it to store your shoes and accessories, which means you don't have to worry about leaving something behind or paying more for extra luggage. 
Safe & Secure Packing 
Before leaving for the airport, it is important to check that your golf bag is safe and secure, which means there should not be any broken zips or sharp edges. If your golf bag is in poor condition, then it could be refused at the check-in desk or by airport officials. 
Research Weight Allowances 
As we previously mentioned, different airlines have different weight allowances, which means you will need to research your airline's restrictions before taking your golf bag on the plane. Not only can this save you a lot of money, but it can also make the overall journey less stressful and complicated. 
Protect Your Golf Clubs 
When your golf bag gets loaded onto the plane, chances are it will be thrown around a lot on the journey, which could result in some serious damage. So to combat this issue, we recommend investing in a hard case or shell, as this will keep your equipment safe during turbulence and other bumps.
A BagBoy Backbone is a cover support you can use for all types of golf bags which will offer your woods that extra little bit of protection too.