Top Golf Travel Bags
Go&Golf is supported by its audience. When you purchase through links on our site, we may earn an affiliate commission.
Learn more
Golf is one of the most adventurous sports of all! Just think about it; there is no other sport that you could travel to so many scenic locations in amazing countries just to get a round in. Whether you enjoy traveling domestically or internationally to experience new golf courses, you need to bring quite a lot of your own equipment if you want to play.
That means that you won't just need an airline ticket, but a decent golf travel bag too! If you're on the hunt for some of the best golf travel bags, we've put together some of our favourites. However, you should first know what to look for in golf travel bags.
Our best mid-range choice, with great protection, design and durability.
Our best value option, ideal for those who want a practical, durable solution for taking their clubs abroad with them.
How to Find the Best Golf Travel Bags
You can't begin to look for golf travel bags until you know what you need. There are several different types of golf travel bags that you can purchase. What will suit you best depends on how often you play golf and where.
For example, if you travel rarely, then a simple travel bag will suffice for a one off trip. On the other hand, if you're frequent flyer, you'll need a golf bag that is much sturdier. However, most people looking for something that falls into the middle category. They play golf fairly often and also enjoy taking their clubs on holiday, so they need a durable travel bag with a cover. Here is what to look for:
Size
They say size doesn't matter, but it is important when it comes to golf travel bags. Before buying a golf travel bag cover, always take measurements of your golf bag first. If you have a staff bag or trolley bag, you don't want to find out that it actually doesn't fit!
It's also worth getting something with a little extra room. Most airlines will allow over 20kg for a check-in golf bag, but you'll find that your clubs plus the golf travel bag will probably come in at 15kg giving you extra space to store shoes and extra bits.
Finally if you're hiring a car or driving to the airport, consider the size of the boot or space you have available. You don't want to have to be making multiple trips to the airport because your golf travel bag is taking up all the space.
Weight
The lighter the travel bag, the more likely you'll have extra kilos to pack spare clothes, golf balls, suncreams etc. This could be the difference between having to check in another luggage at £30 each way. So spending a little more on a lighter golf travel bag could actually save you money in the long run.
Lightweight golf travel bags are also much easier to transport, making the journey to the airport and hotel a little more comfortable. However, they aren't always as protective as a bag with a hard but heavier casing. Before deciding which to buy, determine which factor matters more to you.
Wheels
Like suitcases, most golf travel bags will have wheels as they are much more convenient to transport. It's no fun carrying your heavy golf bag through an airport or bus station.
If the wheels break, the bag is pretty useless. Don't skimp on a cheap bag to find the wheels break after a couple of uses. Make sure the bag rolls well over a smooth service to avoid problems later down the line!
Pockets
Pockets on golf travel bags are extremely convenient! Some pockets are big enough to store your golf shoes or clothing meaning that you can fit in most of your clothes saving on additional suitcases and the money to transport them.
Just make sure you're able to lock the pockets with a padlock. If you're going to put expensive golf shoes or a rangefinder in the pockets, you'll want to make sure no one can sneak in them!
Padding / Protection
The level of protection is probably one of the most important factors when deciding which golf travel bag to buy. The last thing you want is to find that a club has snapped or been damaged on the way to your golf holiday!
The best way to protect your golf clubs is with a padded golf travel bag. However, if you opt for a lightweight bag, it may not be as protective. Keep this in mind when picking out the one for you!
If you're worried about your clubs, consider buying a BagBoy Backbone for your travel bag for extra protection.
Different Types of Golf Travel Bags
There are two different types of bags that you could use to pack your golf clubs. Depending on your method of travel, you may require either a hard or soft case.
Hard Case Travel Bags: Hard cases are favoured by professional golfers and those who take frequent and lengthy trips. They are heavier than soft cases, but they are guaranteed to keep your golf clubs in perfect condition.
Soft Case Travel Bags: Soft cases tend to be easier to transport and much lighter, however they also don't offer nearly as much protection – they are cheaper for a reason. These are best for golfers with decent golf bags (sturdy staff or trolley bags) or people travelling on the train or bus.
Top 10 Best Golf Travel Bags
There are so many options for golf travel bags that searching for one can become overwhelming. There is no one universal golf travel bag that is the best fit for everyone.
At the end of the day, you need to consider both your needs, your budget and the things above. So here it is. We've compiled our favourites that suit every budget:
Best Budget Golf Travel Bags
Izzo two Wheeled Black Padded large Size Travel Cover
Features
Excellent value

Durable moulded plastic base

2 wheels for transportation
Check Price on Amazon
This golf travel bag is lightweight, padded and easy to transport. It is by far the most protective soft case you will find at its price point. Regardless of whether you are traveling by car, plane, train or bus, the wheels on this golf travel bag make transportation a breeze!
MacGregor Golf MACTEC Deluxe Golf Travel Bag
Features
Tough nylon fabric for extra protection

Additional padding at the top of the bag

Durable inline skate wheels

Excellent value
Check Price on Amazon
This affordable evergreen travel bag from MacGregor Golf offers outstanding value for money. The soft case travel bag comes with a heavily padded top compartment to deliver maximum protection for the heads of your clubs but weighs in at just 2.7kg!
The bag also has additional features such as an extra strong carry handle, zipped shoe and accessory compartments and bag securing strap that make travelling with clubs a breeze!
Best Mid-Range Golf Travel Bags
Callaway Golf Clubhouse Collection Travel Cover
Features
Exterior quick release tie downs

Internal shoe pocket

Reinforced wheel base
Check Price on Amazon
This sleek golf travel bag cover is a soft case made of durable material. The handle is made of neoprene for maximum comfort and its wheels are reinforced, ensuring that your clubs are kept safe. Its exterior quick release tie downs makes access to your bag quick and easy.
Callaway Golf Clubhouse 2019 Travel Cover
Features
Durable soft cover

Reinforced wheel base

Internal shoe storage pocket
Check Price on Amazon
If you want a durable soft case cover with style, then this Callaway bag is the one for you! In terms of features, it has a reinforced wheeled base, large internal storage pocket and handy exterior quick release straps.
PING Large Travel Cover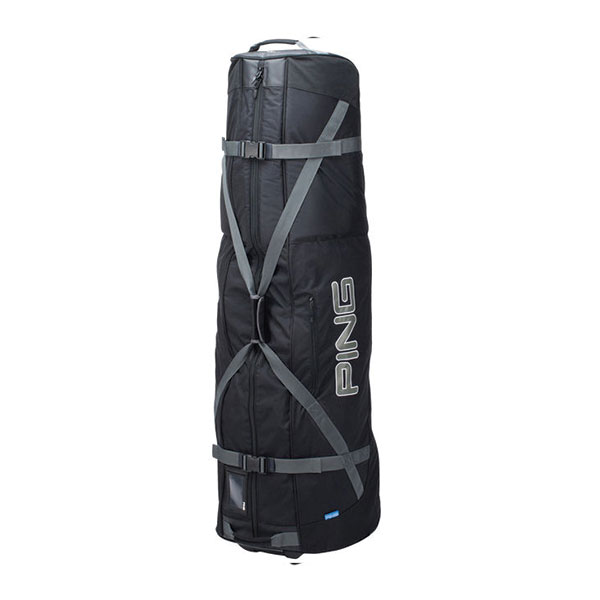 Features
Padded upper panel protects club heads

Dual Velcro handles and reinforced pull handle

Sturdy wheels with reinforced base
Check Price on American Golf
This PING golf travel bag cover is extremely versatile and convenient. Not only can it fit carry, trolley and cart golf bags of all sizes, but it also has a fully padded upper panel to ensure that golf clubs stay in fantastic condition. While the travel cover may be large, it is easy to carry thanks to its velcro handles and sturdy polyester and vinyl material.
Big Max iGuard Hard-Box Wheeled Golf Travel Cover
Features
Made from durable plastic

Weighs less than 7kg

Self standing

Internal bag attachment
Check Price on Amazon
This hard case travel cover is extremely protective. Made of durable silver plastic, this Big Max golf travel bag cover is able to keep your clubs scratch-free without weighing a ton. This case weighs less than seven kilograms, has ball bearing wheels, and is self standing. With this bag, you won't need to sacrifice protection for weight.
TaylorMade Classic Travel Cover
Features
Available in grey or black

360 top and side padding for maximum club protection

Oversized shoe/garment accessory pockets

Durable, smooth rolling wheels
Check Price on Amazon
This soft case TaylorMade travel cover is made out heavy-duty material. Even though it is a soft case, it is arguably as protective as leading hard case golf travel bags. It features 360 degree top and side padding, PVC skid plates and in-line skate wheels. There are some small internal pockets, as well as several internal and external straps to hold your clubs in place.
OGIO Golf Mutant Travel Cover
Features
Fully padded top compartment

Reinforced base

Oversized wheels

Oversized main compartment
Check Price on Amazon
Known for their quality golf bags, OGIO deliver the same outstanding quality and value with their Mutant Travel Cover. Not just a sleek design, the travel bag offers excellent protection and throughout and has additional space for extra gear. It's also available in three different colours and designs.
Best Premium Golf Travel Bags
Sun Mountain ClubGlider Journey Wheeled Travel Cover
Features
Integrated leg set supports 100% of the weight

Eliminates continuous bending and lifting

Retractable legs for travel and storage

2 interior pockets
Check Price on Amazon
Although slightly on the more expensive side, the ClubGlider is worth every penny! It is the new and improved version of the original Sun Mountain ClubGlider Travel bag and is much lighter and more durable! Not only is it wheeled, but it also has pivoting caster wheels. It is also incredibly lightweight while also having several pockets and thick foam padding.
Titleist Players Travel Cover
Features
Additional internal and external storage

Skate wheels

Premium metal hardware for long-lasting performance
Check Price on American Golf
This high quality golf travel bag cover can hold both cart and stand bags. Made from a premium metal hardware complete with a durable construction outer, the bag is built to provide ultimate protection for your clubs and long standing performance.
The external valuables pocket and two internal pockets ensure you have space for more than just your clubs. And as always, the sleek Titleist design looks great and will stand out at the airport.
If you're a golfer struck by wanderlust, then a decent travel bag is a must. Get in touch with us if you think you've found anything better!
If you're looking for a decent stand bag, why not check out our post on the best stand bags.