Motocaddy Cube Golf Trolley Review
Go&Golf is supported by its audience. When you purchase through links on our site, we may earn an affiliate commission.
Learn more
If I'm being honest, I personally prefer carrying my golf bag when playing golf. But age is starting to creep up on me and I also want to enjoy a round of golf without having to worry about any back pain!
If you're in the same situation and you don't quite yet see yourself with an electric golf trolley, a decent push trolley is a good option. And your best option is probably the Motocaddy Cube!
Features
Simple two step folding system

Compact folded size (over 40% smaller)

Weighs 6.7kg

24 month guarantee

Foot parking brake

Accessory compartment in handle
Check Price on Amazon
The Motocaddy Cube is one of the best push golf trolleys on the market. But it's actually the trolley's features when it's not in use that makes this one of the best. 
The trolley folds down to a tiny 56cm x 36.5cm x 44cm. If that doesn't mean much to you, or you can't visualise how big that is, well Motocaddy claims that it's about 40% smaller than a standard folding golf trolley. 
As a result it'll fit in pretty much any car boot and probably in most golf club lockers. 
It's also super lightweight. The aluminum frame means that the trolley weighs in at just 6.8kg. Despite being light, it's still really well built. And Motocaddy have backed this with a 24 month guarantee, so you have peace of mind that you'll be able to get at least 2 years of performance from the trolley.
Combined this makes the Motocaddy Cube super easy to carry to and from the course and store at home – ideal for people like me who live in city centre flats!
Motocaddy Cube Performance 
The Motocaddy Cube features a two step folding system, which means the trolley is really easy to open and fold back up again. It takes a little getting used to, but once you've mastered the technique, it's really easy!
I also love how in the folded position the handle lock secures the trolley in position meaning you can carry it around by it's main handle without worrying about the trolley opening up. 
Once set up, the first thing you'll notice about the trolley is how sturdy and well built it is. Motocaddy has fame for building quality products, and the frame of the Motocaddy Cube feels as good as an electric trolley at four times the price.
Whether it's the smooth handle, the adjustable bag supports or the folding lock, everything feels premium and works perfectly. 
The trolley also looks class!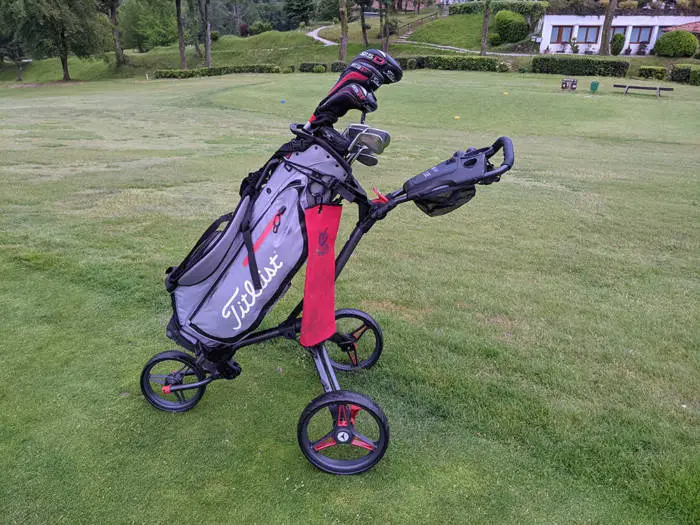 The matt grey finish to the frame again gives the trolley a real premium look and the trims are subtle. They are also available in three colours, red, blue and lime green. I opted for the red which matches my Titleist stand bag pretty nicely. 
Using the trolley is super easy too. Granted I am using a lightweight stand bag, but on flat ground and slight inclines, the tolley was effortless to push. You can even push it with one finger!
Initially, the only issue I had was that the alignment of the front wheel was slightly off. The trolley was veering slightly to the left (much like my golf shots), but a quick fix with a screwdriver on the front wheel and this was sorted.
One of the other features I loved about the Motocaddy Cube, is that it also comes loaded with many handy little design features that make playing golf more enjoyable. 
The main handle has an accessories console that can hold a drinks bottle, tees, spare golf balls and a mini glove box where you can store your scorecard alongside your phone or other personal belongings. 
Underneath the main handle there's an under handle storage net which is the perfect place for quick access to your golf rangefinder, GPS or sandwich – depending on which you value most when playing golf!
The foot brake came in handy when leaving the trolley on slopes by the green etc. Again I was using quite a lightweight golf bag so a little gust of wind could start the trolley rolling, but you have the extra piece of mind with the brake that your clubs aren't going to end up in a bunker or water hazard whilst putting out. 
If you're planning to use a golf cart bag, then the trolley is also compatible with Motocaddy's EASILOCK system, so although not essential, any Motocaddy golf bag will fit more securely to the trolley.
Motocaddy Cube Conclusion
Overall the Motocaddy Cube was excellent. It's a real premium golf trolley (and does come with the price), but in my opinion it's well worth the investment. There's a reason why it features in both our most compact golf trolleys and best push golf trolleys lists!
The trolley has clearly been designed from on-course feedback. From opening the trolley, to pushing it on course and storing it again afterwards, everything is really effortless with the Motocaddy Cube. 
If you're in the market for a push trolley, you'll struggle to find a better option!