Best Golf Courses in Dundee
Go&Golf is supported by its audience. When you purchase through links on our site, we may earn an affiliate commission.
Learn more
The city of Dundee, nestled on the stunning eastern coast of Scotland, is not just known for its rich cultural scene and historical significance, but it is also a hidden gem when it comes to golf. 
Just 25 minutes from St Andrews, it's fair to say that the courses in the city of Dundee are somewhat overshadowed by the golf courses at the Home of Golf. But hopefully, through this guide to the best golf clubs in Dundee, we'll convince you to head north for a few rounds.
And there's good reason to! In a small radius from the city centre you have Open Championship courses amongst some of the oldest golf courses in the world. 
The best golf courses in Dundee
From its famed links courses to its classic parkland layouts, Dundee's is home to some of the best golf courses in Scotland. All of the golf clubs below are reachable within a 30 minutes drive from Dundee. 
1. Downfield Golf Club
📌 Location: Turnberry Ave, Dundee DD2 3QP | 💷 Green fees: from £25
Regarded as one of Scotland's finest parkland courses, Downfield offers a perfect blend of stunning scenery and challenging fairways, set within a wildlife haven. 
This 18-hole, par-73 layout is characterised by its tree-lined fairways, testing water hazards, and strategically placed bunkers. It offers a completely different challenge and experience to the typical clubs the region is famous for.
Over the years, the club has hosted a number of prestigious events including; Open Final Qualifying, Seniors Open Qualifying, The Scottish Amateur Championship, Scottish PGA Championship and R&A Womens and Girls Home Internationals.
2. Monifieth Golf Club
📌 Location: Princes St, Monifieth DD5 4AW | 💷 Green fees: from £80
Monifieth Golf Club features two distinct courses – the Medal Course, a challenging links-style course, and the Ashludie Course, a shorter but no less demanding layout. 
The Medal Course reaches 6,655 yards from the back tees and features undulating fairways, large greens, and a variety of deep bunkers. It was the course where Jean Van de Velde finished as top qualifier and came so close to winning the Open Championship at Carnoustie in 1999!
The Ashludie Course is a par-68 layout measuring in at 5,123 yards. Although the layout is 1,500 yards shorter than its sister course, the smaller greens with more aggressive contouring presents a different challenge. 
3. Scotscraig Golf Club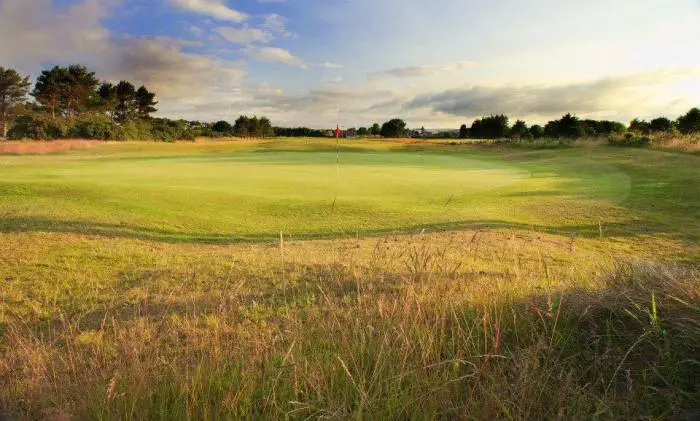 📌 Location: Golf Rd, Tayport DD6 9DZ, United Kingdom | 💷 Green fees: from £40
Celebrated as the world's 13th oldest golf club, Scotscraig boasts a layout that is a unique blend of heathland and links golf. 
Its fairways are wide and welcoming but lined with gorse and heather, making accuracy from the tee a premium. 
One of the standout holes is the par-4 4th hole (S.I. 1), which has a sharply doglegging fairway and a raised green guarded by deep bunkers.
The course has been recognised as one of the best in the region and awarded with Final Open Qualifying on multiple occasions. 
4. Panmure Golf Club
📌 Location: Burnside Road Barry, Carnoustie DD7 7RT | 💷 Green fees: from £90
Panmure is a classic links course with history etched into every hole. Golf is said to have been played on these grounds as early as 1527, with the club formally established in 1845!
The course layout features tight fairways lined with gorse and heather, challenging pot bunkers, and fast, undulating greens. 
The signature 6th hole, 'Hogan's Bunker,' is named after golf legend Ben Hogan, who used this hole for his practice rounds for the 1953 Open Championship.
5. Carnoustie Golf Links
📌 Location: Links House, Links Parade, Carnoustie DD7 7JE | 💷 Green fees: from £198
Known worldwide, Carnoustie Golf Links has hosted multiple major tournaments, but is probably most famous for hosting some epic Open Championships over the years.
Its Championship Course is notorious for its difficulty, boasting narrow fairways, thick rough, and the infamous Barry Burn that meanders across multiple holes. 
Its finishing stretch, holes 16 through 18, is considered one of the most difficult in all of golf, particularly the par-4 17th, which requires a long approach shot over the Barry Burn to a narrow, undulating green.
Final Thoughts
In summary, Dundee, with its impressive selection of golf courses, offers a unique golfing experience that combines challenging layouts, stunning landscapes, and rich history. 
Whether you're looking for a traditional links course by the sea or a serene parkland setting, Dundee's got something for every golfer. Green fees are slightly cheaper here than at some of the surrounding clubs, but the quality is certainly as high!
So, pack up your clubs and come and savour the delightful golfing heritage that this Scottish city has to offer.
If you want to compare more options, check out our full directory of all the golf clubs in East Scotland. Otherwise, you can't go wrong with a round at one of the courses below. 
Downfield Golf Club
Monifieth Golf Club
Scotscraig Golf Club
Panmure Golf Club
Carnoustie Golf Links