Links Golf Explained
Go&Golf is supported by its audience. When you purchase through links on our site, we may earn an affiliate commission.
Learn more
You've probably heard the term "links" when referring to golf, but perhaps don't know exactly what is meant by a links golf course. 
The term has been adopted (particularly by American's) to refer to a golf course. But it's widely misused, as "links" actually refers to a specific type of golf course.  
In this article, we'll run through exactly what a links golf course is and how they differ from the other types of golf courses.
What is meant by a links golf course?
A links golf course is typically defined as a golf course near or on the coast with a sandy soil base. They are typically relatively flat courses, with mounds and sand bunkers. 
Links courses have almost no trees as there is very little adjustment to the natural setting, instead the golf courses are built around the existing natural landscape.
The difference between a links course and other golf courses
Links golf courses are known for a number of traits. The characteristics below are typical of links golf courses.
1. No trees and high rough
Firstly, links golf courses are typically accommodated in the natural landscape. There's no planting of trees to define the fairways unlike at parkland golf courses. 
The layout of the course will usually be defined by long wispy rough. In areas where there are high natural sand dunes, it's typical for the course to weave its way around them too.
2. Firm fast fairways
Thanks to the sandy soil base which is usually found near to the coast, links golf courses usually have firm fast rolling fairways. Particularly in the summer, the fairways can get "burnt out" to a yellowy-brown colour with the ball.
You may have seen this at the Open Championship courses where the ball seems to roll forever. It's part of the parcel (and fun) of links courses, and this is very much considered in the golf course design.
3. Pot Bunkers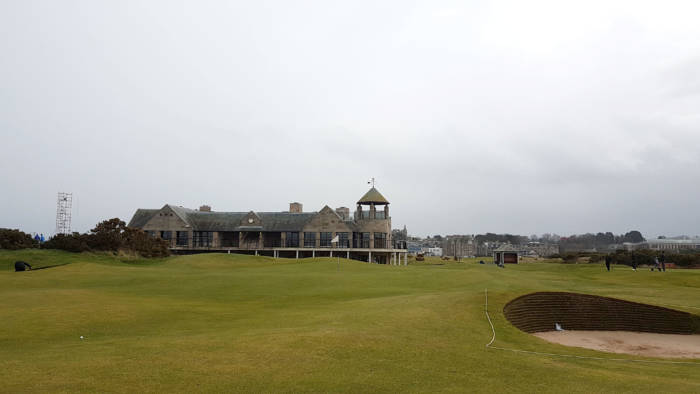 Whilst it's great to watch you drive bounce and roll for miles along the firm fast fairways, it's not so fun if it rolls uncontrollably into one of the links courses' most deadly hazards – the pot bunker!
Aside from the rough, pot bunkers are the main hazards on links courses. They are usually small deep bunkers that are difficult to get out of and guard both the fairways and greens. 
Don't be surprised if you have to go out sideways or even backwards if you find one!
4. The wind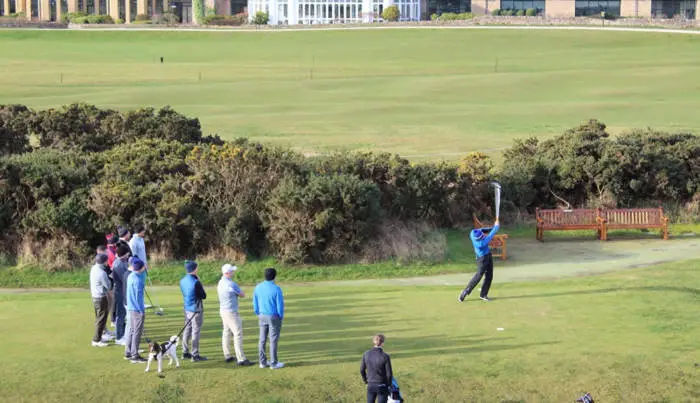 The final characteristic of links golf courses is something that's not maintained by the club – the wind!
Given the coastal location of links golf courses, there's usually a consistent prevailing wind. And this will be taken into consideration in the design of any links golf course.
If you're going to be playing links golf, you need to learn not only to control the direction of your golf ball, but also the trajectory!
Why is it called a links course?
Links golf courses are the oldest type of golf courses, and they were first created in Scotland. 
The word "links" comes from the Scottish language and it refers to an area of coastal sand dunes, typically where links golf courses are located. 
It still has this more general meaning in the Scottish-English dialect today.
How many links golf courses are there in the UK?
According to The Links Association, there are only 249 true links golf courses in the world, and 211 of those are in Great Britain and Ireland. 
85 of the true links golf courses are in Scotland, 58 are in Ireland, 53 in England and there are 15 in Wales. 
How many links golf courses are there in Scotland?
There are 85 true links golf courses in Scotland, according to The Links Association. 
The most famous of those are located in Fife, in particular, the St Andrews golf courses.