Best Golf Courses in Manchester
Go&Golf is supported by its audience. When you purchase through links on our site, we may earn an affiliate commission.
Learn more
When you think of Manchester, the first thing that comes to your head may be Manchester United, Manchester City or maybe even The Smiths or Oasis.
But did you know there are plenty of golf options in and around Manchester too? 
In fact, there are over 70 golf courses in Greater Manchester, making it one of the counties with the most golf courses in the UK.  
Within that there is a mixture of different course types, layouts and terrain meaning there's also a huge variety in the challenges that each golf course in the area provides. There may not be any showstopper name such as some of the courses in neighbouring counties like Merseyside and Lancashire, but what you do get is a bucket load of value with all these great courses competing with each other to get your green fee.
Below we run through some of the best golf courses in Manchester, with most being close enough to the city centre to get a full 18 holes in after a day in the office. We've also picked a few a little further out for the weekend or your Friday afternoon off! 
Best golf courses in Manchester
All of the golf courses below are a short drive from Manchester City Centre and offer not only excellent quality, but excellent value for money. 
Manchester Golf Club
We start with the golf club with the city's name. Manchester Golf Club is set to the north of the city in a town called Middleton. 
The club was founded in 1882 and is set on over 240 acres of Manc countryside. The course has a mixture of styles but is predominantly moorland in character with hints of heathland and parkland thrown in. Don't be surprised if you see the odd deer running across the course too!
Given the sheer size of the land, each hole has its own character and you very rarely play holes back and forth. In fact, it's quite rare that you can see any other hole on the golf course other than the one you are playing which makes each hole memorable and gives them all their own uniqueness. 
The club has hosted plenty of prestigious events over its history, including more recently The Lancashire Amateur Championship, Northern Counties and England Golf's Reid Trophy. 
North Manchester Golf Club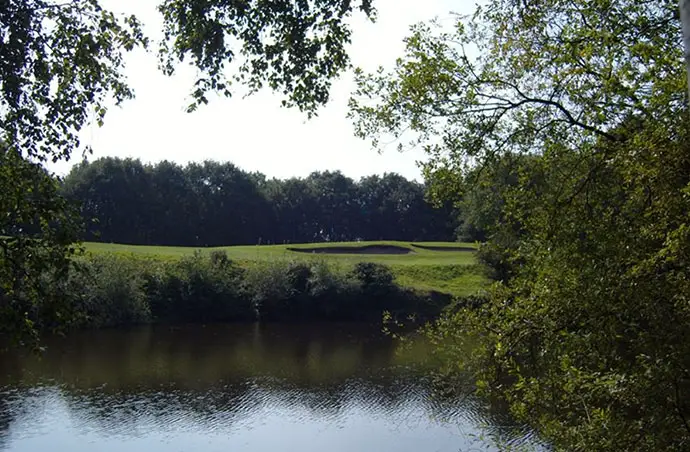 Just down the road from Manchester Golf Club, you'll find another great golf course, North Manchester Golf Club. 
Despite being little over 3 miles away from Manchester Golf Club, the terrain here is much more typical of that of a classic parkland course and the layout makes use of it's natural surroundings, including water hazards and tree lined fairways. 
Sale Golf Club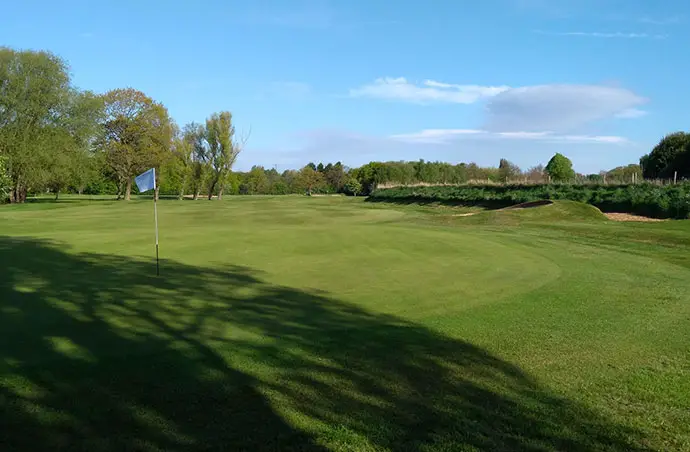 The course stretches to nearly 6,500 yards from the back tees, but as it's fairly undulating it can play quite a bit longer, particularly if the ball isn't running making it a genuine test for even the best of players.
Sale Golf Club is set in the south of Manchester next to Trafford Water Sports Centre. Founded in 1913 the course is a mature parkland course with plenty of undulations to provide challenge for all golfers. 
The course features strategically placed bunkers that protect the greens and water hazards that will catch out those approach shots that aren't quite hit 100%. Even when you hit the green, the work isn't over with some of them (such as 18) having big slopes meaning you need to be cautious with your putts!
Denton Golf Club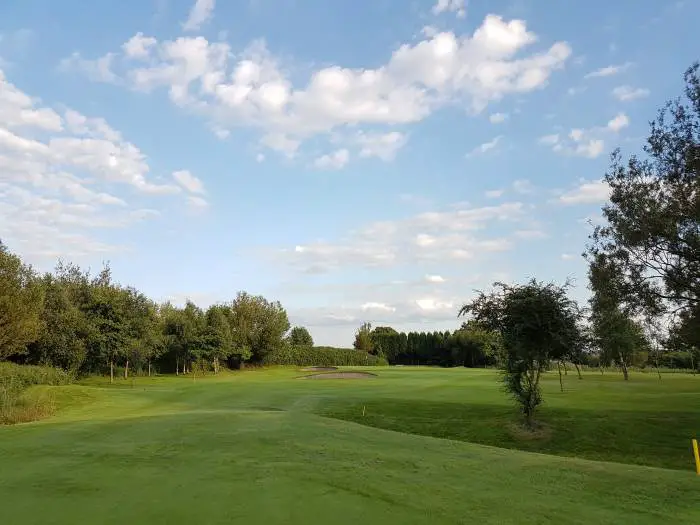 Denton Golf Club is set to the east of Manchester City Centre, next to Fairfield Golf Club. The location makes the club a great option for city centre workers being easily accessible from the city centre and close to the M60 and M67. 
But it's not just the location that makes this a great course to play in Manchester. At just over 6,400 yards from the back tees, the course isn't the longest but it's quirky layout means you can't just hit driver on every hole so the course actually plays a little longer. 
Dog leg holes such as the stroke index 1 4th, the 10th,14th and 15th will really get you thinking and one of the charms of Denton is that there's more than one way to play each hole. 
Worsley Golf Club 
Before I played Worsley Golf Club, I'll be honest, I had fairly low expectations as each time I told one of my golfing friends I was playing there, they all asked whether I meant Worsley Park Golf Club. 
However, I'm glad to say that the course is an excellent track in it's own right! 
Set just 6 miles west of Manchester City Centre, the course is a very scenic parkland with rolling tree lined fairways. The club was founded in 1894 and redesigned by James Braid in the 1930's so the course is extremely mature with excellent greens and offers an enjoyable round for both elite golfers and beginners. 
We found the club to be very friendly, so if you do head over and play here, it's well worth staying behind after and enjoying a bit of food in the bar too. 
Worsley Park Golf Club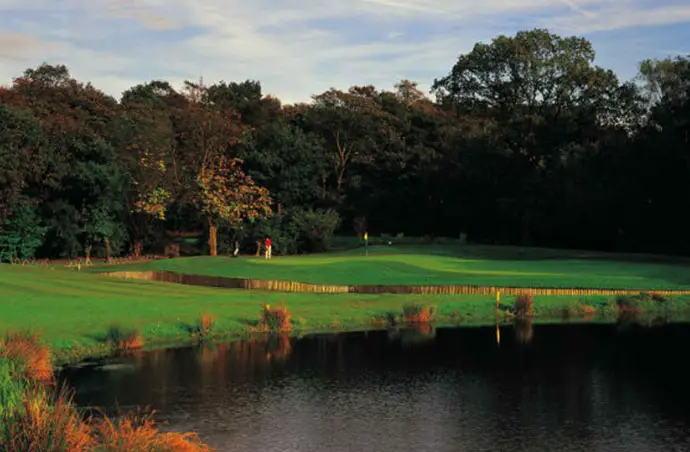 Worsley Park is a championship golf course just up the road from Worsley Golf Club. It's a fairly new course having been constructed in 1998, but in it's short history it's already earned the reputation as one of the finest inland golf courses in the north west of England. 
With green built to USGA specifications the course is always in great condition and the last time I played here it was actually snowing and still open on summer greens! 
The on site facilities also match the quality of the course. There's a long driving range with a short game practice area and an extensive practice putting green. If you're a little tired after the round, you can also check into the on site spa!
The best golf courses on the outskirts of Manchester
Despite there being plenty on offer with the courses above closer to the centre of Manchester, if you're prepared to travel just that little bit further you open up some other excellent options which again can provide great value for money.
Dunham Forest Golf Club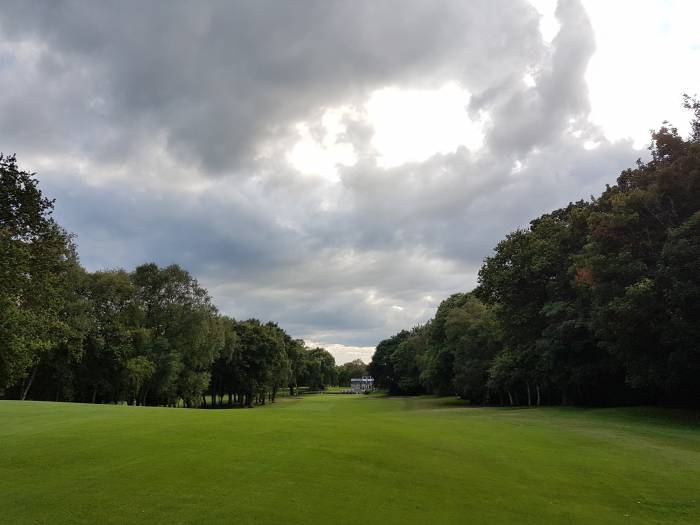 Technically located in Cheshire, Dunham Forest Golf Club is situated just 15 miles from Manchester city centre in the stunning countryside and is considered one of the best courses in the region. 
Another fairly new course in terms of the history within the region having been born in the 1960's as a 9 hole course, it was redesigned to its current layout in the 1970's. 
Featuring tree lined fairways (some fairly narrow at that!) and large, well protected greens the course is a very picturesque parkland. There are plenty of challenging holes, particularly some of the par 3's where a slightly off target shot can result in a lost ball!
Ellesmere Golf Club
Situated near Worsley, close by to the M60, Ellesmere Golf Club is well worth a visit. The course is another stunning parkland in the area where mature trees protect the fairways alongside well placed water hazards which catch any offline shots, making it a good test of golf at just short of 6,300 yards.
Alongside the well established golf course, the club also offers excellent practice facilities including a 330 yard practice area, complete with short game area and practice putting green.
Stockport Golf Club
Stockport Golf Club is situated in the south of Manchester, as the name suggests, in Stockport. The club has been here since 1905 and has built a reputation as one of the best golf clubs in the area.
Another beautiful tree lined parkland with undulating fairways, big greens and well placed hazards makes the course an enjoyable challenge for all levels. 
The closing holes here are fantastic as they are some of the toughest on the course and are in full view from the amazing traditional clubhouse which provides a viewpoint for those in the bar to watch and a stunning backdrop for those navigating the holes. Each time I've played here the course has been in excellent condition regardless of the time of year.
Map of the best golf courses in Manchester