Best Golf Courses in Reading
Go&Golf is supported by its audience. When you purchase through links on our site, we may earn an affiliate commission.
Learn more
If you're looking to find the best golf courses near Reading, you're in luck. Below we've compiled a list of our top recommendations in the area. 
The majority of the courses are less than 20 minutes from the centre of Reading, but we've also included a couple more that fall a little outside of that. 
We promise they'll be worth the little extra effort to get to as they are some of the best courses in the Berkshire area. 
1. Calcot Park Golf Club
💷 Green Fees from £40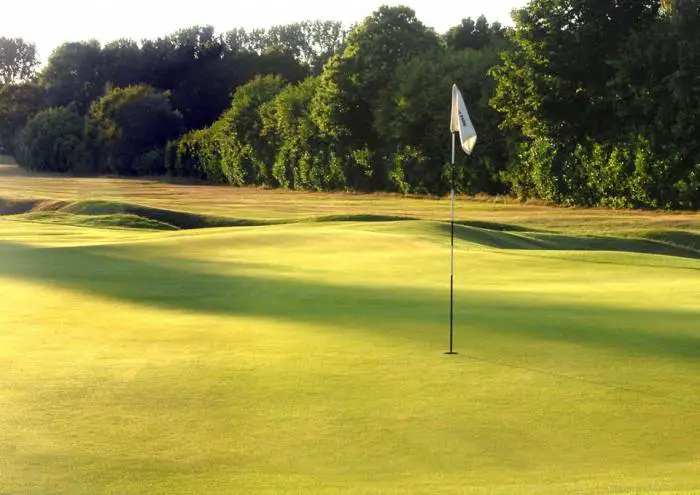 Situated in Berkshire on the suburban fringes of Reading, is Calcot Park Golf Club. It's set within a parkland setting in an exclusive private estate with picturesque surroundings. 
The par 70, 18-hole course reaches 6,300 yards off the back tees and is recognised as a demanding, yet fair test of golf. It was designed by the legendary Harry Colt who amongst others also built Stoke Park, Sunningdale Old, Swinley Forest and both the East and West courses at Wentworth Club.
Opening in 1930, the traditional parkland course has long been one of the best ranked golf clubs in the Berkshire area. 
2. The Caversham
📌 The Caversham, Chazey Heath, Reading RG4 7UT
💷 Green Fees from £60
Opening in the year 2000, after a merger with the original Caversham Heath, The Caversham has quickly become recognised as one of the best in the area. 
Set over a large acreage in Reading, the championship-standard course was designed by Canadian Tom McBroom and stretches over 7,300 yards from the back tees. The course incorporates a number of challenges from par 3's over water, dogleg par 4's and long, testing par 5's – it's a course that will test every shot in your locker.
The greens are built to USGA standards and the course drains well in winter, presenting exceptional conditions all year round.
3. Sonning Golf Club
📌 Duffield Rd, Sonning on Thames, Reading RG4 6GJ
💷 Green Fees from £50
Set in the small village of Sonning, just a 10 minute drive from the centre of Reading is Sonning Golf Club. 
The golf club has a history in the area going back over 100 years. It was originally designed as a heathland by JH Taylor in 1928. But over the years, an abundance of mature trees and shrubs have grown to line the fairways giving the course a more parkland-heathland feel.
There were later inputs into the design by renowned golf architect Harry Colt to give the 6,329 yards, 18-hole course (par 70) we see at the club today. The course generally plays a little longer than the yardage due to the changes in elevation of several greens and fairways. 
4. Castle Royle Golf Club
📌 Bath Rd, Knowl Hill, Reading RG10 9XA
💷 Green Fees from £- (Members only course)
A little further out, more in between Reading and Maidenhead, is the 18-hole course at Castle Royle Golf & Country Club. 
The championship course is set within 180 acres of beautiful, scenic parkland. An American style parkland, it stretches to over 6,800 yards from the back tees with a par of 72.
It's a fairly flat course with big, true greens. But don't let that fool you. There's plenty of water on the course to catch you out and ruin a good score. It particularly comes into play on the signature 6th, 13th and 18th holes. 
The only issue with Castle Royle is that it's a private members club, so unless you're a friend of a member, you'll struggle to get a round here.
5. Bearwood Lakes Golf Club
📌 Bearwood Road, Wokingham RG41 4SJ
💷 Green Fees from £-
Bearwood Lakes is another golf club that is exclusive for members and their personal guests in the area. 
It's a shame as despite only opening in 1996, it's one of the best golf courses near Reading. It's the only course on our list in Reading that ranks in the Top 100 courses in England. 
Set on the inspiring Bearwood Lakes estate amidst 200 acres of beautiful Berkshire countryside. The course weaves its way through three natural lakes and the forest terrain and woodland, creating a magnificent oasis of peace, calm and tranquillity. It serves as the perfect escape from everyday life!
The greens are made to USGA specifications and the fairways are well-draining meaning the course is ready to play all year round. 
6. Sand Martins Golf Club
📌 Finchampstead Rd, Wokingham RG40 3RQ
💷 Green Fees from £35
Sand Martins is a truly unique golf course situated in Wokingham, Berkshire, less than half an hour from the centre of Reading. 
The course opened in 1993 and has been cleverly designed, with two distinct and contrasting nine hole loops, each finishing in front of the clubhouse.
The front nine has more of a parkland feel, with water hazards and dog-legs presenting plenty of risk and reward golf, offering a challenge to all levels of golfers. 
However, it's the back nine that really makes the layout unique among other inland golf courses. With deep revetted bunkers on every hole, it offers a true 'links style' feel that's more associated with St Andrews than the commuter belt Berkshire!
Map of the best golf courses near Reading
Final Thoughts
So that comes to the end of our list of the best golf courses in Reading. 
If you want to check out more options in the area, you can visit our golf course directory for the south east of England which contains all 400+ golf courses.
However, below is a summary of our top recommendations near Reading. 
Calcot Park Golf Club
The Caversham
Sonning Golf Club
Castle Royle
Bearwood Lakes
Sand Martins Golf Club