Best Golf Courses in Southport
Go&Golf is supported by its audience. When you purchase through links on our site, we may earn an affiliate commission.
Learn more
It's hard to think you can find a better concentration of high quality golf courses than those offered on the doorstep of Southport.
The small town forms part of England's Golf Coast, where there are 13 of Britain's finest golf courses crammed into a small section of the North West coast. 
Within England's Golf Coast, there are 7 UK & Ireland Top 100 courses, 8 England Top 100 courses, 3 Open Championship venues. A few even feature in the World Top 100!
Nearly every single one of the golf clubs below rank in one of those lists, demonstrating the quality on offer here.
The Best Golf Courses in Southport
As you'll see below, you're absolutely spoilt for choice when it comes to golf in Southport. Choose any one of these courses and we're sure you'll have a blast!
1. Hillside Golf Club
📌 Location: Hastings Rd, Southport PR8 2LU | 💷 Green fees: from £110
Set in the heart of Southport, Hillside is simply stunning!
The course used to go slightly under the radar compared to its sister courses (its neighbour is Royal Birkdale!) but in more recent years, it's rightly gained slightly more popularity after being selected to host the 2019 British Masters and 2022 Cazoo Classic. 
The course is a great links layout. It's an England Top 100, UK & Ireland Top 100 and it also features in the GB & Ireland Top 100 Links list.
The club has also played host to some top amateur events including the Amateur and Ladies Amateur Championships, as well as Final Qualifying for The Open.
Every time I've played it, it's been in beautiful condition too.
2. Hesketh Golf Club
📌 Location: Cockle Dick's Lane, Southport PR9 9QQ | 💷 Green fees: from £50
Hesketh Golf Club is situated on the north side of Southport. 
The original course was designed by J F Morris and opened in 1885, making it the oldest golf club in Southport. It is predominantly a traditional links layout, with undulating fairways, strategic bunkering, and challenging greens. It offers a true test of golf, with the ever-present wind off the coast adding an extra challenge.
Although the course doesn't rank in any of the lists that others nearby do, over its long history, the club has hosted many prestigious events, including the Open Championship Qualifying and the British Amateur Championship. 
The advantage of that though is the lower green fee! 
I couldn't recommend Hesketh highly enough, the 16th is the signature hole. Once described by Sir Henry Cotton as the best Par 3 in Lancashire, which is some achievement.
3. Royal Birkdale Golf Club
📌 Location: Waterloo Rd, Southport PR8 2LX | 💷 Green fees: from £210
Despite the two excellent courses we've already mentioned (and the ones that follow), Royal Birkdale Golf Club is 100% the star attraction of Southport! 
And whilst there is much debate over the World Top 100 rankings, each of the rankings have one thing in common. They all rank Royal Birkdale right up there!
Whether you're looking at the Golf World rankings, Golf Digest, Golf.com, they all place Royal Birkdale in their top 25.
Set in the heart of the town next to Hillside, it has claimed its place in history for having hosted The Open Championship 10 times. 
The 18-hole links course is mostly set in between large dunes, and the fairways will be good to you – if you can hit them! On the more open holes, you'll have to contend with the wind coming off the Irish Sea. 
4. Southport & Ainsdale
📌 Location: Bradshaw's Ln, Ainsdale, Southport PR8 3LG | 💷 Green fees: from £99
Constructed in 1907 and refinished in 1924, Southport & Ainsdale offers all the enthralling characteristics of typical links courses: a constant sea breeze (which feels like it's always into), rough filled with heather and gorse, undulating dunes, and more. 
The 1st hole in particular is a real test. Almost always played into the wind and measuring 187 yards with hefty green side bunker protection, you will need to make sure you have warmed up and you are ready with your irons to strike!
I would suggest that any trip to Southport or the wider area has to include a visit to S&A – I honestly can't pick a poor hole in the 18-hole layout!
It also holds a place in history having hosted the Ryder Cup twice! 
While it may lack some of the accolades of neighbouring courses (the course is still listed in the UK Top 100, England Top 100, and GB & Ireland Top 100 links), S&A is undoubtedly on par with many of these courses.
5. Formby Hall
📌 Location: Southport Old Rd, Formby, Liverpool L37 0AB | 💷 Green fees: from £55
At Formby Hall Golf Resort, golfers can enjoy two different courses, one 18-hole and the other 9-hole, each presenting its own unique challenges. 
The Old Course, an 18-hole parkland-style course, boasts championship-level greens and plenty of hazards, such as strategically placed bunkers and water, set against a backdrop of wooded areas. 
The Woodhey Dunes Course is a 9-hole links-style course with rolling greens and a steady seaside breeze. Despite its smaller size, the course is maintained in as good a condition as its larger counterpart. 
6. Formby Golf Club
📌 Location: Golf Rd, Formby, Liverpool L37 1LQ | 💷 Green fees: from £185
Number 2 of 3 courses in a compact area with "Formby" in their title is Formby Golf Club. And it's equally as impressive! 
I'll start by saying that the course features in the World Top 100, UK Top 100 and England Top 100 lists. Need we say anymore to convince you to visit!
A championship links style 18-hole course, it features your traditional links qualities such as fast, undulating greens alongside the difficult dunes and trees. The course winds its way fully around the Ladies' course (#7), making a giant circle. 
The winds may be less intense here than some of the others in the area, but don't let that trick you into thinking this course is any easier.
7. Formby Ladies Golf Club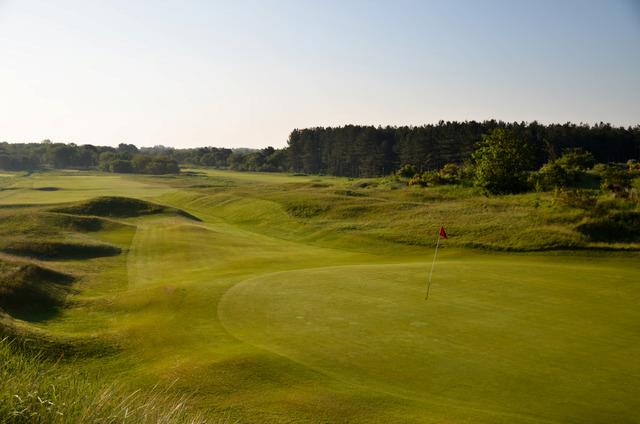 📌 Location: Golf Rd, Formby, Liverpool L37 1YH | 💷 Green fees: from £65
The last of the "Formby" clubs, but certainly not the least. We'd recommend sticking around long enough to play all three, just make sure you turn up at the right clubhouse on the day!
Established in 1896, Formby Ladies has similar characteristics to the Formby Golf Club which circles it. 
The layout has been recognised as one of the best in England, featuring in England's Top 100 and the GB & Ireland Next 100 list (positions 100 – 200). 
The club has also held prestigious events such as the Staysure PGA Seniors Championship in 2021 and 2022, alongside the British Senior Ladies' Championship and the British Girls' Championship.
It's not hard to see why. Its fairways will lead you through both sand dunes and giant pine trees with heathery rough to catch any stray balls. The greens are also pretty tight but run so true.
8. West Lancs Golf Club
📌 Location: Hall Rd W, Blundellsands, Liverpool L23 8SZ | 💷 Green fees: from £90
Another seaside links style course, the West Lancashire Golf Club (West Lancs, for short) has been around since 1873. 
This course isn't short of any accolades either. It's an Open Qualifying course as well as ranking in England, UK & Ireland and the Top 100 Links lists.
These 18 holes are spread out over hills, plateaus, and hollows, creating a diverse game that any golfer is sure to love. 
The roughs here can get intense, so you'll need to play carefully to avoid them. I came here to watch Open Qualifying one year and couldn't see how anyone could hit it out of the stuff, it was brutal! 
It's fair to say that the toughness of the course pairs perfectly with the rugged and beautiful views of the area.
Final Thoughts
Well that summarises our top picks of golf clubs in Southport. 
As we mentioned, you are truly spoiled on the North West Coast and it's worth sticking around here for a few days to play a number of these amazing golf courses. 
If you're staying a little longer (or willing to travel a little further), there are some other fantastic courses nearby that make up England's Golf Coast. Check out our post on the best Liverpool golf courses. Or you can search and compare all the Merseyside golf courses on our database.  
However, you can't go wrong with 18-holes at any of the below
Hillside Golf Club
Hesketh Golf Club
Royal Birkdale Golf Club
Southport & Ainsdale
Formby Hall
Formby Golf Club
Formby Ladies
West Lancs Golf Club