10 Best Golf Courses in Liverpool
Go&Golf is supported by its audience. When you purchase through links on our site, we may earn an affiliate commission.
Learn more
To be quite frank, when you're looking for golf courses in Liverpool, you're absolutely spoilt for choice. 
Not only is the city of Liverpool a cultural hotspot, famous for its art, history and sporting scene, but it's arguably one of the best places in the world for golf!
The city forms part of England's Golf Coast, where there are 13 of Britain's finest golf courses crammed into a small section of the North East coast. Within that are 7 UK & Ireland Top 100 courses, 8 England Top 100 courses, 3 Open Championship venues and some courses that even feature in the World Top 100!
Below we try to do the impossible job of narrowing this list down to our top 10 favourite golf courses near to Liverpool.
Best Golf Courses Near Liverpool
We've tried to be diplomatic and keep our list of top golf courses in Liverpool to courses which are within a maximum of half an hour from the city centre. 
However, if you're willing to travel a little further, there are more excellent options. You can browse our full listing of golf courses in Merseyside or golf courses in the North West of England if you want to check out more. 
1. Royal Liverpool
📌 Location: Meols Dr, Hoylake, Wirral CH47 4AL | 💷 Green fees: from £215
A demanding test for golfers awaits those who visit Royal Liverpool Golf Club. 
Founded in 1869 on what was originally a racecourse, this links-style course has evolved into one of the best golf courses in the world.
Its resume speaks for itself. Royal Liverpool (or Hoylake as it's also known) features in all of the World Top 100, UK Top 100, England Top 100 and the GB & Ireland Top 100 links courses lists.
Probably more famously, it's been an Open Championship venue on 12 occasions, hosting the fight for the Claret Jug. With both Tiger Woods and Rory McIlroy having lifted the trophy here, it's fair to say that Royal Liverpool has played a big part in golfing history. 
The course itself can be beautiful, uplifting and challenging. It can also be daunting and devilishly difficult when the wind really blows and the rough is long. 
2. Wallasey Golf Club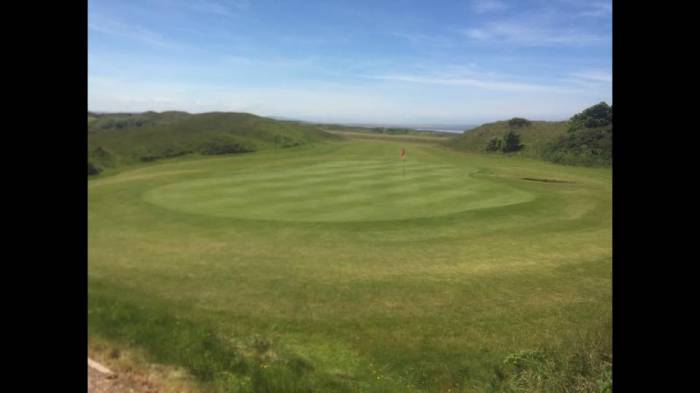 📌 Location: Bayswater Rd, Wallasey CH45 8LA | 💷 Green fees: from £85
A classic English links course, Wallasey Golf Club has plenty to offer visitors. 
Opening in 1891, the 18 hole course here will test your skill on its undulating hills. With sand dunes galore as well as the possibility of strong winds, you'll find yourself in the midst of an challenging, if not, exciting game. 
The views here are also unmatched, looking out over Liverpool Bay and the Welsh Mountains. Many golfers have rated this the most picturesque course they've ever played on.
3. West Lancs Golf Club
📌 Location: Hall Rd W, Blundellsands, Liverpool L23 8SZ | 💷 Green fees: from £90
Another seaside links course, the West Lancashire (West Lancs, for short) Golf Club has been around since 1873. 
These 18 holes are spread out over hills, plateaus, and hollows, creating a diverse game that any golfer is sure to love. The roughs here can get intense, so you'll need to play carefully to avoid them. 
The toughness of the course pairs perfectly with the rugged and beautiful views of the area.
4. Formby Ladies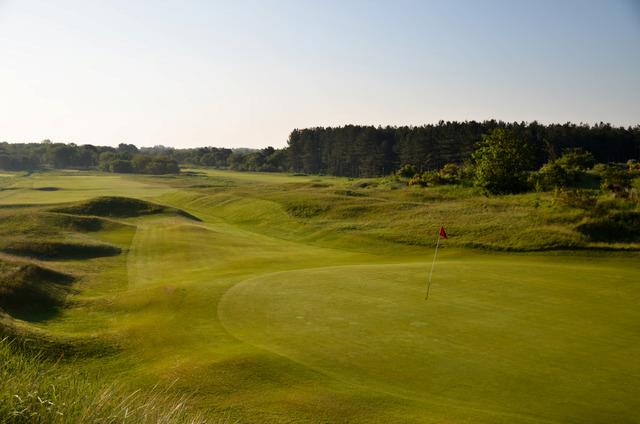 📌 Location: Golf Rd, Formby, Liverpool L37 1YH | 💷 Green fees: from £65
Established in 1896 and set along the coast, Formby Ladies 18 holes will take you through both sand dunes and giant pine trees.
The diverse layout has been recognised as one of the best in England, featuring in England's Top 100 and the GB & Ireland Next 100 list (positions 100 – 200). 
The club has also held prestigious events such as the Staysure PGA Seniors Championship in 2021 and 2022, alongside the British Senior Ladies' Championship and the British Girls' Championship.
It's not hard to see why. The greens are pretty tight, whilst the heathery roughs can catch you if you aren't paying attention. 
5. Formby Hall Golf Resort
📌 Location: Southport Old Rd, Formby, Liverpool L37 0AB | 💷 Green fees: from £55
The Formby Hall Golf Resort boasts two courses on its property, an 18-hole and a 9-hole, each with its own set of tests. 
The 18-hole course, The Old Course, is a parkland-style course that provides players with championship-level greens and challenges. Nestled into a wooded area and featuring bunkers and water hazards, this course is both pretty and testing. 
The 9-hole course, The Woodhey Dunes Course, is more of a links-style course that has rolling greens and seaside breezes. Don't let the size of this course trick you, it's just as challenging as its larger companion! 
The quality of both courses has helped the Formby Hall Golf Resort to rank in the GB & Ireland's Top 100 Resort list.
6. Formby Golf Club
📌 Location: Golf Rd, Formby, Liverpool L37 1LQ | 💷 Green fees: from £185
Right next door to Formby Ladies is another "Formby" titled golf club, the Formby Golf Club. And it's equally as impressive! 
These 18 holes are of a championship links style, with fast, undulating greens alongside the difficult dunes and trees. The course winds its way fully around the Ladies' course, making a giant circle. 
The winds may be less intense here, but don't let that trick you into thinking this course is any easier. 
The course features in the World Top 100, UK Top 100 and England Top 100 lists. Need we say anymore!
7. Southport & Ainsdale Golf Club
📌 Location: Bradshaw's Ln, Ainsdale, Southport PR8 3LG | 💷 Green fees: from £99
Want to play on a magnificent course that has hosted the Ryder Cup twice? Well, Southport & Ainsdale Golf Club is the place! 
Originally built in 1907 and refinished in 1924, this 18-hole links course has all of the exhilarating parts of links courses: a steady sea breeze, heather and gorse roughs, dunes, and more.
You'll find the greens here to be fast and rolling, requiring some level of skill to score well. 
S&A may not have some of the accolades that others courses in the area have (it does feature in the UK Top 100, England Top 100 and GB & Ireland Top 100 links), but it is 100% an equal to a lot of these great courses. 
In my personal opinion, it's right up there with the best!
8. Hillside Golf Club
📌 Location: Hastings Rd, Southport PR8 2LU | 💷 Green fees: from £110
Another course that goes slightly under the radar compared to its sister courses, Hillside is a gem of a course!
It gained slightly more popularity after being selected to host the 2019 British Masters and 2022 Cazoo Classic. 
But it's not just the pros that have played here. The club has also played host to some top amateur events including the Amateur and Ladies Amateur Championships, as well as Final Qualifying for The Open.
The course itself is a great links layout. Its 18 holes start on relatively smooth greens but will change to a hilly challenge on the back 9. Wild dunes and a strong prevailing wind are prevalent throughout the full 18 and are sure to test all levels of golfers.
9. Royal Birkdale Golf Club
📌 Location: Waterloo Rd, Southport PR8 2LX | 💷 Green fees: from £210
Originally established in 1889 and redesigned in 1922, Royal Birkdale Golf Club has claimed its place in history for having hosted The Open Championship 10 times so far. 
Whilst there are a number of different World Top 100 rankings, they all have one thing in common… they all rank Royal Birkdale right up there. Whether you're looking at the Golf World rankings, Golf Digest, Golf.com, they all place Royal Birkdale in their top 25.
And it's not hard to see why. 
The 18-hole links course is mostly set in between large dunes, and the fairways will be good to you…if you can hit them. On the more open holes, you'll have to contend with the wind coming off the Irish Sea. 
It's a course that any player will find a challenge, but probably more than anything, inspiring.
10. Caldy Golf Club

📌 Location: Links Hey Rd, Caldy, Birkenhead, Wirral CH48 1NB | 💷 Green fees: from £55
Located on the Wirral Peninsula, Caldy Golf Club is sure to amaze with its views. 
Founded in 1907, this 18-hole course has a blend of seaside and inland holes to give you a bit of everything. 
You'll play up on cliff tops with incredible vistas and down in valleys where you'll find yourself surrounded by trees, but no matter where you are this course will throw challenges at you to keep your mind on the game.
Final Thoughts
So there you have it, those are our top recommendations in Liverpool. 
As we mentioned earlier, these are just our favourites and there are plenty more golf courses to choose from in the region. 
For more inspiration (if you're willing to travel a little further) you can check out our recommended lists in neighbouring cities. Our picks for the best golf courses in Manchester and best golf courses in Cheshire are good places to start. 
Otherwise, we'll leave you with the list of our recommendations in Liverpool.
Royal Liverpool
Wallasey Golf Club
West Lancs Golf Club
Formby Ladies
Formby Hall Golf Resort
Formby Golf Club
Southport & Ainsdale Golf Club
Hillside Golf Club
Royal Birkdale Golf Club
Caldy Golf Club