The Best Golf Gifts This Year
Go&Golf is supported by its audience. When you purchase through links on our site, we may earn an affiliate commission.
Learn more
Whether you're looking for the perfect birthday present for your golf-mad Dad or a Secret Santa gift for your golfing colleague who you know nothing about, then our no nonsense gift guide will help.

First off, you need to be careful. 

For some reason retailers have targeted golfers and their close family and friends who know no better by manufacturing a whole range of golf gifts that nobody wants!

There are lots of traps out there on the highstreet with the "perfect gift for golfers". But let's be clear, you need to stay away from those. 

At Christmas there's even a very popular hashtag for this #shitgolfgifts. This showcases all the range, from golf ball finder glasses to emoji golf balls.

@TheClub Just what I wanted… #shitgolfgifts pic.twitter.com/URcCzdVlvj

— Dan Hill (@Gilberdan28) December 25, 2018
So unless you want your gift ending up on this thread, then be sure to do your research into the best golf gifts.
Secret Santa Golf Gifts (< £20)
Entry level golf gifts are the most easiest to find, but also the most dangerous with lots of #shitgolfgifts falling into this price bracket. 

Stick to the categories below and you should have an appreciative golfer.
1. Golf Cap / Hat
A safe present that any golfer will appreciate is a golf cap (or hat if it's the cooler season). The only thing you need to look out for is a decent brand. Stick to one of the brands below and you should be fine;
2. Golf Towel
As an outsider this may seem like an odd present, but every golfer needs a towel on their golf bag. Generally golfers will keep the same one for years until it looks like an old dirty tea towel so a new one is usually welcomed. 

Microfiber golf towels are a good option. Generally the ones in the market are all similar quality and they are more of a fashion statement so we recommend to stick to the trusted brands;

3. Golf Book
There are loads of golf books which make great golf gifts. Some of the classics and latest releases are below, but please stay clear of any book that claims to teach the "ultimate golf swing".
You can also check out the full list of our favourite golf books.
Great Mid Range Golf Gifts (£20 – £50)
If you're willing to spend a little more money on a gift, make sure you know what you're buying. With the categories below you can't go wrong.
At golf courses, you usually find the bins full of plastic bottles – these days there's no need for it. Why not help the golfer in your life become more environmentally friendly and get them a "bottle for life"? 

Even if they don't use it for golf, I'm sure it's find a purpose.

Chillys offer some pretty smart designs, but below you can see some of our favourites.

2. Golf Winter / Rain Gloves
Golfing in the winter in the UK can be miserable with the weather. A decent pair of winter golf gloves can make all the difference and make a miserable experience and good one. They are thermally lined to keep your hands warm whilst playing golf, but also come with an outside layer that provides decent grip on the club too. Win-win.

The Under Armour ColdGear gloves are our favourites, but you can check out the top winter golf gloves here.

Rain Golf Gloves
3. Personalised Golf Ball Marker
OK so normally I wouldn't advise buying one of these are usually quite cheap, plastic golf ball markers with a sticker stuck on with someones name on it. 

However, the guys over at Northern Ball Markers have designed some pretty epic personalised golf accessories. Most of the golf ball markers are made from brass and come with laser engraved designs that are totally customisable including logos and names. 

They start from around £20 and they are made here in the UK, with gift box sets available. 

Check them out.
4. Premium Golf Balls
Golf balls are always a good option. But you need to be confident you're getting the right ones. A good option is to sneak a look in their golf bag and buy the same ones they use the most – golfers typically play with one type of ball. 

If that's not possible, as above stick to the decent brands rule. Typically these will be;
You can also get decent golf balls from some online companies such as Vice, Snell and Pearl Golf. They usually offer some pretty good customisation options too.

Usually you need to spend around £20 – £40 on a decent golf ball. The premium range of the market is nearer at the £40+ mark.
Something Special (£80+)
These are our premium end gift recommendations. If the person you're buying the gift for is a proper golf nut, they'll be sure to love any of the below.
1. PuttOUT Pressure Trainer and Putting Matt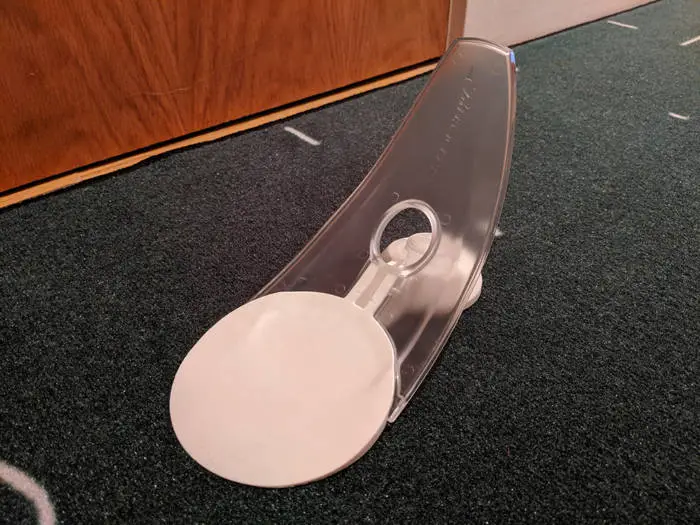 The PuttOUT team have really stepped up the game in what was a category previously littered with #shitgolfgifts. 

The pressure trainer and putting matt go hand in hand and allow any golfer to practice their putting at home or even on the road thanks to the collapsible design and roll-up matt. 

The matt is high quality so comes at a price, but it does mean you can practice on any surface with the same speed and trueness. Whilst the pressure trainer is designed to simulate a golf hole and has a hole where the "perfect putt" will come to rest if hit with the perfect line and speed – a very addictive game.

If you think the golfer in your life would appreciate one of these you can read our full PuttOUT Putting Matt and Pressure Trainer review to find out more. 
2. GPS Watch or Rangefinder
Golf is a difficult game. That's why whenever there's something that makes the game easier, whether that's advancements in golf clubs or new technology – everyone is all over it! 

Golf GPS systems have revolutionised the amateur game recently. They take the uncertainty factor out of the game and give confidence to golfers that they have the correct yardage. 

The GPS devices now come in smart watches which not only look great but provide highly accurate data, analytics and feedback on your golf game. Golf Rangefinders offer a more simple route with yardages to the flag (or anything else you point them at) and are higlighly accurate. 

You can check out our summary of golf gps's vs. rangefinders here or check out some of our favourites below. 

Shot Scope V2 Golf GPS Watch and Performance Tracker
Bushnell Unisex's Tour V4 Shift Golf Laser Rangefinder
3. Golf Shoes
Like golf clubs, golf balls and other areas of the game, the golf shoe market has advanced remarkably over the past few years. 

Gone are the days of the traditional old-school style golf shoes. Modern day golf shoes are more like trainers with added technology which look smart and can be used on and off the course. 

Again, the big brand rule will help you avoid buying a pair that will collect dust in the garage. Stick to the brands below or some of our recommended favourites.

Footjoy Men's Pro SL Golf Shoes
adidas Men's Tour360 XT-SL Golf Shoes
Golf Gift Buying Guide Summary
Whatever your budget, stay alert and avoid the #shitgolfgifts traps. If you stick to the categories above you're sure to end up with an appreciative golfer who'll thank you for doing your homework.