Best Golf Apps
Go&Golf is supported by its audience. When you purchase through links on our site, we may earn an affiliate commission.
Learn more
Due to the advancement in technology, we now have a huge selection of golf applications available to install on mobile devices.
Below you will find some of the best golf apps currently available, some of which can be used on the golf course and in practice whereas others are based on the professional game.
So, whether you are interested in developing your own game or want to know the latest from the PGA and European Tour, the best golf apps have got you covered.
GolfShot
Price: Free (Includes Paid Features)
Get from the Google Play Store
The GolfShot app is one of the most popular golf GPS apps on the App Store. It works by giving you real time GPS data on the golf course, allowing you to make the correct club selection based on distances to the green and the hazards out on the course.
However what makes GolfShot one of the best golf apps is the wealth of statistics it provides at the end of your round. If your willing to invest 10 minutes of your time after a game to input details on each shot, the app will spit out all sorts of data such as fairways hit, greens in regulation, and putts per hole.
I personally have used this app for years for this reason alone. I used a rangefinder on the course so wasn't regularly using the GPS feature on the app, but I would religiously input my round details to see where I needed to improve. The best way to describe it is a simplified version of Shot Scope or Arccos Golf Caddie.
Complete with over 400 personalised coaching videos, the GolfShot app does have a paywall for some features, but the basics are available free of charge.
Golf Game Book
Price: Free (Includes Paid Features)
Get from the Google Play Store
Golf Game Book was a lifesaver for me and my mates during the first Covid-19 lockdown.
Like GolfShot, Golf Game Book is available to install on your device for free and you can access the digital scorecard, golf course maps, GPS rangefinder, statistics, and challenges.
But what sets this app apart was the ability to add friends and create leader boards and tournaments between us.
As we were restricted to 2 balls for parts of the summer in 2020 with the bar closed too, the live leader board feature was a great way to have a competitive roll up between us all. No matter where you were on the course, you could see a live view of how everyone else on the course was scoring and it was the closest thing to the leader boards they have on the PGA tour. It definitely added some excitement to our games!
The app has data on over 38,000 courses from over 180 countries and these are all available free of charge. If you choose to become a member of Golf Game Book, you have to pay a small fee but this will get you improved statistics (one of us in our group had to do this), multi-group tournaments, friend comparison, and no advertisements.
Hole19
Price: Free (Includes Paid Features)
Get from the Google Play Store
Continuing the theme of the previous two best golf apps, Hole19 is another highly rated golf GPS and scorecard all in one handy package.
It comes complete with over 43,000 golf courses from around the world plus the GPS accurately measures shot distances to the front, back, and centre of the green.
You can track your score and save every golf shot using the digital scorecard, including Stroke Play and Stableford scoring systems.
A paid premium version of the Hole19 app is also available including a Distance Tracker, Enhanced Performance Statistics, Premium Maps, and Shot-by-Shot Tracking.
How Did I Do
Price: Free
Get from the Google Play Store
First off, you have to be a member of a golf club that uses Club V1 Systems in order to use this app.
If you're lucky enough to be a member of one of those clubs, this app is perfect track and compare your scores with other golfers from around the world. You will find hole by hole statistics, shot distribution, handicap information, and the possibility of comparing your stats with other players at your golf club.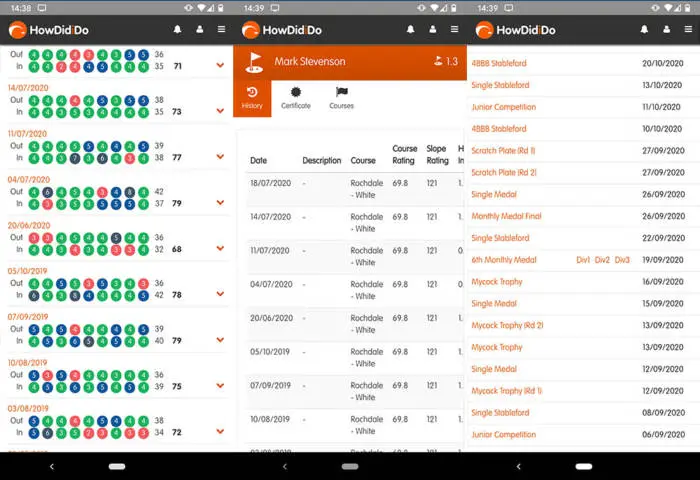 On competition days it's live leader board feature is great so you can see how all your mates are getting on, what the best scores in are alongside other bits.
It also stores your handicap and shows a neat graph of how this has changed over time (if it's going down!). You can also access the handicaps, results and scores of over one million male and female golfers across the planet.
V1 Golf App
Price: Free (Includes Paid Features)
Get from the Google Play Store
V1 Golf is a swing analysis and video lesson app that allows you to capture and review your swings using a selection of powerful analysis and playback tools.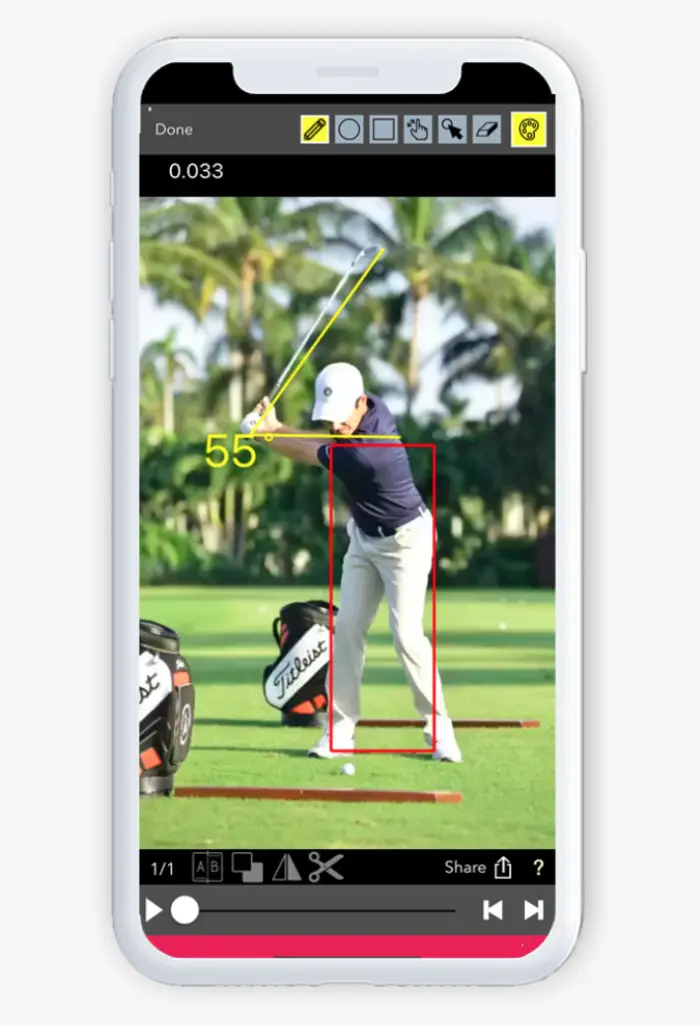 One of the coolest features is that you can analyse your swing in comparison the swings of some of the top pros in the world. When having lessons, my local pro always used to show me the swing plane of Adam Scott. So with the V1 App I can film myself at the range and compare the changes I'd made top Adam Scott's. Not great for my ego, but good to see where you need to improve.
As with many of the best golf apps included in this article, the V1 Golf App boasts a great selection of free features but there is also a membership option for those who want the full experience. Some of the free tools available when using the V1 Golf App include video playback in slow motion and frame-by-frame, angle measurement tool, and drawing tools to measure and highlight aspects of your swing.
If you wish, you can even send your videos to a V1 Pro instructor who will provide analysis and suggestions for improvement.
Shot Tracer
Price: £5.49
Get from the Google Play Store
If you have ever watched a live PGA or European Tour event on TV, you'll have seen a Top Tracer in action as the camera behind the golfer follows the ball using a blue line. It draws pretty lines on the screen and looks pretty cool as it traces the flight of the ball.
Well now you can do the same with your swing thanks to the Shot Tracer App!
The app provides fully automatic start to finish ball flight tracing, customizable colours and width of your Shot Tracer line, and a putt tracer. A hint of warning, the automatic tracing isn't the most accurate.
At the end of the day it's only using the camera on your phone, but you can edit the lines, flight and curve of the ball to make this a more accurate representation of the shot. There are also different tracers you can use depending on the shot.
The other good news is you do not require an Internet connection to use this app and you can watch your videos back to track your improvement.
This is the first app in our selection of best golf apps that is not available to install for free. It comes with a charge of $5.49 but Shot Tracer is rare in that it is the only mobile app that can automatically track and trace your golf shot, so well worth it in our opinion.
Rules of golf, The R&A App
Price: Free
Get from the Google Play Store
The next entry is a bit of a boring one, but extremely useful.
Have you ever been involved in a round of golf where a debate has erupted regarding something that has happened on the course?  You come across a bizarre scenario where none of you know what the official ruling is…
Well, the Rules of Golf App by The R&A is here to help.
The R&A produce a book every so often with the updated rules of golf and their app is the digital version of this. There are close to 30 diagrams and how-to videos that help to explain the rules and a visual search tool that helps you to find a specific rule quickly.
If there is still any debate following the completion of your round, you can enter the rules of golf quiz, which will show you which of your group has the greatest understanding of the rules of golf.
PGA Tour App
Price: Free
Get from the Google Play Store
For those golfers who enjoy following the PGA Tour, the PGA Tour App brings you all the information you need directly to your fingertips.
You can view player profiles, scorecards, video summaries plus real-time leaderboards including play-by-play, shot trails and live stats for individual players.
If you can't watch the golf on TV, then this is the next best experience. One of the cool features if you have a particular golfer you keen on following is you can track each shot in real time with the play-by-play feature. It almost feels as though you're out on the course with them. It is even possible to subscribe to notifications for your favourite players, to keep you in the loop.
If you're interested in finding out more about the golf courses used on the PGA Tour, you can discover hole layouts, descriptions, and live stats for each hole.
European Tour App
Price: Free
Get from the Google Play Store
The European Tour app has recently been updated and the new look includes plenty of exciting features for those who want to follow the tour in detail.
Similar to the PGA Tour App, you can view tournament, season and player statistics, player profiles, a live tournament feed, localised notifications, and a new content section for articles and video, the latter of which is proving extremely popular.
When you're out and about, the European Tour app is by far the easiest way to keep in touch with the events.