Best Golf Courses in Leeds
Go&Golf is supported by its audience. When you purchase through links on our site, we may earn an affiliate commission.
Learn more
Leeds is one of the most diverse and interesting cities in the UK.  But did you know there's also some great options for golf here too?
The city is home to not only some of the best golf courses in Yorkshire, but also some of the finest course in the North of England. The city even hosted the first Ryder Cup on European soil!
Steeped in golf history it's home to some of the oldest golf clubs in the country. Some of the world's best golf architects have also provided some of their best creations over the past century in the area!
With so many options to choose from, we've narrowed down the best of best. 
The Best Golf Courses in Leeds
Although there's loads going on in the city, it's well worth grabbing your clubs and getting in a round or two. Below are our favourite golf courses in the area.
1. Moortown Golf Club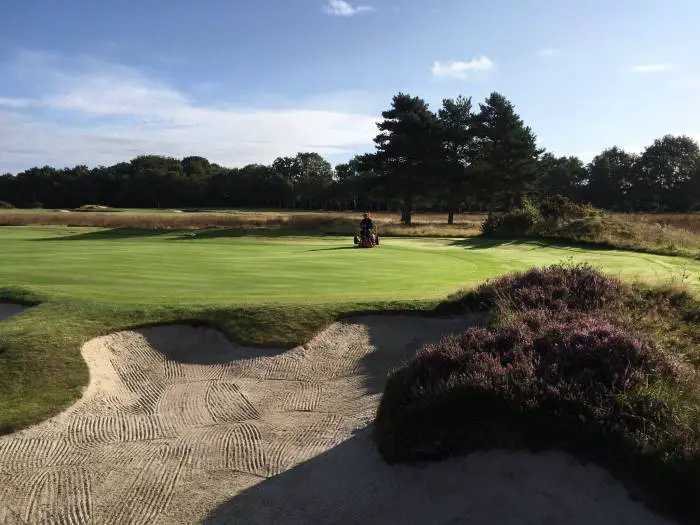 📌 Location: Harrogate Rd, Alwoodley, Leeds LS17 7DB | 💷 Green fees: from £65
The course at Moortown Golf Club was designed by Dr Alister MacKenzie, who's most famous creations are probably Augusta National and Royal Melbourne. Despite these courses being more famous in the world of golf today, Moortown has some history of its own, being the club to host the first Ryder Cup on European soil in 1929.
The club has the reputation of being one of the country's finest inland courses with the course regularly ranking highly in the UK top 100 courses and England top 100 courses lists. And although the club hasn't hosted a second Ryder Cup, they have continued to host prestigious amateur events ever since. 
Set on 175 acres of mostly level woodland and moorland, you will not be disappointed in your experience. The championship tees measure just over 7,000 yards, but you also have the option of playing from 6,700 yards or 6,400 yards.
2. Moor Allerton Golf Club
📌 Location: Coal Rd, Leeds LS17 9NH | 💷 Green fees: from £30
Although Moor Allerton Golf Club may not have hosted a Ryder Cup in their own right, the course has had some of the best golfers in the world grace it's fairways. Seve Ballesteros, Nick Faldo, Greg Norman and Tony Jacklin to name a few have all played here when the club used to host PGA European Tour events. 
The late Peter Alliss was also head professional here for a time in the 1970's so it's fair to say the club has had its fair share of the limelight within the top sphere of the game. 
Today, the club prides itself on being a fun and relaxed atmosphere for players of all skill levels. During your visit, you will find 27 holes (3 unique 9-hole loops) designed by Robert Trent Jones Sr – in fact it's the only course designed by the English-American architect in the UK. 
Regardless if you are looking for an all-day playing experience or just a quick 9 holes in the afternoon, Moor Allerton Golf Club delivers.
3. Alwoodley Golf Club
📌 Location: Wigton Ln, Leeds LS17 8SA | 💷 Green fees: from £175
The course at Alwoodley Golf Club was designed by Dr Alister MacKenzie on a swathe of moorland to the north of the city of Leeds. Despite (as we already mentioned) Dr Alister MacKenzie designing what are considered some of the best courses in the world, Alwoodley was his first creation and is known as the original MacKenzie. 
On the course you'll find firm, springy fairways lined with heather and outcrops of gorse with a heathland feel. Try your best to get off to a good start, because the inward 9 plays tougher as you battle the prevailing wind.
While all the holes are memorable, we would highlight the 10th as the signature. It may remind you of the famous par 5 13th at Augusta National with a sweeping fairway that navigates left and downhill. The other hole that you will see in your dreams (or maybe your nightmares) is the par 4 13th. A true beauty and challenge to all golfers.
From the championship tees, the course plays to a par 71 at just over 6,900 yards. It is no pushover. In 2019 Alwoodley hosted the English Open Amateur Strokeplay Championship with only 12 players managed to finish under par.
4. Sand Moor Golf Club
📌 Location: Alwoodley Ln, Leeds, Yorkshire LS17 7DJ | 💷 Green fees: from £50
Sand Moor is another Alister MacKenzie designed course in the area, situated 5 miles north of Leeds City with stunning views over the Eccup reservoir. Dr Alister MacKenzie originally designed the course in 1926 but has since had tweaks by Henry Cotton in the late 1960's.
The course is an 18 hole championship course and what stands out when you play Sand Moor are the four par 3s. They vary in length and style, each presenting a different type of challenge.
5. Headingley Golf Club
📌 Location: Back Church Ln, Adel, Leeds LS16 8DW | 💷 Green fees: from £95
Founded in 1892, Headingley Golf Club is the oldest golf club in Leeds. Dr Alister MacKenzie had his input in yet another course in the area, with the course originally laid out by several different architects, including MacKenzie and Harry S. Colt. 
Headingley can be difficult to describe until you play it. The course uses the natural setting and terrain creating a part-heathland, part-moorland, and parkland mix, with most of the holes being distinctive and also very challenging. 
If you are travelling to the area, you'll find very reasonable greens fees and a casual environment at the club who'll welcome you with open arms.
6. Garforth Golf Club
📌 Location: Long Ln, Leeds LS25 2DS | 💷 Green fees: from £36
The course at Garforth Golf Club was another course in the area originally designed by Dr Alister MacKenzie and has been refined over the years to bring it into the modern era and create a wonderful playing experience. In recent years, the club has invested further in the condition of the course, including re-building all bunkers.
Garforth Golf Club is situated in picturesque, mature parkland that incorporates natural water challenges and sits at 6,381 yards as a par 71 from the back tees. 
7. Scarcroft Golf Club
📌 Location: Syke Ln, Scarcroft, Leeds LS14 3BQ | 💷 Green fees: from £45
If you're looking for a reasonably priced round but a decent test of golf in the Leeds area, look no further than Scarcroft Golf Club. The tree lined parkland course offers several sets of tees to accommodate all levels of golfers. You can play from 6,456 yards, 6,243 yards, or 6,072 yards. Ladies will enjoy a par 73 from 5,586 yards.
If you're a bigger group the club also offers some pretty competitive packages for groups of 12 or more. The course may not be at the top of most golfers list of courses in the area, but it's one that you shouldn't miss out on.
Map of the best golf courses in Leeds
Final Thoughts
That sums up our recommendations of the best golf courses in Leeds. If you want to compare more options, check out our full directory of all the golf clubs in West Yorkshire. 
Otherwise, you can't go wrong with a round at one of the courses near Leeds below.
Moortown Golf Club
Moor Allerton Golf Club
Alwoodley Golf Club
Sand Moor Golf Club
Headingley Golf Club
Scarcroft Golf Club