Best Golf Courses in Cheshire
Go&Golf is supported by its audience. When you purchase through links on our site, we may earn an affiliate commission.
Learn more
Located in North West England, Cheshire has a rich golf tradition. Cheshire may have some competitive neighbours from a golfing history point of view with Merseyside and Lancashire a stone's throw away, but the county has played its part in English golf having been the birthplace of the Amateur Championship in 1885.
Its unique location also means you'll find both coastal links courses alongside traditional inland parkland courses, so you have a variety of courses to choose from that's unrivalled by many other counties in the UK.
The Royal Liverpool Golf Club is probably the most famous course in the county having hosted the first Amateur Championship and 12 Open Championships! Rory McIlroy won there in 2014 and Tiger Woods claimed the Claret Jug in 2006. Who wouldn't love to play where Rory and Tiger pulled out victories?
And whilst Royal Liverpool is the most famous, Cheshire has numerous other courses for you to enjoy.
To help us pick out which other golf courses should be at the top of your list to play in Cheshire, we enlisted the help of James from Need Golf Centre. 
Need Golf Centre is a Driving Range and Golf Academy in Nantwich, Cheshire. The centre offers a new top-class driving range with golf tuition including Trackman and even an on-site Food Hut and bar. 
Check out @need_golf on Instagram for more info.
Best Golf Courses in Cheshire
1. Royal Liverpool Golf Club
We start with the obvious choice. There are few golf courses in the world with more championship pedigree than Royal Liverpool. 
The club have hosted a dozen Open Championships and the Claret Jug will once again be up for grabs at Royal Liverpool in 2023. The last two players to win the Open Championship here – Tiger and Rory – not a bad list of past champions.
Royal Liverpool (or Hoylake as it's regularly referred to) is one of the oldest English seaside courses and may appear benign when you arrive, but you will quickly realise you are in for an exciting and challenging day. 
To be successful, you will need to pick the correct shot and execute with precision. None more so than your first shot of the day, which tends to be a long iron or wood into the prevailing wind with out of bounds just a couple of yards from the right hand side of the fairway!
Royal Liverpool Golf Club is a "bucket list" course for avid golfers. It's well worth the trip and will be a round you will always remember.
Royal Liverpool is steeped in heritage and tradition and a must play for all golfers. A tricky tee shot off the first with out of bounds down the right hand side and the clubhouse to the left, make sure you're well warmed up!

@need_golf
2. Delamere Forest Golf Club
Founded in 1910 and situated in the heart of rural Cheshire, Delamere Forest is widely considered one of the finest heathland golf courses in England. 
The course was designed by Herbert Fowler and you can expect to encounter rolling fairways protected with scattered heather and gorse alongside fast, subtle greens that make it a challenge for all levels of golfers. 
The course had had a lot of investment in recent years, with the greens having been made bigger to accommodate more flag positions and run-off areas, whilst all the bunkers have been remodelled back to the original Fowler design. 
All this equates to Delamere being a true "hidden gem" that should be added to your itinerary – you won't be disappointed.
Delamere Forest Golf Club is a gem of a golf course that is always in superb condition year round. The ultimate members club and a beautiful golf course to match makes this one of my favourites in the area.

@need_golf
3. Sandiway Golf Club
Sandiway Golf Club was established in 1920 and was first designed by Ted Ray.  The course has had later inputs from Harry Colt who was commissioned to do some additional work and Fred Hawtree who re-designed and relocated several holes on the front nine. 
The work over the years brings the course together today to what is best described as a combination of woodland and heathland. It's a good one at that, with the course having featured in the UKs top 100 courses at certain points in the last few years.
As you play the course, you'll experience both daunting holes and holes that are score-able. But watch that you don't get caught out. On holes like the 17th, you may be tempted to try and drive the green, but a large oak tree and deep bunkers are lurking by the green.
The course plays to a par 70 from 6,437 yards or 6,052 yards, providing a great test for players of all abilities.
4. Mere Golf Resort and Spa
The championship golf course at The Mere Golf Resort and Spa was created by James Braid in 1934. It's set in what is truly 150 acres of stunning Cheshire parkland. As you play the course you will experience the impressive nature of the property which features old mature trees, flowering banks, and impressive views across the Mere Lake. 
Be careful however, the water features, ravines, and natural thick vegetation have all been incorporated into the design to punish any wayward shots!
If you're not quite on your game, you can arrive a little early and take advantage of some of the excellent facilities on offer including the driving range that's like no other, where you hit floating golf balls out onto the lake. Likewise if the courses gets the best of you, you can always hit the on-site spa after the round to cool off.
If you like a more corporate style golf course with a lot of water and interesting holes, Mere is a great choice. Some wonderful holes around the Mere and lots of interesting doglegs make it a great test of golf.

@need_golf
5. Wychwood Park Golf Club
Considered as one of the premier inland courses in the North of England, Wychwood Park is championship golf course that has been constructed to European PGA Tour standard. The course features large tees, a computerised irrigation system and greens that meet US PGA specifications making them playable all year round. 
If you are truly looking for a challenge, you can even give the course a try from the 7,213-yard Championship tees!
For the normal golfer that doesn't quite fancy that challenge, the 18-hole par-72 golf course features five separate tees, which makes the course suitable for all standards. Whichever tees you play the course from, you'll be presented with beautiful fairways, numerous lakes and steams as well as strategically placed water hazards. 
6. Prestbury Golf Club
Prestbury Golf Club was established in 1920 and is another course in the area that was designed by Harry Colt in the beautiful Cheshire countryside. The course features in a number of top 100 courses in England, a nod to the quality condition of the course and it's natural beauty. 
The recognition extends to the club having hosted many county and national competitions, including the English Seniors Championship and Open Championship Regional Qualifying. 
As you play the course you'll notice great use of elevation change thanks to the natural hilly terrain. Not only does this provide a different challenge on the golf course, but it also means the course drains well (handy in the North West of England) and rarely closes. 
For that reason, Prestbury is known for being in pristine condition and is not to be missed during a visit to Cheshire.
7. Wilmslow Golf Club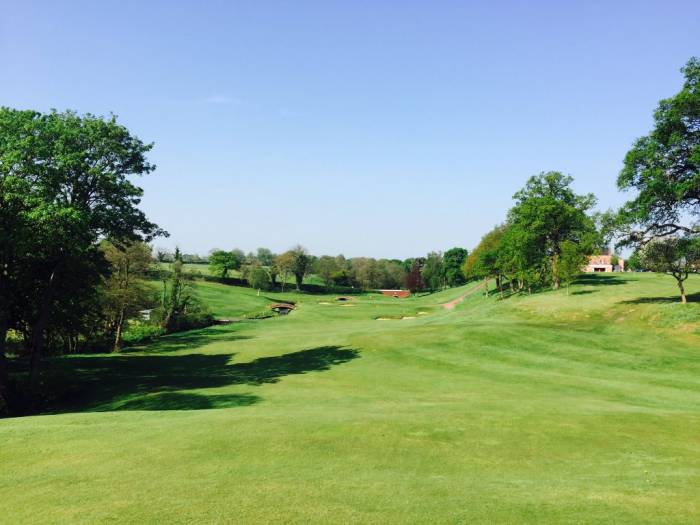 Established in 1889 Wilmslow Golf Club is one of the oldest golf clubs in Cheshire and recently celebrated its 130th anniversary. 
Having been around for a while, the 18-hole, par 72 layout is still certainly considered one of the finest championship courses in Cheshire. In recent years, the club has been selected to host several national events including the 2017 England Golf Seniors Tour Event, the England Golf Captains Event, and the English Women's Amateur Championship in 2018. The club have also hosted regional qualifying for The Open Championship. 
At just over 6,600 yards, the layout is neither short nor long for a course of this quality, but it's not a simple case of pulling driver out on each hole. Wilmslow was definitely designed to reward the strategic player who can execute quality golf shots. Well placed brooks, ravines, and bunkers are all waiting to capture and penalise any wayward shots, particularly on the last few holes, which offer a stunning end to the round.
Map of the best golf courses in Cheshire
Conclusion
That rounds up our top picks in Cheshire. If you're still not convinced or want to check out what other courses are in the county you can do so on our golf course directory. 
There's plenty on offer in the county from a golfing perspective with over 60 courses to choose from. Between them, they've played host to everything from The Open Championship down to the top tier of the Amateur game. 
Our top picks for golf courses in Cheshire (with the help of Need Golf Centre) are below:
Royal Liverpool Golf Club
Delamere Forest Golf Club
Sandiway Golf Club
Mere Golf Resort and Spa
Wychwood Park Golf Club
Prestbury Golf Club
Wilmslow Golf Club