How much does it cost to play golf in the UK?
Go&Golf is supported by its audience. When you purchase through links on our site, we may earn an affiliate commission.
Learn more
Is the cost to play golf holding you back from picking up the sport?
Well, you wouldn't be alone. One of the largest barriers to picking up the sport can be the cost. 
Maybe some of your friends enjoy the game and you're interested in joining in?
You'll need to learn how to play. You'll probably need equipment and golf clothing. And, you probably have to stump up some cash each time you tee it up. 
But just how much will it actually cost you to play golf? 
We explore the answers to these questions below. In each section we provide details on the cost alongside some ideas on how you can potentially save a bit of money.
1. The Cost to Learn How to Play
Like tennis and a few other sports, golf is a game where you need to have a certain skill level to enjoy it, so the first step to picking it up is to learn the fundamentals. 
And then you need repetitions. The more balls you can hit and the more putts you can roll, the quicker you will learn to play. 
The cost of learning the game includes both lessons with a PGA professional and hours on the driving range.
The Cost Golf Lessons
It seems simple, right? The ball is just sitting there and all you have to do is hit it…
The first time you try to do it, you will quickly realise it is incredibly hard. 
You don't have to be perfect, but you need to learn the basics before you create muscle memory and bad habits. The correct grip, stance, and tempo are important to your ability to even be able to make contact with the ball and then improve over time.
Investing in lessons early on will prevent frustration in the future. 
Look to find a certified teacher in your area and build a solid relationship. The amount of lessons required will vary from golfer to golfer, but most players will stick with their teacher for years to come.
The cost of a 30-minute golf lesson will be between £20 – £30. 
If you are just getting started, you'll probably need anything between 3-5 lessons in the first 6 months.
The Cost of The Driving Range
You go to your lessons to learn, but you need to back that up with hours at the driving range to practise. 
The key to playing golf well is consistency, and you will only develop that by hitting as many balls as possible. The driving range allows you to build your swing without suffering any consequences for bad shots.
If you're serious about picking up golf and joining your mates on the course, you'll probably want to visit the range once or twice a week to practise what you have learned in recent lessons with your teacher. You won't have fun playing on the course until you can consistently hit the ball with an idea of where it's going!
The driving range will cost between £5 – £10 per trip. If you don't own your own golf clubs you'll need to factor in an extra few quid for club hire. 
Cost Saving Ideas for Learning the Game
Based on the above, you'll likely spend around £250 in the first 6-months learning how to play golf. 
If that feels steep below are some ideas to reduce the cost:
Look for group lessons with a teacher – they will be cheaper, and you may meet some other people who are just getting started as well
Free lessons for beginners? Do some research – you may be able to find a free lessons that a local course is hosting to help grow the sport
Buy a package of lessons – you may be able to negotiate a lower price if you buy more than one lesson at once
You can use Youtube videos and experienced friends to learn the basics, but this will almost definitely increase the time it takes you to learn and improve
Most driving ranges will offer discounts if you purchase in bulk or join as a "member" – if you know you are going to visit once a week, you might as well buy their multi-visit plans
Invest time in improving your short game (putting and chipping) – you should be able to find a place to do this for free
2. The Cost of Buying Your Golf Equipment
The most exciting, but also the most expensive items will be your golf equipment.
The Cost of Golf Clubs
Buying new golf clubs can be both intimidating and scary, especially as a beginner. There are so many options and you can get sticker shock from the cost. 
Ultimately, you will end up with 14 clubs – a combination of woods, irons, wedges, and a putter. The good news – you don't have to buy them all at once. You can build out your set over time.
Like anything, you can buy budget versions or premium versions and a set of clubs can cost anywhere between £200 – £5,000. 
Unless you have money to burn, you don't need to be anywhere near that top end when starting out!
Full set of clubs for beginners. Includes Irons, woods, putter and bag!
Set includes woods, irons, putter and bag with an extra long option for taller golfers.
The Cost of Golf Balls
In order to play, you will need golf balls. 
When you first start to play on a golf course, you're probably going to lose a few balls each round. So at the beginning of your golf career, the balls you buy should be about quantity, not quality.
Prices for a dozen golf balls start at around £10.
Second chance lake balls which come with a storage bag. Available in 18 – 100 golf balls options.
The Cost of a Golf Bag
You have your clubs, balls, and other essentials, now you need a way to carry them to the driving range or on the course. 
It's likely you will need to buy a golf bag. 
You will have your choice of color and style, but we recommend you focus on weight. A lightweight bag can save your back when walking the course and avoid having to buy a push golf trolley.
A golf bag will cost around £100.
Cost Saving Ideas for Buying Your Golf Equipment
We estimate it will cost you between £500 – £1,000 to get the equipment you need to play golf. However below are some options to drive this cost down:
If possible, borrow! If you know avid golfers, they probably have old clubs sitting around collecting dust. See if you can borrow them while you learn the game
When you decide to buy some clubs, go with used clubs that are a couple years old – eBay is a great option and can save you a bit of cash
Buy discount golf balls in bulk or lake (used) golf balls – research the options online 
Go on a ball hunt – if your local course doesn't mind, take an evening stroll and you can find plenty of balls that have been lost by other players and need a new home
Investing in a high-quality golf bag is a good idea, but take care of it and it can last as long as 5+ years
3. The Cost to Dress for Success on the Course
Not only does golf have its own type of fashion, there are specific types of clothing that will help you play better and deal with the weather on the course.
Golf Clothing
Golf has historically been known as a stuffy sport with dress codes, but that is starting to change. 
More and more, the game is becoming more casual, but you still need a certain type of clothing. Your golf shirts will need to have collars and you cannot wear jeans to play.
Initially you can just use casual polos and chinos you already have, but once you are playing regularly, you should budget £100 – £250 per year to spend on golf specific clothing.
Golf Shoes
Golf shoes have two key features that will make your golf experience more enjoyable. 
First, they are built to help you keep traction and avoid slipping during your swing. Second, they are generally waterproof, and no one enjoys walking around with wet feet for several hours.
You can spend anything between £40 – £200 on golf shoes.
Additional Attire
As you get involved with the game, there will be additional bits that you'll want to buy. 
You need to be ready for the elements and some good golf waterproofs allow you to stay dry during back nine showers. 
Protection from the cold and wind is also critical, so you will need various pullovers and windbreakers. 
We would also recommend you consider some golf mittens and a warm hat. There is nothing worse than your hands and head getting cold during a round!
You'll probably look to spend £100 – £200 on these items.
Cost Saving Ideas for Your Golf Attire
Initially you need to budget between £250 – £500 for golf attire. But you can be creative to reduce these expenses using the ideas below.
When you first start playing, you can probably get by with clothing you already own – e.g. chinos and polos
You can play golf in tennis or running shoes – you will want to buy golf shoes at some point, but you could delay this 
What you need to spend on waterproofs and cold weather clothing depends on your level of interest in playing in all sorts of weather. You can spend less on these if you are a fair-weather golfer. In other words, you only tee it up when the weather is nice!
Build out your golf attire over time – you don't need to run out and buy all of these items right away
4. The Cost to Play the Game
So, you've committed to the game of golf. 
You've had a few lessons, spent hours on the driving range. You've borrowed, acquired, and/or bought a set of clubs. You found a lightweight golf bag to carry all your prized golf possessions. You have plenty of golf balls and you're wearing your best golf attire, golf shoes, and are ready to hit the links.
Now we just need to discuss the final and ongoing cost of playing golf.
The Cost of Green Fees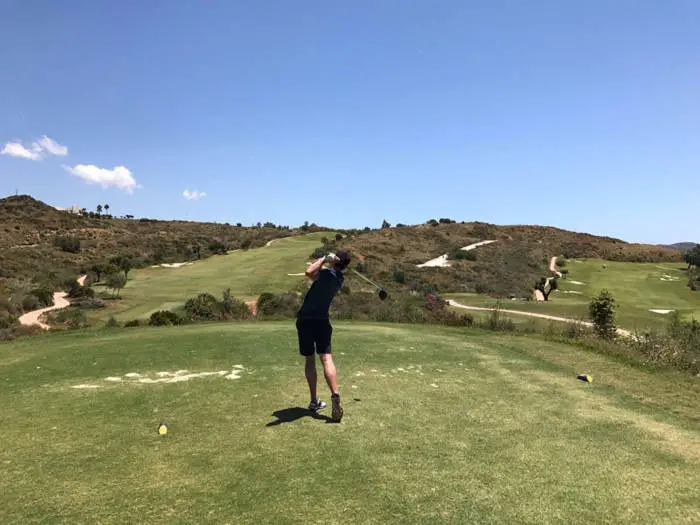 Unless you've got friends in high places and you're extremely well connected, each time you tee it up, you will pay a fee to play the course. 
The amount you pay for a round of golf will depend on a number of things, such as the quality of the course, the time of year, the time of day, the day of the week, and the location. 
Obviously famous or championship golf courses will typically be expensive, but if you're new to the game it's more likely that you'll be teeing it up at easier local courses or the nearest municipal track. 
You can expect to pay £15 – £25 per round at your local municipal course.
Membership Fees (The Cost To Join A Golf Club)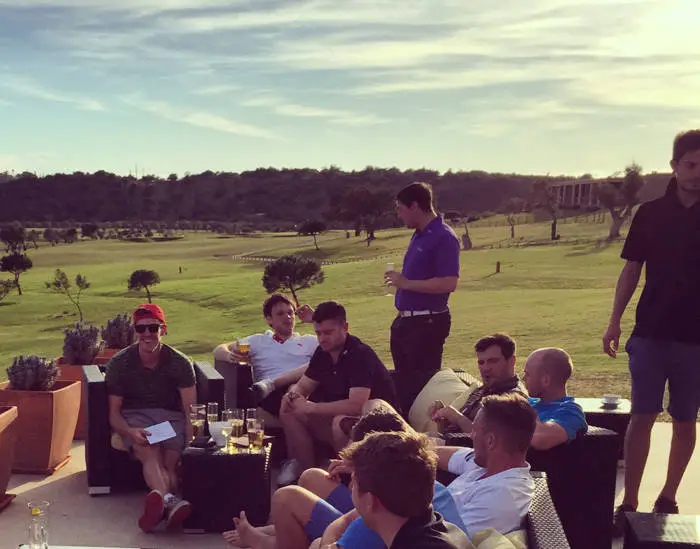 Once you are hooked on the game and enjoy playing weekly or monthly, it may make more sense for you to become a member at a private club or a group of golf courses.  In this situation, you can expect to pay a monthly or annual fee for unlimited golf.
A golf membership will typically cost anywhere from £500 – £2,000 per year.
However the decision between paying green fees or becoming a member of a golf club comes down to how frequently you play and if you wanted the added benefits of joining a club. 
This will vary, but once you are a member you should have access to play in tournaments, a range of practice facilities, and sometimes other additions too. If this appeals to you then it may be worth becoming a member of a golf club, but it won't be right for everyone.
Cost Saving Ideas for Playing Golf
Unless you're a member of a club, the amount you play will impact the amount you of money pay, but you also have options to save some cash:
Research green fees in your area – look for specials and discounts. If you are willing to play at "non-peak" times, you can pay much less for your round. E.g. play during the week or in the afternoon/early evening
Look out for other discounted green fee schemes such as 2-FORE!-1
Local courses may offer packages – for example, you can buy 10 rounds for the cost of 7
If you are interested in joining a club as a member, research benefits and options as there will be tired memberships which offer different levels of access. Many clubs will give you a few free months if you sign up for a year. If you like variety, look for memberships that include more than one course
Try a flexible golf membership like PlayMoreGolf
Conclusion
There are many different factors to consider as outlined above, but we will estimate you will spend around £2,000 the first couple years if you commit to the game of golf. 
This assumes you take some lessons, invest in practising, purchase some clubs & apparel, and start to play regularly.
Of course, you could spend more or far less and still enjoy the game. 
You can play golf for years, so you can easily spread this investment out over time and you don't have to come up with £2,000 to get started. You can start small. Build a budget and come up with an amount you are willing to spend in the first 12 months and carefully select how you spend it. We would recommend a few group lessons, used/borrowed clubs, trips to the driving range, and municipal courses.
We believe the game of golf is a solid investment. 
When you look back in 10 years, you won't think about the money you spent on the game… 
You will remember the great shots. You will remember your birdies, eagles, and maybe even a hole in one. You will remember the friends you have made in the game. 
Get started today. The first tee is waiting for you.