15 Tips for Enjoying Winter Golf
Go&Golf is supported by its audience. When you purchase through links on our site, we may earn an affiliate commission.
Learn more
Winter is coming – actually, it's already here. 
Far too many golfers give up on the game during the colder months and this is a mistake. Sure, you may have to deal with frost delays and cold temperatures, but you can still enjoy the game you love. Even in winter, a round of golf is a great way to get outdoors for a few hours and take in some fresh air.
Winter golf is however a little different. 
Courses typically play harder and your body will behave differently in the cold weather. You probably won't shoot great scores but ignore how you play, you'll hit the ground running in the spring if you have continued to get reps during the "offseason".
Makes sense, right? 
Now that we have answered the "should you play golf in the winter" question, let's talk about how. 
You need to approach your round differently and we have developed 15 tips to help you enjoy your game.
Preparation is Critical to Enjoy Winter Golf
A winter round of golf requires a bit more planning – our first five tips are related to things you can equip yourself with to make your round a little more comfortable.
1. The More Layers the Better – the weather will be colder and more unpredictable, so you need options during your round. Dress in layers. Thermal layers under your golf polo and warm pullovers over them. It is possible you will get too warm once you are walking the course and you can always take off a layer.
2. Keep the Hands and Head Warm – there is nothing worse than being out on the back 9 with cold hands and ears. You must protect these parts of your body. For your hands, we recommend some winter gloves or golf mittens to wear between shots and always bring a hat for your head. It is also a good idea to have some hand warmers in your bag – if necessary, you can open one and put them inside of your mittens.
3. Equip Yourself for the Elements – you need to be ready for anything during a winter round. Cold rain can be miserable. Make sure you bring your golf umbrella and waterproofs. Rain gloves can be lifesavers on a wet cold day.
4. Do You Have the Right Carry Bag? – due to turf conditions, many courses will require you to carry your golf bag during winter and enforce golf trolley bans. If you don't already have a decent golf stand bag, it may be time to invest in a new one. Consider an option with plenty of storage for all your winter gear and decide whether you need it to be waterproof too!
5. Cold Feet = Long Day – don't make the mistake of forgetting about your feet. Make sure your shoes are waterproof and that you wear warm socks. You could also try winter golf boots if your course gets particularly damp. I've also previously worn some waterproof socks when my golf shoes were leaking a little bit, which is a good way to keep the feet dry without investing in a new pair of shoes.
How to Play a Winter Golf Course
Winter golf is a little bit different than playing the game in warm temperatures. Our next 5 tips are focused on helping you navigate your round.
6. Warm-up – it will take your body longer to warm up in the cold weather. Make sure you allow extra time to get ready before you head to the first tee. Plenty of stretching and hit a few extra balls in the net (or range) before heading to the 1st tee. If you don't fancy waiting around in the cold for your playing partners to show up, warm up well at home.
7. Switch Golf Balls – the winter elements impact golf ball performance as well. There is no reason to play a premium golf ball during your winter round. Save some money and play value balls that spin less and take advantage of the extra distance (you'll need it on a cold/wet course).
8. Keep Your Golf Balls Warm – did you know that golf balls are designed to perform well at a certain temperature? A cold ball does not travel as far. Always store your golf balls indoors when you are not on the course and during your round, keep them in your pocket as much as possible between holes.
9. Hit Extra Club – You will not hit the ball as far during winter golf. This is due to numerous factors. Make sure you know your winter yardages. If the shot would be an 8-iron in summer, chances are you're going to need to hit at least your 7-iron.
10.  Give Yourself a Break – Play Winter Rules – they are called "winter rules" for a reason. Course conditions are typically worse during the offseason so adjust how you play. Lift, clean, and place through the green and be on the lookout for casual water. There's no reason to make it harder than it needs to be. Why not take some extra pressure off and play some team golf formats like greensomes golf or texas scramble?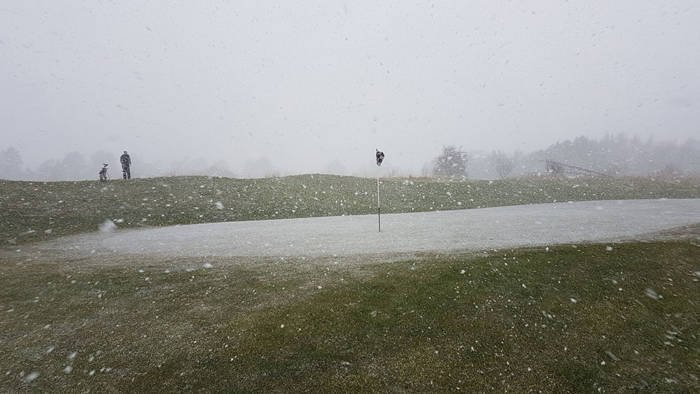 How to Sharpen Your Game During the Winter
There will be times that playing a round of golf during the winter just isn't feasible. This doesn't mean your clubs should collect dust in your garage. Even if you can't play a round, you have options to work on your game.
11.  Try Golf Indoors – have you tried one of the high-tech indoor golf simulators? There's bound to be somewhere that offers this near you and it is a great way to practice with friends.
12.  Driving Ranges – maybe it's too cold for a round golf or you don't have that much time – no problem, visit your local driving range to prevent rust forming on your swing.
13.  Practice at Home – there will definitely be days during the winter that you don't want to leave the comfort of your home, but that doesn't mean you can't work on your golf. Perfect your putting stroke on your carpet or work on your overall fitness. There are plenty of options to keep your golf game sharp in your house.
14.  Get a Lesson – most PGA certified instructors offer winter lessons at an indoor facility. Quite often, you can find a reduced price during the offseason. The winter is also a great time to make changes to your swing with the help of a local teacher.
15.  Trapped in the House – Learn About the Game – not all golf lessons have to take place with clubs and a ball. You can learn a lot about playing the game via YouTube, golf books, and magazines. Research how professionals approach different shots or ideas to improve your mental game which will save you shots on the course.
Winter Can Be a Time of Growth
Use your offseason to improve. 
Instead of searching for your game in the spring, come out of the gate ready to play. Beat up on your golf buddies who haven't touched their clubs for several months. If done right, golf can be a year-round pursuit, even in the UK!