The Best Golf Courses Near Whitby
Go&Golf is supported by its audience. When you purchase through links on our site, we may earn an affiliate commission.
Learn more
Whitby is a popular coastal town chosen by couples and families looking for a unique weekend getaway. Known for its connections to Bram Stoker's Dracula, the town has embraced its association with gothic culture – you can feel it when you travel Whitby's quirky streets and visit its unique shops.
Situated on the North East coast, seafood is at the heart of the town where you can enjoy fresh caught crab & lobster in one of the local restaurants or fish and chips on an evening stroll on the pier. 
If you're interested in the history, you can visit the monument of famous voyager Captain James Cook located on the West Cliff, looking over the sea. Whitby also has a museum focused on his life.
There's plenty to do here and you will love discovering Whitby's charm – but we did mention golf, right? 
Maybe you need a break from the family activities and are looking to get in a quick round. If so, you will not be disappointed in what Whitby golf has to offer.
Golf Courses in Whitby
If you are looking for a quick round and need to stay close to town, there are several options available to you. 
1. Saltburn Golf Club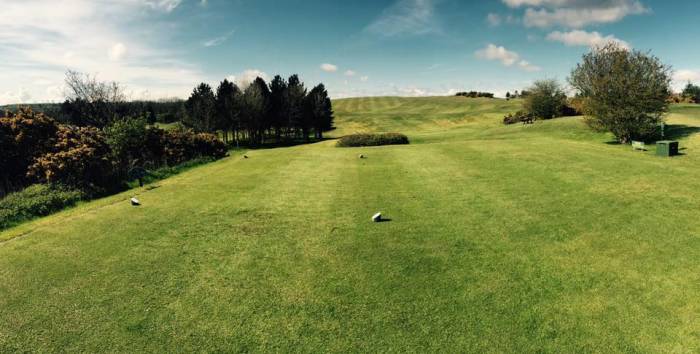 This course is fair and enjoyable for golfers of any skill level. 
The men play from just under 6,000 yards as a par 70 and the ladies will enjoy a 5,500-yard par 72. You will enjoy the entire layout, but the 4 par 3s are the most memorable, with the 12th being acclaimed as one of the best par 3s in the North East of England. If you're looking to get some quick practice in during your stay in Whitby, Saltburn Golf Club offers a full driving range and short game practice area.
The club also offers some "stay-n-play" packages available that can include anything from one round of golf to unlimited play.
2. Hunley Hotel & Golf Club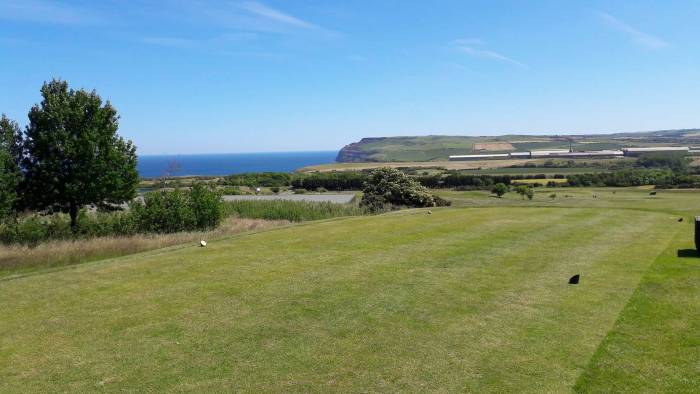 At Hunley Golf Club you will find everything you need for a perfect golf getaway. With multiple courses, you won't get bored regardless of how many holes you play. The resort caters to both beginners and low handicappers making it a great place if you're a large golfing group. They offer packages that include meals, hotel rooms, and unlimited golf.
If you're looking for the chance to improve your game, Hunley Golf Club can also offer individual and group lessons during your stay. 
3. Scarborough North Cliff Golf Club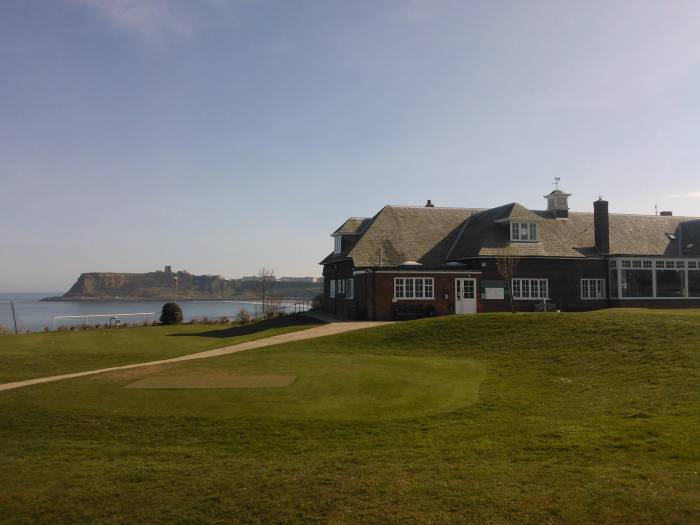 Scarborough North Cliff golf course is one of a few golf courses near Scaraborough town that we recommend in this list.
The course was designed by 5-time winner of the British Open James Braid and was established in 1928. The first hole starts on the cliff top before moving inland to provide golfers with views of the North Yorkshire Moors. There is a bit of up and down (undulation) on this course, but nothing too extreme meaning it can be enjoyed by all players.
The course returns to the cliff top for the final 3 holes and awesome views of the sea across the North Bay towards the Castle. You will always remember the opening and the closing stretch of holes at the Scarborough North Cliff Golf Club.
4. Whitby Golf Club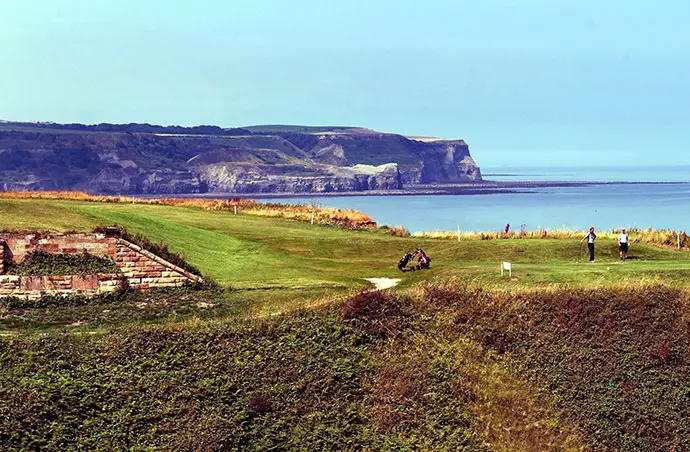 For men, Whitby Golf Club offers two sets of tee markers. You can play the white tees from 6,182 yards as a par 72 or enjoy the gold tees from 5,979 yards also playing to a par 72. One unique quality about the course is that the front has no par 3s – simply 8 par 4s and a lone par 5. The ladies tee markers at Whitby Golf Club play a little over 5,500 yards but are considered a par 74.
Golfers have been enjoying this course for many years – the first 6 holes were originally built back in 1892. If you enjoy playing classic golf courses that are steeped in history, look no further than Whitby Golf Club.
5. Scarborough South Cliff Golf Club
The Scarborough South Cliff golf course is split in half by the main road from Scarborough to Filey. You will find the 4th – 10th holes on the seaward side of the road and the rest on the land-ward side. All of the holes are challenging, but most golfers will remember the holes that are situated on the cliff, with beautiful views of the South Bay and Scarborough town.
To score well here you need to be fairly decent in the wind, because even calm days at Scarborough South Cliff will include a fresh breeze. You have 4 different tee boxes to choose from, again making it a great course for all players.  
Golf Courses close to Whitby (if you're able to travel a little further)
If you're up for a bit of a day trip during your Whitby getaway there are some top courses up to an hour outside of Whitby that golfers should consider.
6. Fulford Golf Club
Fulford Golf Club is the golf course furthest away from Whitby in our recommendations with a 1 hour and 10-minute drive from the town. 
However, it'll be worth it! For 23 years this course was a recurring stop for the European Tour, testing some of the best players in the world. Over the last few years Fulford has hosted the R&A Girls U16 Amateur twice and will host the R&A Girls Amateur in 2021.
The course is a beautiful combination of a green parkland course and the gorse & heather of a heathland links. It is quite common for golfers to cross paths with other wildlife such as deer or barn owls. A round at Fulford Golf Club is an experience you will remember.
7. Ganton Golf Club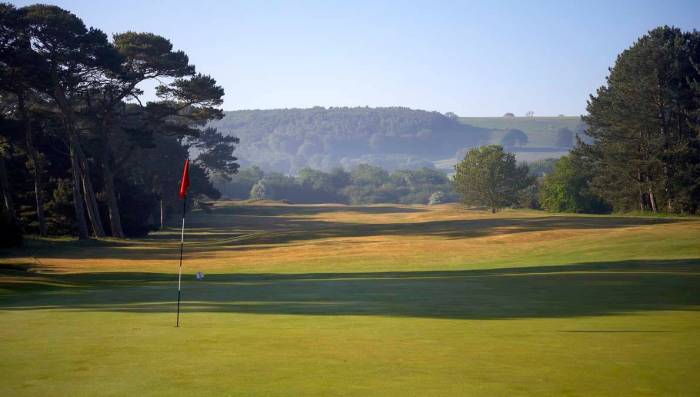 If you are looking for a course with a championship pedigree, you can find Ganton Golf Club only 45 minutes away. It is one of only 4 British courses that has hosted the Ryder Cup, the Walker Cup, and the Curtis Cup.
Don't step back to the 7,016-yard championship tees unless you really know how to play the game! Most golfers will find one of the other markers more suitable for an enjoyable experience. However you can walk the fairways where some of the true legends of the game have played.
8. York Golf Club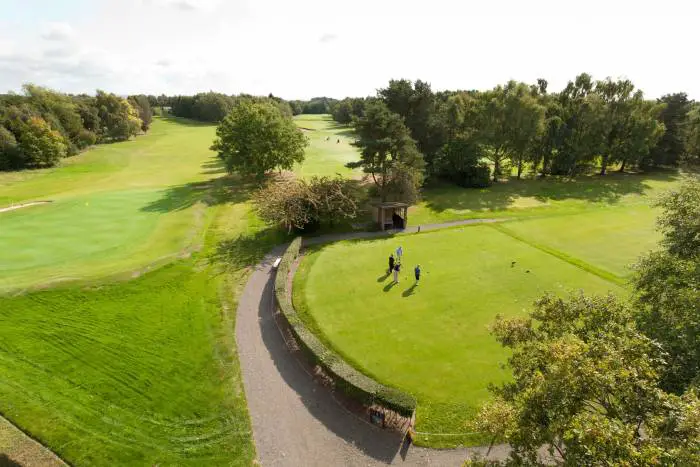 The final course on our list will take you approximately an hour to reach but is well worth the trip! Founded in 1890, York Golf Club was designed by 5-time Open Champion J. H. Taylor. It is a challenging heathland course that players of all abilities can enjoy.
You will find 18 beautiful holes at York Golf Club, but most locals consider the par 3 7th the "signature hole" of the course. A lake protects two sides of the green, with bunkers in play if you get scared of the water. Hit your shot at the middle of the green, two-putt for par, and enjoy the rest of your day.
Map of golf courses near Whitby