Best Destinations to Play Golf By Month
Go&Golf is supported by its audience. When you purchase through links on our site, we may earn an affiliate commission.
Learn more
Are you looking for the best place to play golf throughout the year? 
In this guide we run through the best areas to visit each month throughout the calendar year. We feature the best known courses, hot spots and some insider knowledge on where you can pick up a bargain too. 
So whether you plan your golf trips in the UK or you are planning a trip overseas, hopefully we'll help you find the right place to play golf.
Let's get straight into it…
The best place to play golf by month
Scroll down to the month when you're planning to take your trip and check out our recommendations. 
1. January – Dubai
If you are feeling flush and want to escape to warmer climates, The Emirates Golf Club in Dubai has played host to The Dubai Desert Classic on their infamous Majlis course since 1989. 
Heading out in January could guarantee the course in its best condition of the year whilst in tolerable weather conditions for even the pastiest British skin.
At under £250 for a round it's not bad value and one of the best overall golfing experiences anywhere in the world. In addition, there's the Faldo course too and you could even head out on a night round for a more unique experience.
2. February – Abu Dhabi
If you can extend your stay and fancy jetting across to Abu Dhabi, then you could make your way to the Abu Dhabi Golf Course which offers a premium 27 hole layout managed by Troon Golf. You're sure to have the experience of your life!
Beware, despite leaving the UK in snow and ice, The Middle East packs a comfortable 23-26 degrees throughout January and February so be sure to pack your shorts and sun cream.
The day rate is not as expensive as you would think either. For around £150 you'll be walking in the footsteps of top PGA tour professionals and treated to millionaires golf.
3. March – The Algarve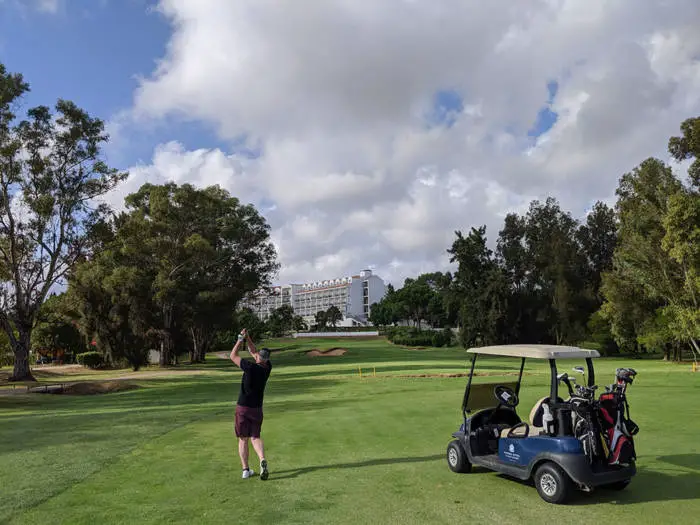 The weather is just picking up across the Algarve in mid-March. And if you choose your week wisely you can pick up some bargains with regards to both flights and accommodation!
One of the benefits of golfing in Portugal is the vast number of courses for all golfing abilities. 
For as little as £450 you can get a package together in the Faro region which would include flights, transfers, hotel and "unlimited" golf (in some cases).
Alternatively you could head more upmarket and drop by the 5 star Tivoli resort and play the Vilamoura circuit. 
I've found that Portugal and Spain don't tend to get really busy until after the Easter break. Therefore heading out early will get a kick start on your summer tan and should provide a more relaxing golf environment.
Ryder Cup Bonus: If you can only get away for a two day break, why not head to Le Golf Nationale near Paris, for less than £300 for EuroTunnel tickets, 2 rounds of golf and accommodation you would be crazy to miss out on playing Le Albatross – sure to be a destination on most golfers bucket-lists for decades to come.
4. April – Georgia (USA)
It's hard to ignore the Masters! If you're looking for a once in a lifetime experience, a play and watch package is worth considering. 
They will ship you to Georgia. Set you up with golf at some decent venues nearby to Augusta. And they will guarantee you tickets for at least 2 of the 4 days. 
The packages can be pricey, but for a once in a lifetime trip to visit golfing Mecca's, we think it's worth it! 
Our tip for best value is to make a longer holiday of it and head out to Atlanta on the Friday giving you time to unwind and catch the final day at Augusta before playing some of the greatest courses in the region the following week when they are usually a little cheaper and easier to access.
Our top 3 golf course recommendations are:
Forest Hills
Plantation
Jones Creek
TIP: Augusta closer to home? If you'd like a slice of Augusta but can't get the time off then Hadley Wood near Barnet (London) is designed by the one and only Alister MacKenzie so you can be assured of Augusta styling and course architecture which defies the ages. Hadley Wood is a splendid venue and one of the finest courses in England.
5. May – Northern France or Italy
Whether you want to head to Northern France or Italy, the warmer climate than in the UK will give you an enjoyable opportunity to play some fantastic courses. 
Why not relive some of the Ryder Cup and play at Marco Simone Golf & Country Club where the 2023 tournament was held? Or relive European victory at Le Golf National in Paris.
If not, below are some of our other favourite picks.
Chantilly & Hardelot for the North East of France
Verdura (West course) is our favourite pick for Italy
There are a huge amount of under-rated courses across the two countries.The beauty is the weather should hold up lovely for you at this time of year!
6. June – Ireland
As we head towards the summer months, there's no place like home. 
We're often guilty of looking for golf breaks abroad, but there's so much on offer right on our doorstep. 
You can't quite find anything else similar to the likes of Lahinch and Royal Portrush (which was host to The Open Championship for just the second time in its history a couple of years ago) in the rest of the world. 
The Republic of Ireland and Northern Ireland are already extremely popular with American golfers. And there's a good reason.
Ireland is packed with world class links courses that are unlike any others on the planet.
The list of golf courses could go on and on, therefore we've just popped a few options for you to try throughout the summer.
You can also check out more of Ireland's best courses on offer in the Top 100 UK & Ireland golf courses
7. July – Scotland
As we know, guaranteed sunshine doesn't grace Scotland all that often but that shouldn't put you off! 
July is probably your best chance of receiving some decent weather. And there's no other place to start than the home of golf.
St Andrews is home to some of the best golf courses in the world. And they are all packed in closely together, making it perfect for a golf trip. 
Competition is however quite fierce. So if you can't quite manage there are plenty of other options close by.
In Fife you're spoilt for choice with loads of world class courses on your doorstep. A few of the below would be amongst our picks:
8. August – Wales
It's the height of summer, the kids have been off school a few weeks already and hopefully the UK is basking in the sunshine. 
If not, no problem as Wales is the ideal location come rain or shine.
The country is home to some world class resorts including The Celtic Manor which hosted the Ryder Cup in 2010. The resort ranks as one of the best UK golf resorts and it's no surprise as it features 3 different golf courses on site – all of which are ranked in the Top 25 of all golf courses in Wales!
Here you can golf to your heart's content and if the weather isn't too good or you're travelling with the family, there are plenty of alternative activities nearby including the on site Spa. 
The Vale Resort for similar reasons is another great option with two championship golf courses and Spa to help you unwind.
If the weather is a little more guaranteed here our some of our other favourites:
9. September – England
On the DP World Tour, there are two tournaments taking place in England in September, The British Masters at The Belfry and The BMW PGA at Wentworth. 
But it's a previous British Masters venue that we recommend checking out!
Hillside Golf Club is just one of a plethora of amazing links courses in the Southport region, making the end of summer an ideal time to head to the North West of England.
With such a strong golfing pedigree it's hard to ignore the below options which are just a stone's throw away from each other:
TIP: Best value award goes to Hesketh which is less than half the price of those mentioned above and equally enjoyable, perfect for a round prior to watching the pros do battle on Hillside.
10. October – Spain
At the end of September and October the attention moves from England to Spain. The weather here cools down a little, temperatures are perfect for golf and most of the summer tourists have left making accommodation affordable. 
The Andalusia Masters takes place at Real Club de Golf de Sotogrande this year, so you're going to struggle to get on this particular course. 
But fear not. There are plenty of different options in the Costa del Sol area. 
For circa £300 you too can play Valderrama, a magnificent golf course. Ranking in the top 100 golf courses in the world, it's also one of the small number of courses outside of the UK which has been a European venue for the Ryder Cup. 
If that's a little out of your reach, we've got a couple of fantastic picks sure to whet your appetite.
In Murcia; you can't look past La Manga, a stunning 54 hole complex with an on site luxury hotel, golfing village and hundreds of rentable villas. 
All 3 courses are excellent, with the West in particular hitting our sweet spot. You will be in great company too with Arnold Palmer having featured on the North Course.
If you don't fancy the hustle and bustle, bright lights and fast cars or Marbella, then head up the coast towards Malaga. Staying anywhere within 30 minutes of the airport you will be within striking distance of some excellent value golf courses.
The best of the bunch is probably Torrequebrada which is surrounded by plush villas and in one of the most built up areas in the Costas, yet oozes quality golf. But we'll let you decide your favourite from our list of the best golf courses near Malaga.
11. November – Turkey & Morocco
Turkey or Morocco seem like a great destination as the cooler months hit us at the back end of the year. 
Regnum Carya Resort in Belek which previously hosted the Turkish Airlines is one of the top golf courses in Turkey and makes up one of the largest golf resorts in Europe.
The Mazagan Golf & Beach resort shouldn't be ignored either, a 5 star complex with unlimited golf for less than £500 is a must for a new venue for your golf pals.
12. December – Canary Islands
Where else but the Canary Islands for the end of year. The climate is almost as great as our summer back home.
The tougher decision is which island to stop on for your trip, as both Gran Canaria and Tenerife have some of the finest golf courses in Europe with views of mountains and sea to die for! What's more the flights and accommodation are at the cheapest they will be all year long so maybe it's time to have your Christmas dinner in the sun.
TIP: We would pick out Tecina for special mention, not on either main island and requires a day trip off the coast of Tenerife to get to. This is where we would head if we had to pick just one course!
Final Thoughts
We hope that has whetted your appetite and you are now looking forward to booking some golf whether abroad or on home shores.
Get in touch if you have any other recommendations or check out the posts below for further inspiration: